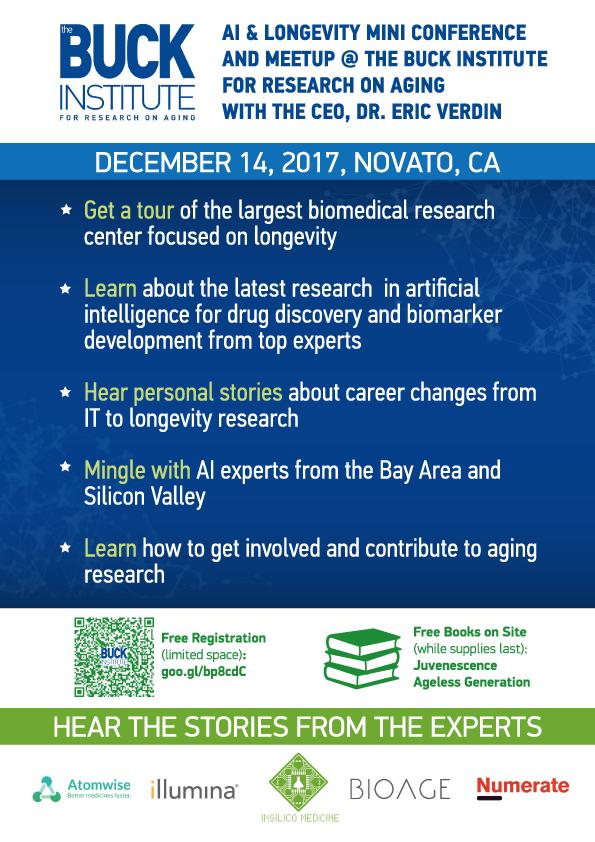 Tuesday, Dec. 12th, 2017, Baltimore, MD. Aging is one of the most complex and multifactorial processes in biology, physiology, and medicine and is associated with a markedly higher incidence of many diseases including Alzheimer's, Parkinson's, type 2 diabetes, heart attack, stroke, macular degeneration, and many forms of cancer. The recent progress in artificial intelligence, and specifically in deep learning and reinforcement learning, may significantly accelerate research in aging and help identify new interventions that may lead to longer and healthier lives.
"The Buck Institute for Research on Aging generates an enormous amount of biological data, which has intriguing possibilities for combining with AI. We would like to explore synergies and invite the AI community from the Bay Area and all over the world to learn about our progress and contribute," said Eric Verdin, M.D., president and CEO of the Buck Institute.
Realizing the value of artificial intelligence, the Buck Institute, the world's premier independent research organization devoted solely to the study of aging, will host a mini-conference geared towards the local machine learning community and AI experts working in the technology industry. The event will feature talks by some of the leaders in the field presenting their latest research and discussing the many ways a machine scientist may get involved in longevity biotechnology and effectively contribute.
"I am very happy to be invited by the Buck Institute and Insilico Medicine to help organize this mini-conference and bring together experts from a variety of scientific backgrounds to explore the intersection of AI and aging research. These are the two most exciting advancements of our time; one is enabling us to extend our cognitive abilities beyond human levels and the other to live longer, happier lives. As a society, we are only beginning to understand how transformative they will be." said Bill Gelpi, the co-founder of Rocket Games and the co-organizer of the mini-conference.
The event will take place December 14th at The Buck Institute in Novato and will feature short talks by experts from Atomwise, Insilico Medicine, Bioage, Numerate and other companies and academics working in artificial intelligence for healthcare.
###
The conference is free to attend with mandatory registration at: https://www.eventbrite.com/e/ai-longevity-micro-conference-happy-hour-registration-40103985099?aff=es2
About the Buck Institute for Research on Aging
The Buck Institute is the U.S.'s first and foremost independent research organization devoted to Geroscience - the study of the connection of normal aging and chronic disease. Based in Novato, California, the Buck is dedicated to extending "healthspan", the healthy years of human life, and does so utilizing a unique interdisciplinary approach involving laboratories studying the mechanisms of aging and those focused on specific diseases. Buck scientists strive to discover new ways of detecting, preventing and treating age-related conditions such as Alzheimer's and Parkinson's diseases, cancer, cardiovascular disease, macular degeneration, osteoporosis, diabetes and stroke. In their collaborative research, they are supported by the most recent developments in genomics, proteomics, stem cell technology, and bioinformatics.
For more information: http://www.thebuck.org.
---