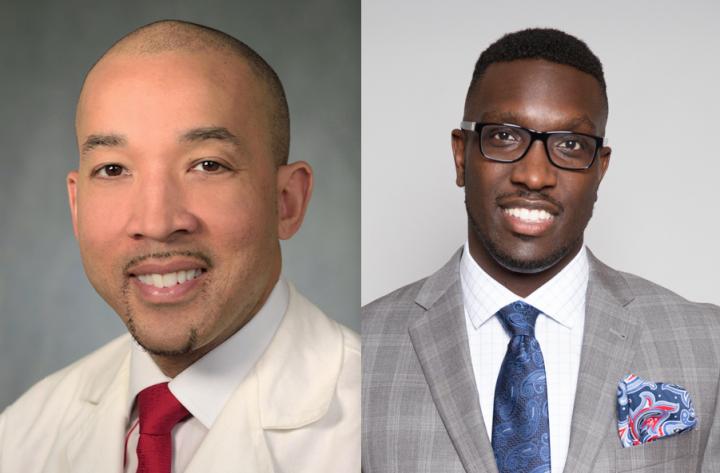 PHILADELPHIA - The National Minority Quality Forum (NMQF) has honored two members of the Penn community with its 40 Under 40 Leaders in Minority Health award, which recognizes the next generation of thought leaders in reducing healthcare disparities. Paris Butler, MD, MPH, an assistant professor of Plastic Surgery in the Perelman School of Medicine at the University of Pennsylvania, and Kevin Ahmaad Jenkins, PhD, the vice-provost's postdoctoral fellow in the Leonard Davis Institute of Health Economics at the University of Pennsylvania, will both receive their awards at the NMQF Leadership Summit on Health Disparities and Congressional Black Caucus Spring Health Braintrust Gala Dinner in Washington, D.C. on April 25th.
Butler is nationally recognized for his dedication to reducing healthcare disparities along ethnic lines - something he has approached with research, policy, and teaching in mind. He has used his formal training to explore the underrepresentation of minorities in academic medicine and the affect it can have on disparities, a topic he has published on extensively in peer reviewed journals. He was one of 30 National finalists for the White House Fellowship, and as a result, he served as a policy fellow in the Health and Human Services Office of Minority Health. He has also received numerous teaching awards for his work to mentor medical, undergraduate, and high school students aspiring to enter the field, and he served on the Accreditation Council for Graduation Medical Education's Surgical Residency Review Committee, which is responsible for the oversight of all surgical training programs in the country. Before coming to Penn for his plastic surgery training, Butler completed his undergraduate studies at Roanoke College and obtained his medical degree and completed his general surgery residency at the University of Virginia. He has a master's degree in public health (MPH) from the University of California-Berkeley and completed a post-doctoral research fellowship at Stanford University.
Jenkins is a scholar and author whose research investigates the intersection of race, law, and health, and focuses on the elimination of health disparities and discrimination in healthcare. In addition to his role in the Leonard Davis Institute of Health Economics, he holds appointments in Penn's School of Social Policy and Practice and the Division of General Internal Medicine in the Perelman School of Medicine. Jenkins earned his PhD in Sociology and Criminology & Law from the University of Florida after attaining his bachelor's from North Carolina Central University and master's from Florida A&M University, with degrees focused on medical and legal history. He has presented research as a guest lecturer or conference speaker more than 20 times in the last three years and has published peer-reviewed articles and contributed extensive commentaries in the field of race, law, and health. The winner of two national journalism awards, Jenkins created and taught his inaugural course, "Race, Law, and Health: The African American Health Experience in America," at the University of Florida in 2012. He is currently working on three book projects: Hue Process: The Quantitative Measurement of Racism in Medicine; Refund My Freedom: How the Law Created Health Inequity in the Black Community: and Branding Jezebel: Black Women, Law, and Medicine in Antebellum America.
###
Penn Medicine is one of the world's leading academic medical centers, dedicated to the related missions of medical education, biomedical research, and excellence in patient care. Penn Medicine consists of the Raymond and Ruth Perelman School of Medicine at the University of Pennsylvania (founded in 1765 as the nation's first medical school) and the University of Pennsylvania Health System, which together form a $6.7 billion enterprise.
The Perelman School of Medicine has been ranked among the top five medical schools in the United States for the past 20 years, according to U.S. News & World Report's survey of research-oriented medical schools. The School is consistently among the nation's top recipients of funding from the National Institutes of Health, with $392 million awarded in the 2016 fiscal year.
The University of Pennsylvania Health System's patient care facilities include: The Hospital of the University of Pennsylvania and Penn Presbyterian Medical Center -- which are recognized as one of the nation's top "Honor Roll" hospitals by U.S. News & World Report -- Chester County Hospital; Lancaster General Health; Penn Wissahickon Hospice; and Pennsylvania Hospital -- the nation's first hospital, founded in 1751. Additional affiliated inpatient care facilities and services throughout the Philadelphia region include Good Shepherd Penn Partners, a partnership between Good Shepherd Rehabilitation Network and Penn Medicine.
Penn Medicine is committed to improving lives and health through a variety of community-based programs and activities. In fiscal year 2016, Penn Medicine provided $393 million to benefit our community.
---