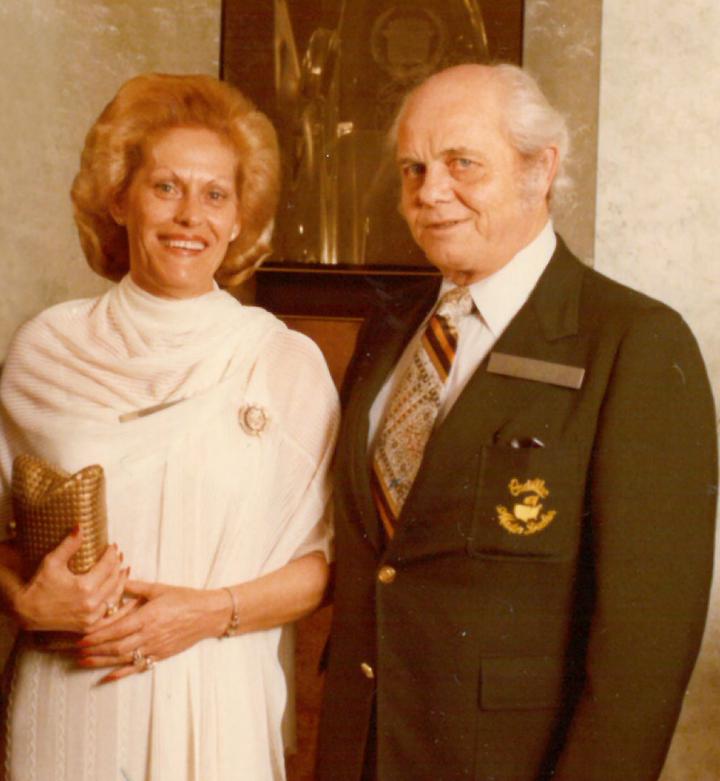 ANN ARBOR, Mich. -- A tragic accident 32 years ago forever altered the lives of an entire prominent Michigan auto industry family, as a beloved wife and mother suffered a devastating traumatic brain injury, or TBI.
Now, the Massey family has invested in the hope that University of Michigan medical and scientific teams can spare other families what they endured.
With a significant gift from the Joyce and Don Massey Family Foundation, the U-M Health System has launched a major initiative to find new ways to treat TBI, and to care for and support those affected by it.
To recognize their generosity, UMHS has named a new emergency treatment area in their honor. When it opens later this month, it will give patients who have suffered a TBI, stroke, major trauma or other critical illness or injury the most advanced care possible in the first crucial hours of their crisis.
Located within the adult emergency department in University Hospital, the Joyce and Don Massey Family Foundation Emergency Critical Care Center, or EC3, will be among the first of its kind in the United States.
"Every time a patient with a serious TBI enters our emergency department, or flies in our helicopters, we do all we can in those first critical hours to prevent as much lasting damage as possible," says Robert Neumar, M.D., Ph.D., chair of the U-M Medical School's Department of Emergency Medicine. "We've made great strides, but too many patients and their families cope with serious and long-lasting effects. Through research and advances in care, fueled by the Massey gift, we can improve the odds for patients here and around the world."
Neumar and his predecessor William Barsan, M.D., worked with the Massey family to develop U-M's comprehensive new Joyce Massey TBI Program. It includes funds for clinical research, technology innovation, translational research, a patient/family support fund, and an annual TBI summit where researchers can share their results.
We are honored to be the recipients of the Massey Family's generosity and compassion, supporting our missions of research, education and patient care," says Tony Denton, Acting Chief Executive Officer of University of Michigan Hospitals and Health Centers. "This gift will boost our efforts to improve care for those suffering from traumatic brain and other critical injuries and illness."
From the time of her accident in 1983 to her death in 1993, Mrs. Massey's ability to speak, eat, move and even breathe were seriously impaired by the effects of her TBI - though her mind, and her role as the heart and soul of the family, were not.
At her side was her husband Don, a self-made auto dealer who, starting in the 1960s, built a network of 28 dealerships in eight states, with a flagship location in Plymouth, Mich.
The Masseys' daughter Brenda, president of the Joyce and Don Massey Family Foundation, and the foundation's trustees have worked with Neumar, Barsan and U-M Medical School researchers to design a research plan, and the gift to fund it, that will accelerate improvements in TBI treatment.
The new EC3 facility, which will focus the delivery of intensive treatments from the moment a patient arrives, will also give researchers a test-bed for innovative ideas, drugs and devices.
In addition to giving to support TBI care and research, the Massey Foundation has given to support a future professorship in the Department of Surgery to advance research and care related to helping those who are brain-injured, and their families.
"With this generous gift, the Massey family and foundation have expressed great confidence in the ability of our researchers to change TBI care," says Medical School dean James O. Woolliscroft, M.D. "Their remarkable vision will enable our care teams to explore creative ideas that ultimately will lead to more effective treatments for TBI patients."
The Joyce Massey TBI Programs include:
A Massey EC3 Clinical Research Program, which will create the clinical infrastructure to evaluate and implement new diagnostic tools, monitoring techniques, and therapeutic strategies for ultra-early treatment of TBI and other critical illness and injury. It includes a crucial clinical database that will allow researchers to analyze data on all critically ill and injured patients treated in the Massey EC3, as part of clinical studies. This program will be headed by Kyle Gunnerson, M.D., the emergency critical care physician and associate professor of emergency medicine who oversees the EC3.
A Massey TBI Technology Innovation fund, which will accelerate innovative research to produce the next generation of technologies to revolutionize the care of TBI, helping to restore victims to their pre-injury status. Teams of U-M physicians, scientists and engineers will compete to receive technology development awards to fund work on devices, diagnostics, therapeutics and digital health, and receive guidance and mentorship from industry and investment experts. This program will be overseen by Kevin Ward, M.D., a professor of emergency medicine who directs the Michigan Center for Integrative Research in Critical Care.
A Massey TBI Translational Research Program, which will seek to improve TBI patients' long-term outcomes by developing and testing new diagnostic tools, more sensitive monitoring techniques, and better early treatments that can be used in the first few hours of TBI treatment. Multiple ongoing and new research projects will be supported with the goal of rapid progress toward publication, clinical trials and ultimately better outcomes for TBI survivors. This program will be headed by Hasan Alam, M.D., an acute-care surgeon who heads the Section of General Surgery in the U-M Department of Surgery.
A Massey TBI Patient & Family Support Fund, which will assist patients treated in the EC3 and their families, giving need-based support to those who lack resources during a patient's hospitalization for such costs as travel, lodging and meals, as well as adapting their homes and buying special equipment not covered by insurance for post-TBI living. The U-M departments of Social Work and Emergency Medicine will oversee this fund.
An annual Massey TBI Summit, featuring a Massey Lecture and the latest findings from U-M teams and leading experts from across the country working on cutting-edge TBI research. The inaugural summit will be held September 25th in Ann Arbor.
This gift is part of the university-wide Victors for Michigan campaign which kicked off in 2013 with a goal of raising $4 billion. The U-M Health System has a $1 billion goal as part of the Victors for Michigan campaign. For information, see leadersandbest.umich.edu and medicineneedsvictors.org/
###
About TBI: As many as 1.9 million Americans suffer traumatic brain injuries each year, caused by a bump, blow or jolt to the head or an injury that penetrates the head and disrupts the normal function of the brain. Rates of emergency department visits for TBIs have risen sharply in recent years, according to the Centers for Disease Control and Prevention.
About one in four TBIs are severe, causing loss of consciousness or amnesia; milder forms include concussions from sports and other causes. The rate of death from TBI has decreased slightly in recent years, so more people are living with long-term effects from TBIs. Prompt treatment in the "golden hour" after the injury and the following few hours can make a tremendous difference in a patient's long-term prospects.
---