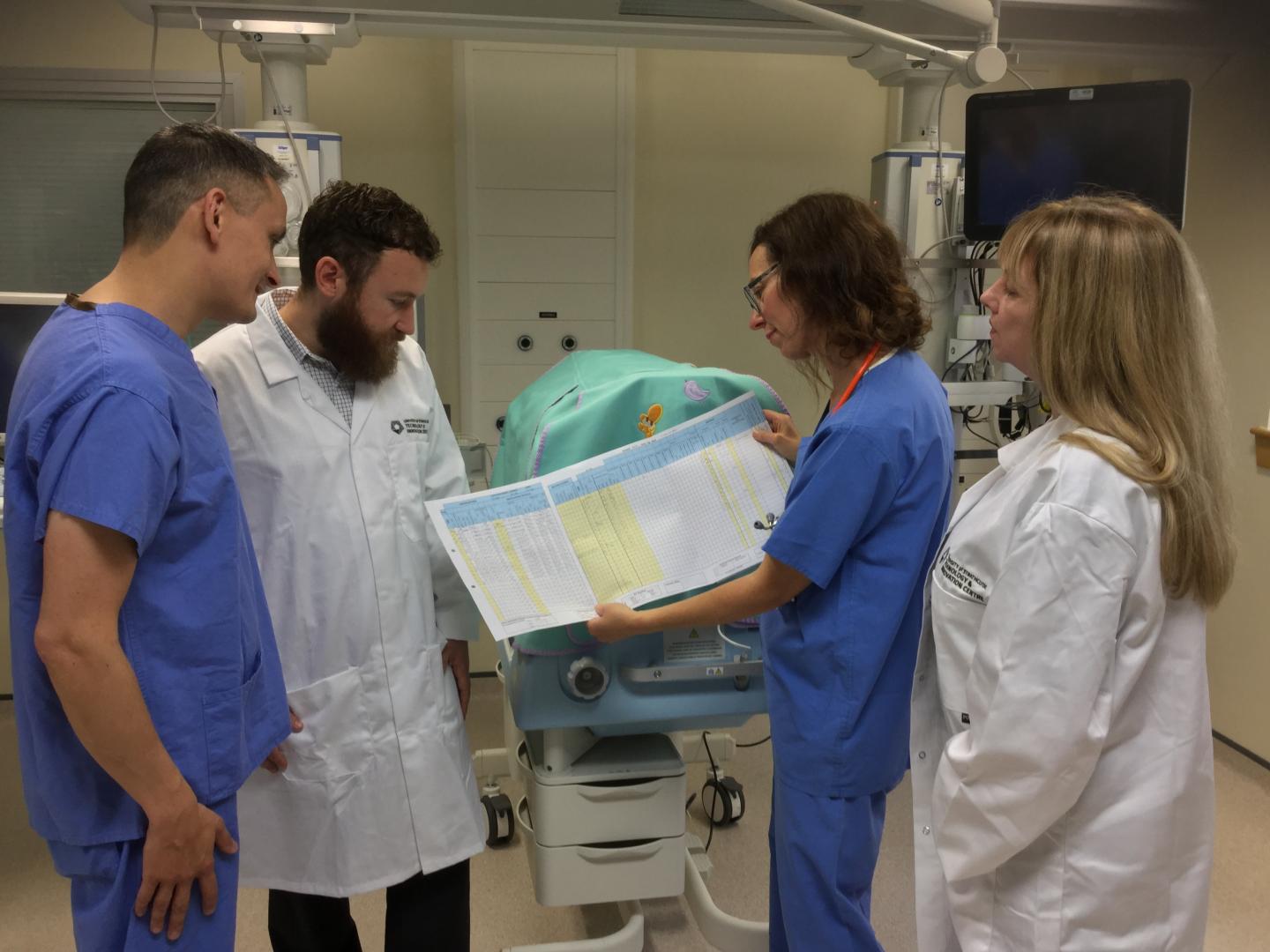 The University of Strathclyde has announced that it is a Grand Challenges Explorations winner, an initiative funded by the Bill & Melinda Gates Foundation. Professor Patricia Connolly, of Strathclyde's Department of Biomedical Engineering, will pursue an innovative global health and development research project, which offers a way to monitor premature and at-risk babies without the need for blood samples.
Grand Challenges Explorations (GCE) supports innovative thinkers worldwide to explore ideas that can break the mould in how we solve persistent global health and development challenges. Professor Connolly's project, titled Neo-PATch: Plasma Analyte Transdermal Wearable Sensor for Newborns, is one of 51 Grand Challenges Explorations Round 19 grants announced today by the Bill & Melinda Gates Foundation.
To receive funding, Professor Connolly and her colleagues, Dr Neil Patel and Dr Helen McDeviit at the Royal Hospital for Children, Glasgow and other Grand Challenges Explorations winners, demonstrated in a two-page online application a bold idea in one of four critical global heath and development topic areas. The foundation will be accepting applications for the next GCE round in February 2018.
The Neo-PATch prototype will take the form of a skin-worn gel patch that will act as a needle-free, blood-free and low-cost sensor for babies born prematurely or otherwise at risk, enabling them to be easily monitored through a smartphone or small meter, without disturbing normal maternal care; this could be of particular benefit in remote regions where access to heathcare can be difficult. It has been developed with input from partners from the Royal Hospital for Children and Strathclyde spinout company Ohmedics and builds on previous collaborations with the Royal Hospital for Children funded by the Glasgow Children's Charity.
Professor Connolly said: "Metabolic disturbance is a key finding in all of the main preventable causes of neonatal mortality. Accurate and timely detection of such disturbance allows early treatment and keeps newborn babies safe with their mothers; however, this currently requires direct blood sampling and has major disadvantages, including pain and distress to the child, anaemia caused by repeated blood loss, disruption to maternal care and infection risk. Neo-PATch could overcome all of these problems. The discrete skin patch will detect plasma analytes on the skin surface without any needles, skin puncture or blood sampling and in the future this will allow reporting of important blood parameters to a smartphone or meter. This is a multidisciplinary project requiring clinical and technical input. Strathclyde and the Royal Hospital for Children will work closely with our spinout company Ohmedics Ltd and will have day to day support from the University's Strathclyde Institute of Medical Devices to deliver our objectives. We are confident we can deliver the objectives of the Phase 1 award from the Bill & Melinda Gates Foundation, paving the way for the deployment of this technology in neonatal use in the future."
Dr Neil Patel and Dr Helen McDevitt, Consultant Neonatologists at the Royal Hospital for Children, said "We are delighted to be working with Professor Connolly on this exciting and innovative project. This tremendous support from Grand Challenges Explorations (GCE) will strengthen our existing collaboration between clinical and biomedical engineering teams at NHS Greater Glasgow and Clyde and the University of Strathclyde. Combining the expertise of these teams, we aim to develop a new skin sensor, the Neo-PATch, to improve management for premature and at-risk babies globally."
###
---