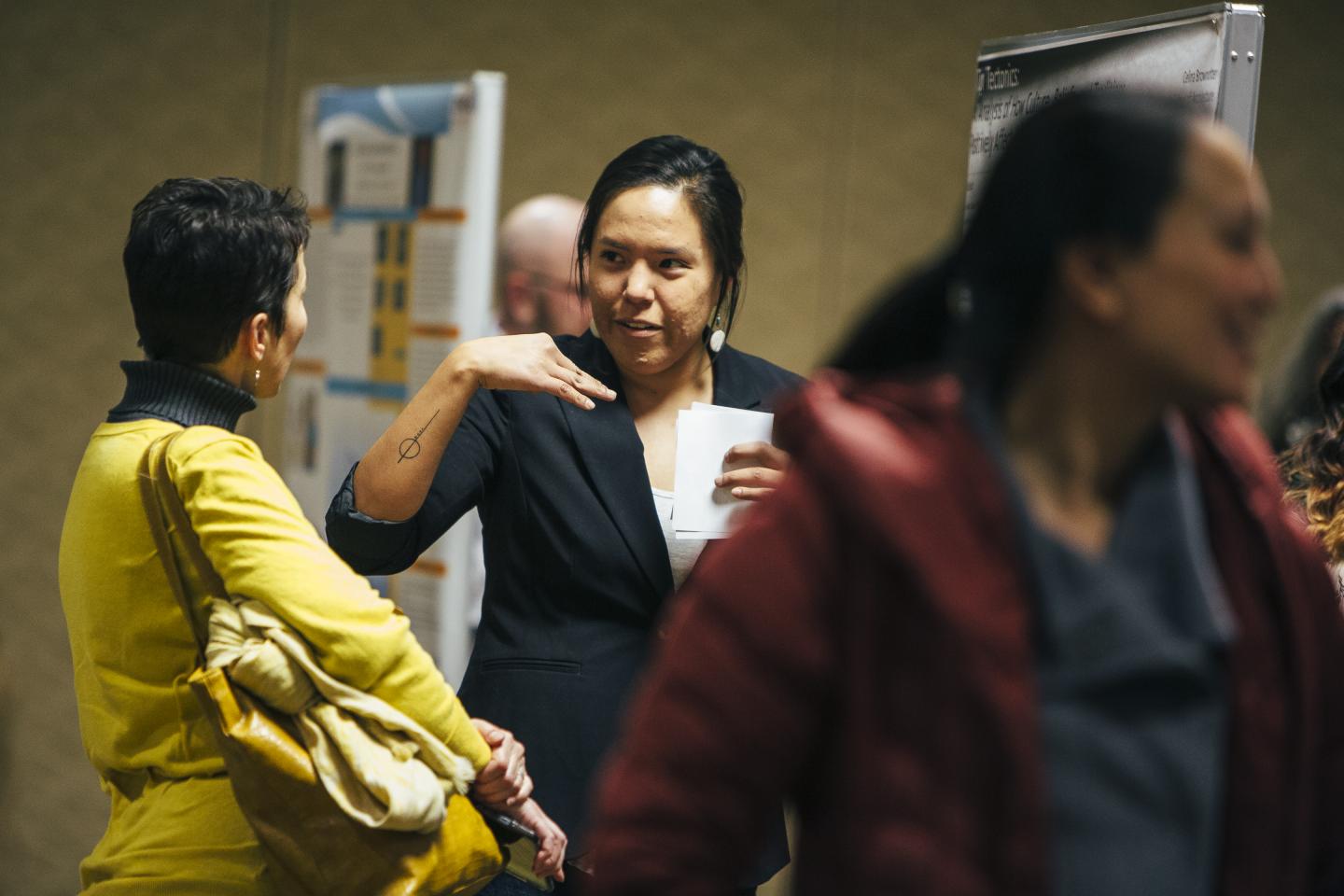 BOZEMAN -- A program at Montana State University that works to support underrepresented undergraduate students has received $1.2 million to continue the program for another five years.
The grant from the U.S. Department of Education will provide funding for MSU's McNair Scholars Program, which is designed to support undergraduates who are minorities or who are first-generation and low-income students.
The goal of the program is to increase the number of students from those underrepresented groups who go on to earn doctorates and become university professors, according to Shelly Hogan, director of the McNair Scholars Program at MSU and the grant's principal investigator.
The program supports 25 undergraduates each year and is now recruiting students for its ninth cohort, Hogan said.
"We are honored to receiving funding to continue our McNair Scholars Program," Hogan said. "The program provides students effective preparation for graduate school success by offering a key sequence of services."
Those services include support for students' undergraduate research projects, regional and national conference presentation experiences, research stipends, personalized faculty/mentor-matching, graduate school admission workshops, seminars and academic advising.
Formally known as the Ronald E. McNair Postbaccalaureate Achievement Program, the McNair Scholars Program is named for Ronald E. McNair, who grew up in poverty and segregation to become a nationally recognized physicist and a NASA mission specialist astronaut. McNair died when the space shuttle Challenger exploded on Jan. 28, 1986. Congress established the McNair Program in his honor.
The McNair Scholars Program is one of several TRIO programs that operate in Montana, including Talent Search, Upward Bound and Student Support Services. MSU houses the only TRIO McNair Scholars Program in the state of Montana.
Since it began at MSU in 2009, 136 students have participated in the McNair Scholars Program, Hogan said. Of those, 64 percent have been from Montana, 81 percent have been identified as both first-generation and low-income, and 41 percent are underrepresented minorities. Eighteen percent of MSU McNair scholars are American Indians, and 20 percent are identified as low-income, first-generation and minority.
In addition, 73 percent of McNair scholars at MSU study science, technology, engineering or math, and 61 percent of those STEM scholars are female.
Finally, 62 percent of MSU's McNair scholars have enrolled in graduate school. Hogan said those schools have included MSU and Harvard, among others. 
All of those numbers help show the impact of the McNair Scholars Program at MSU, Hogan said, and, importantly, behind those numbers are dozens of students who have benefitted from the support.
"The McNair Scholars Program at MSU - and other McNair programs across the country - help prepare and educate the next generation of innovators, scientists and teachers," Hogan said. "For me personally, it is especially rewarding to hear our McNair scholars say, upon acceptance to a graduate school program, 'This is real. I know I can do it, and I belong.'"
Katie DesLauriers, a McNair scholar who earned a bachelor's degree in community health and a master's degree in family and community health, both from MSU, said the McNair Scholars Program has been "life-changing." DesLauriers is originally from California but completed high school in Bozeman.
"As a non-traditional and first-generation college student, I had no idea what I was walking into the day I set foot on campus," she said. "The idea of a bachelor's degree seemed daunting, and the thought of a master's degree beyond my realm of possibilities. The McNair Scholars Program changed all of that for me."
Through the program's support and through the mentorship of Dawn Tarabochia, a professor in the Department of Health and Human Development, DesLauriers said she learned as an undergraduate student how to conduct research and navigate academia.
Working on her own undergraduate research helped her to excel in her master's program, she added. And beyond the undergraduate research component, mentorship and financial support, the program provided benefits that are difficult to quantify.
"Ronald E. McNair's own story inspired me, and because of his legacy, I was able to excel as a student," DesLauriers said.
DesLauriers now works as the student support specialist for the MSU McNair Scholars Program and is preparing to apply to a doctoral program at MSU.
On Monday, Dec. 4, MSU will host its McNair Scholars Research Symposium from 5 to 7 p.m. in Ballrooms B and C in the Strand Union Building. The event is free, and members of the university community and the public are encouraged to attend, Hogan said.
###
For more information about the MSU McNair Scholars Program or the research symposium, call 406-994-5072 or visit http://www.montana.edu/mcnair.
---