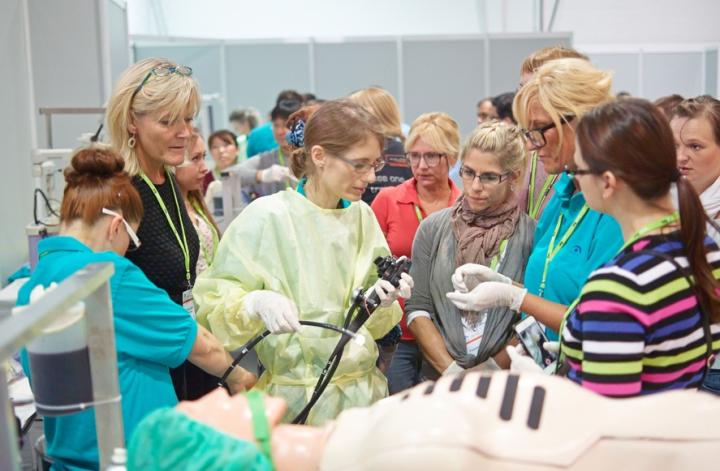 (Vienna, October 21, 2014) Patients with irritable bowel syndrome (IBS) may at last be able to hope for a brighter future as innovative new treatments emerge and researchers clarify the role of current therapies. Dr Alexander C. Ford from the Leeds Gastroenterology Institute in Leeds, UK, tells journalists attending the 22nd United European Gastroenterology Week (UEG Week 2014) in Vienna, Austria, that significant progress was being made in drug development for IBS, thanks to the intense research efforts of scientists around the world. "Researchers have dedicated many years to the task of unravelling the pathophysiology of IBS, and it's thanks to these efforts that novel molecular therapies are now in development," he says.
Current Therapies for IBS
IBS is a chronic, relapsing–remitting functional disorder of the gastrointestinal tract, estimated to affect between 5% and 20% of the general population. The symptoms of IBS include recurrent abdominal pain or discomfort and changes in bowel habit, including diarrhoea and/or constipation. Treatment is typically targeted towards the predominant symptoms, with increased intake of soluble fibre and antispasmodic agents frequently used as first-line therapies. Other treatment options with proven efficacy in IBS include certain antidepressants, psychological therapies such as cognitive behavioural therapy and hypnotherapy, and some probiotics. "We currently have a number of fairly effective short-term treatments available for patients with IBS, but, unfortunately, no drug treatment has so far been shown to alter the clinical course of IBS, and the long-term efficacy of current therapies is still unknown," says Dr Ford.
Emerging Drug Therapies
Several promising new types of drug therapy have emerged in recent years for the treatment of IBS. Pro-secretory agents have been found to be effective in constipation-predominant IBS although their precise roles in the IBS treatment algorithm is not yet determined. Bile acid modulators are currently under investigation in IBS patients, with initial studies suggesting efficacy in constipation-predominant IBS.
"The number of novel agents in clinical development for the treatment of IBS is a clear reflection of our growing understanding of the pathogenesis of the condition, but it also demonstrates the extent of the unmet medical need," he says. "I think with the intensity of the research effort going into new IBS treatments, we can be optimistic for both IBS sufferers and the physicians who treat them."
###
References
Ford AC, et al. Am J Gastroenterol 2014;109(Suppl 1):S2–S26.
About UEG Week
UEG Week is the largest and most prestigious gastroenterology meeting in Europe and has developed into a global congress. It attracts over 14,000 participants each year, from more than 120 countries, and numbers are steadily rising. UEG Week provides a forum for basic and clinical scientists from across the globe to present their latest research in digestive and liver diseases, and also features a two-day postgraduate course that brings together top lecturers in their fields for a weekend of interactive learning.
From October 18-22, 2014, UEG will connect everyone to its annual meeting via livestream on http://www.ueg.eu. State-of-the-art lectures of Europe's largest GI meeting may be followed online from around the world. Include #UEGWeek in your tweets. UEG Week 24/7 features all recorded sessions from UEG Week and provides convenient and direct access to the complete congress material, including E-posters and abstracts.
About UEG
UEG, or United European Gastroenterology, is a professional non-profit organisation combining all the leading European societies concerned with digestive diseases. Together, its member societies represent over 22,000 specialists, working across medicine, surgery, paediatrics, gastrointestinal oncology and endoscopy. This makes UEG the most comprehensive organisation of its kind in the world, and a unique platform for collaboration and the exchange of knowledge.
To advance standards of gastroenterological care and knowledge across Europe and the world, UEG offers numerous activities and initiatives besides UEG Week, including:
UEG Education, the universal source of knowledge in gastroenterology, providing online and classroom courses, a huge online library and delivering the latest GI news, fostering debate and discussion
Training Support, funding for innovative training and educational programmes, as well as international scientific and professional co-operations
UEG Journal, published bi-monthly, covering translational and clinical studies from all areas of gastroenterology
EU Affairs, promoting research, prevention, early diagnosis and treatment of digestive diseases, and helping develop an effective health policy for Europe
Find out more about UEG's work. Visit http://www.ueg.eu
Follow UEG on Twitter @my_ueg and @UEGMedia
---