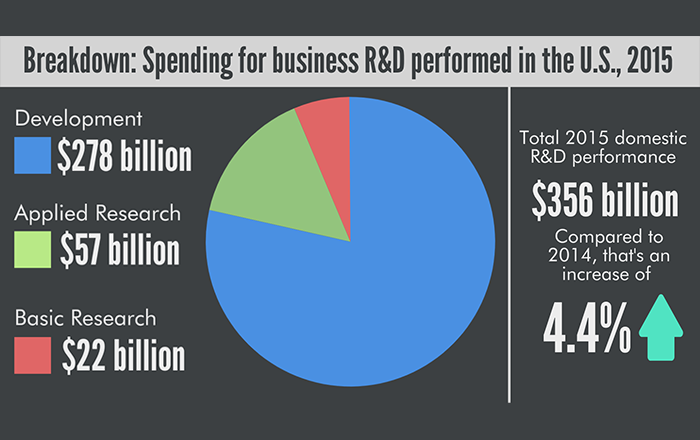 Businesses spent $356 billion on research and development (R&D) performed in the United States in 2015, a 4.4 percent increase over the $341 billion spent in 2014.
Of the total R&D expenditures in 2015, companies spent $22 billion (6 percent) on basic research, $56 billion (16 percent) on applied research, and $278 billion (78 percent) on development. The spending shares did not change from 2014. Those data points come from the Business R&D and Innovation Survey (BRDIS), developed and cosponsored by the National Science Foundation's (NSF) National Center for Science and Engineering Statistics and the U.S. Census Bureau.
Funding from companies' own sources was $297 billion in 2015, a 5 percent increase from the $283 billion spent in 2014. Funding from other sources was $59 billion in 2015 and $58 billion in 2014.
In 2015, companies in manufacturing industries performed 66 percent of domestic R&D. Most of the funding (83 percent) was from the companies' own funds. Companies in nonmanufacturing industries performed 34 percent of total domestic R&D, 84 percent of which was paid from the companies' own funds.
The U.S. federal government was the chief source of external funding for R&D across all industries, accounting for $27 billion of the $59 billion from external sources. Most of this funding came from the Department of Defense ($18 billion). Next among external funders were foreign companies ($16 billion).
Ninety-one percent of the federal government funding went toward aerospace products and parts.
U.S. companies that performed or funded R&D reported domestic net sales of $9 trillion in 2015. For all industries, the R&D intensity -- defined as the ratio of a company's R&D expenditures to domestic sales -- was 3.9 percent.
R&D intensity in micro-, small-, and medium-sized companies (5 to 249 domestic employees) was 5.8 percent. The R&D intensity of large companies (250 to 24,999 domestic employees) was 4.1 percent. The R&D intensity of the largest companies (25,000 or more domestic employees) was 3.4 percent.
Businesses that performed or funded R&D employed 18.9 million people in the United States in 2015. About 1.5 million (8 percent) of these employees performed R&D.
Business R&D is concentrated in a relatively small number of states. Businesses in California accounted for 32 percent of the $297 billion of domestic R&D paid for by companies in 2015. Massachusetts and Washington each accounted for 6 percent.
###
For more information, see the report.
---