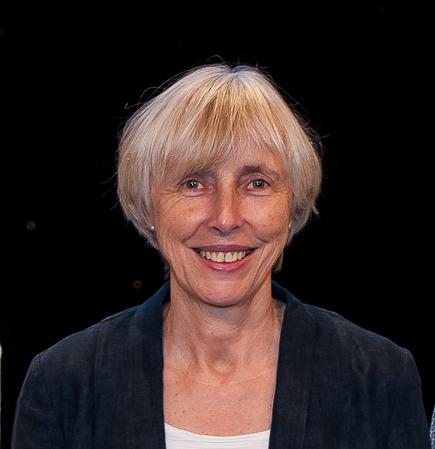 A Norfolk plant scientist has been made a Dame Commander of the Order of the British Empire for her work in understanding genetic regulation and for her commitment to advancing careers for women working in science.
Professor Caroline Dean OBE, of the John Innes Centre, will receive the accolade in the Queen's birthday honours this week.
Professor Dean is internationally recognised for her work on plant developmental biology. Throughout her research career she has asked a simple, but penetrating question: How does a plant know when to flower? Understanding the answer to this question has had an impact on a vast range of agricultural issues that range from wheat productivity to scheduling of horticultural crops.
Professor Dean has used genetic, molecular biological, epigenetic, ecological and mathematical approaches to address fundamental questions in the life sciences. In several of these areas, the discoveries she has made have proven to be paradigms for understanding many areas of biology well beyond Professor Dean's specific area of research.
Professor Dean's influence goes far wider than her ground-breaking science. She has engaged extensively with local schools, principally to engage young women to develop careers in science. In addition to her work as a school governor for over 5 years (4 of them as Vice Chair), Professor Dean has been actively involved in supporting university applications and encouraging more girls to consider careers in science, technology, engineering and maths (STEM). This has included conducting practice interviews, giving talks and presentations to groups of students and coaching individual students showing particular potential for Science.
Professor Dean is a Fellow/Member of three national science academies: UK, USA, Germany. In 2014 she was awarded the BBSRC's Excellence in Bioscience award and in 2015 she was recipient of the prestigious FEBS | EMBO Women in Science Award which recognises just one female scientist across the whole of Europe for their contributions to research in molecular biology and biochemistry, and for their wider contribution as a female role model in science.
On being made a Dame of the British Empire, Professor Caroline Dean said:
"It is amazing what curiosity can achieve! I am honoured to have been made a Dame and I hope this recognition helps to inspire girls and female scientists at whatever stage in their education or careers to follow their curiosity and do what inspires them the most."
Professor Dale Sanders, Director of the John Innes Centre said:
"Professor Dean is regarded not only as one of the leading scientists globally in the field of plant sciences, but as a leading light across the whole of the biological sciences. The impact and reach of her discoveries has therefore been enormous. Her damehood is truly deserved."
Professor Dame Caroline Dean: For contributions to understanding mechanisms of epigenetic programming and services to advancement of women in science.
###
Notes to Editors
1. For further information about Professor Dean's research go to: https://www.jic.ac.uk/directory/caroline-dean/
2. An image of Professor Dean can be found at: http://bit.ly/28nL4Ph
3. To interview Professor Dean please contact:
Geraldine Platten,
Communications Manager, the John Innes Centre
T: 01603 450 238
E: geraldine.platten@jic.ac.uk
4. About the John Innes Centre
The John Innes Centre is an independent, international centre of excellence in plant science and microbiology. Our mission is to generate knowledge of plants and microbes through innovative research, to train scientists for the future, to apply our knowledge of nature's diversity to benefit agriculture, the environment, human health and wellbeing, and engage with policy makers and the public.
To achieve these goals we establish pioneering long-term research objectives in plant and microbial science, with a focus on genetics. These objectives include promoting the translation of research through partnerships to develop improved crops and to make new products from microbes and plants for human health and other applications. We also create new approaches, technologies and resources that enable research advances and help industry to make new products. The knowledge, resources and trained researchers we generate help global societies address important challenges including providing sufficient and affordable food, making new products for human health and industrial applications, and developing sustainable bio-based manufacturing.
This provides a fertile environment for training the next generation of plant and microbial scientists, many of whom go on to careers in industry and academia, around the world.
The John Innes Centre is strategically funded by the Biotechnology and Biological Sciences Research Council (BBSRC). In 2014-2015 the John Innes Centre received a total of £36.9 million from the BBSRC.
The John Innes Centre is the winner of the BBSRC's 2013 - 2016 Excellence With Impact award.
5. About the BBSRC
The Biotechnology and Biological Sciences Research Council (BBSRC) invests in world-class bioscience research and training on behalf of the UK public. Our aim is to further scientific knowledge, to promote economic growth, wealth and job creation and to improve quality of life in the UK and beyond.
Funded by Government, BBSRC invested over £509M in world-class bioscience in 2014-15. We support research and training in universities and strategically funded institutes. BBSRC research and the people we fund are helping society to meet major challenges, including food security, green energy and healthier, longer lives. Our investments underpin important UK economic sectors, such as farming, food, industrial biotechnology and pharmaceuticals.
For more information about BBSRC, our science and our impact see: http://www.bbsrc.ac.uk
For more information about BBSRC strategically funded institutes see: http://www.bbsrc.ac.uk/institutes
6. For more information about Professor Dean's FEBS | EMBO award visit: http://www.embo.org/news/press-releases/2015/plant-biologist-caroline-dean-receives-the-2015-febs-embo-women-in-science-award
---