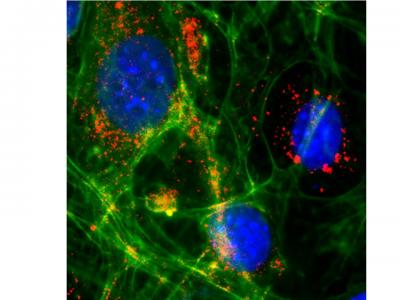 COLUMBIA, Mo. ­— Alzheimer's is a progressive brain disease that affects older adults, slowly destroys their memories and may cause dementia. According to estimates from the National Institutes of Health (NIH), the disease may affect as many as 5.1 million Americans. Now, with the help of a $1.5 million grant from the NIH, University of Missouri researcher James Lee will continue to look for clues into the causes of Alzheimer's.
"Alzheimer's is an extremely complex disease," said Lee, an associate professor of bioengineering in the MU College of Engineering. "Our research team focuses on a protein, amyloid-beta peptide, which is present at toxic levels in the brains of Alzheimer's patients. We hope to find links between the peptide and the inevitable damage to blood capillaries in the brain."
In the brains of Alzheimer's patients, amyloid-beta peptide (A-beta) adversely interacts with astrocytes, or star-shaped cells that provide structural and metabolic support to neurons and control transmissions in the brain. Astrocytes also provide maintenance to the blood-brain barrier, which protects the brain from harmful neurotoxins and infections.
Lee and his collaborator, Grace Sun, a professor in the Department of Biochemistry at MU, are using biophysical engineering techniques, including atomic force microscopy, which is an instrument that probes and measures cell mechanics with sharp tips. Information is then collected and analyzed to determine how the cells function. Lee's study will focus on how A-beta interacts with cerebral endothelial cells, resulting in the change of cell function.
"When A-beta interacts with blood capillaries in brains affected by Alzheimer's, cell signalings occur that essentially cause capillaries to break down," Lee said. "Until now, this key vascular factor leading to neuronal degeneration in the brain has been understudied. The grant provided by the NIH will help us add novel information about Alzheimer's, and our findings will help inform future research as we look for treatments and cures."
###
Lee's NIH grant begins this year and lasts until 2019. His work recently was published in Molecular Neurobiology, PLoS One, and Nanomedicine: Nanotechnology, Biology, and Medicine.
---