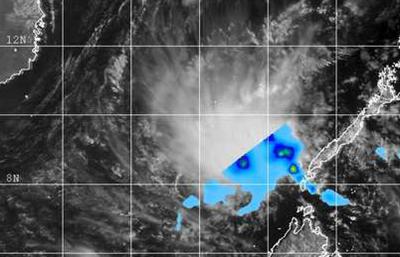 The remnants of Tropical Depression 04W moved away from Palawan and into the South China Sea on March 25 as NASA's TRMM satellite passed overhead.
NASA's Tropical Rainfall Measuring Mission or TRMM satellite passed over the South China Sea on March 25 at 02:56 UTC/March 25 at 10:56 p.m. EDT and gathered data on rainfall rates occurring in the remnants of TD04W. The image showed that the rainfall associated with the storm had moved away from Palawan and were only falling over the South China Sea. TRMM's Precipitation Radar instrument showed isolated areas where rain was falling at a rate of 1 inch/25.4 mm per hour. Over the next several hours, rainfall rates waned as strong easterly wind shear continued to weaken the storm.
By 14:30 UTC/10:30 a.m. EDT on March 25, the Joint Typhoon Warning Center noted that the TD04W's remnants dissipated near 8.8 north and 115.6 east, that's about 540 nautical miles/621.4 miles/1,000 km east of Ho Chi Minh, Vietnam. TD04W is no longer suspect for regeneration.
###
---