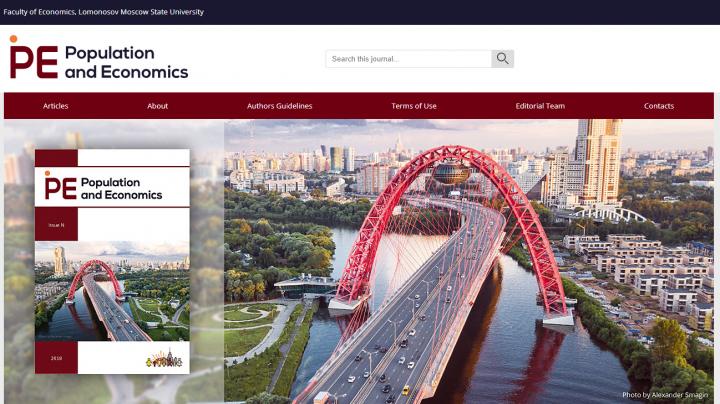 Population and Economics is the latest renowned journal to feature on the growing portfolio of open-access titles making use of the innovative scholarly publishing platform ARPHA, developed by scholarly publisher and technology provider Pensoft. The journal's 2019 inaugural issue and the first since the realisation of the new partnership is already live on the journal's new website.
Published by the Faculty of Economics at Lomonosov Moscow State University with the support of Derzhava Bank, Population and Economics has the mission to provide the international community with a scholarly platform facilitating the exchange of theoretical and practical knowledge in the study of population development, as well as results from interdisciplinary economic and demographic research.
From now on, further manifesting its dedication to sharing scientific findings on a global scale, Population and Economics is to publish articles in three formats (PDF, XML, HTML) enriched with a whole set of semantic enhancements, so that the papers, along with their data, are easy to discover, access and harvest by both humans and machines from around the world.
The journal is published in English, however, for the convenience of its large audience in Russia, articles are also available in Russian in PDF format. These are accessible from the corresponding paper's webpage and registered under the same Digital Object Identifier (DOI).
Amongst the other high-tech perks delivered by ARPHA are sophisticated article- and sub-article-level metrics, such as those provided by discovery and analytics-specialised partner Dimensions. The latter allows for the reader to easily look up the publications that have cited the particular paper, as well as their distribution over time and across research categories.
Additionally, beneath the sleek and modern interface, there is a long list of services at the disposal of all users of Population and Economics: editors, reviewers, authors and readers alike. In order to ensure that articles are submitted, reviewed, published and disseminated rapidly and conveniently, manuscripts undergo the entire review and publication processes within ARPHA's seamless online environment.
Submissions of research and review articles, research notes and short communications addressing a range of interdisciplinary topics are all invited at Population and Economics. The journal welcomes analyses and forecasts in the fields of demography, development and reproduction of population, economic demography, health economics, household economics, the economics of inequality, spatial demography and economy, demographic and socio-economic behaviour, applied demography, population policy and social policies amongst others.
The journal operates single-blind peer review, where the reviewers are encouraged to disclose their identities.
All publications are indexed by the Russian Scientific Citation Index (RSCI) and Google Scholar, as well as BASE, CNKI, CrossRef, Dimensions, Mendeley, Microsoft Academic, Naviga (Softweco), OCLC WorldCat, OpenAIRE, OpenCitations, ReadCube, Unpaywall. The articles will be archived at CLOCKSS, Zenodo and Portico.
"I am delighted to see our collaboration with Population and Economics already in the flesh," says ARPHA's and Pensoft's founder and CEO Prof. Lyubomir Penev. "Now that the first ARPHA-published issue of this valued journal is live, I can say with confidence that we are observing the wonderful beginning of a prolific and future-oriented partnership."
Editor-in-Chief Prof. Irina Kalabikhina adds: "Through our collaboration with the wonderful high-technology publishing platform ARPHA, we are opening a new page in the life of Population and Economics. Published since 2017 in English and Russian, our journal has been bringing authors and readers together, in order to support an interdisciplinary approach to the study of population economics. I am certain that our further cooperation will make the journal more recognisable within the global scholarly community, expand the geography of the participants in the scientific discussions and secure access to novel research results."
###
Additional information:
About Faculty of Economics, Lomonosov Moscow State University:
Founded in 1941, the Faculty of Economics continues the centuries-old tradition of economic education in Russia, being one of the leading university-level centres in the field of Economics.
The faculty combines fundamental education and professional training in order to develop its students' analytical skills and creative thinking, thereby helping its graduates to adapt quickly and successfully to the requirements of any job in the field of economics.
About Lomonosov Moscow State University:
Founded in 1755 by Russian polymath, scientist and writer Mikhail Lomonosov, the university is currently the highest-ranking Russian educational institution, according to the 2018 QS World University Rankings. It is also considered to be the most prestigious university in the former Soviet Union.
Every year Moscow University enrolls about 4 000 international students and postgraduates from all over the world.
About ARPHA:
ARPHA is the first end-to-end, narrative- and data-integrated publishing solution that supports the full life cycle of a manuscript, from authoring to reviewing, publishing and dissemination. ARPHA provides accomplished and streamlined production workflows that can be customized according to the journal's needs. The platform enables a variety of publishing models through a number of options for branding, production and revenue models to choose from.
About Pensoft:
Pensoft is an independent academic publishing company, well-known worldwide for its innovations in the field of semantic publishing, as well as for its cutting-edge publishing tools and workflows. In 2013, Pensoft launched the first ever end to end XML-based authoring, reviewing and publishing workflow, as demonstrated by the Pensoft Writing Tool (PWT) and the Biodiversity Data Journal (BDJ), now upgraded to the ARPHA Publishing Platform. Flagship titles include: Research Ideas and Outcomes (RIO), One Ecosystem, ZooKeys, Biodiversity Data Journal, PhytoKeys, MycoKeys and many more.
Contacts:
Prof. Lyubomir Penev, ARPHA and Pensoft
Email: penev@pensoft.net
Prof. Irina Kalabikhina, Editor-in-Chief
Email: ikalabikhina@yandex.ru
---