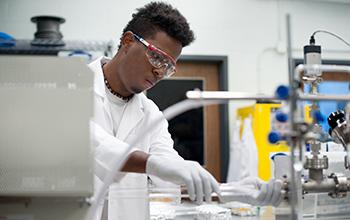 In Fiscal Year (FY) 2016, federal agencies obligated $31.6 billion to institutions of higher education in support of science and engineering (S&E), an increase of $1.1 billion from FY2015.
The most up-to-date federal S&E obligation levels come from the FY2016 Survey of Federal Science and Engineering Support to Universities, Colleges, and Nonprofit Institutions (Federal S&E Support Survey), conducted by the National Center for Science and Engineering Statistics (NCSES) within the National Science Foundation (NSF). Federal obligations are funding commitments to support six categories:
Research and development (R&D).
R&D plant, or facilities and fixed equipment used in R&D.
Facilities and equipment for instruction in S&E.
Fellowships, traineeships and training grants.
General support for S&E.
The 100 higher education institutions receiving the largest amounts of federal S&E support accounted for about 82 percent of the total federal obligations. Johns Hopkins University continued to be the leading academic recipient of federal S&E obligations, with nearly $1.9 billion for S&E support, followed by the University of Michigan with $668 million and the University of Washington with $642 million. The top 10 recipients among the academic institutions received a total of $7.1 billion in S&E obligations.
Five agencies accounted for 94 percent of federal S&E support to higher education institutions. These include the Department of Health and Human Services (HHS) at 57 percent; NSF at 17 percent; the Department of Defense (DOD) at 12 percent; the Department of Agriculture (USDA) at 4 percent; and the National Aeronautics and Space Administration (NASA) at 4 percent.
Sixty-six of the 105 Historically Black Colleges and Universities (HBCUs) received $373 million in federal obligations for S&E support. Although this is the second year of decreasing total federal S&E support obligations to HBCUs (down 6 percent from FY2015 and down 9 percent from FY2014), support to HBCUs for R&D has remained stable. NSF's obligations to HBCUs rose about 12 percent between 2015 and 2016.
North Carolina Agricultural and Technical State University was the leading recipient of federal obligations for S&E support to HBCUs in FY2016, with $26 million. Morehouse School of Medicine was the second-leading recipient, with $25 million.
High Hispanic Enrollment (HHE) institutions received $1.7 billion in federal obligations for S&E. The majority (55 percent) of the support for HHE institutions came from HHS, with nearly $941 million in obligations. NSF was the second-leading federal agency source of funding, with $390 million, or 23 percent of all federal S&E obligations to HHE academic institutions. The top ten HHE recipients of federal S&E support received a total of $1.2 billion, or 68 percent of the total support to all 134 HHE recipient institutions. The University of Arizona was the leading recipient among HHEs of federal obligations for support of S&E.
Federal S&E support to 33 tribal colleges and universities in FY2016 totaled $55 million. The Department of Education was the leading source of S&E support, with $33 million in obligations, followed by the USDA with $13 million and NSF with $8 million.
The nine High American Indian Enrollment (HAIE) institutions were obligated $75 million in federal funds for S&E support. NSF provided $28 million, followed by NASA with $16 million, HHS with $12 million, and USDA with $6 million. The University of Alaska, Fairbanks is the largest HAIE recipient of federal obligations, with $69 million in support for S&E. All other HAIEs combined were obligated $5.9 million in S&E support.
###
For more information, including data tables, please see the report.
---