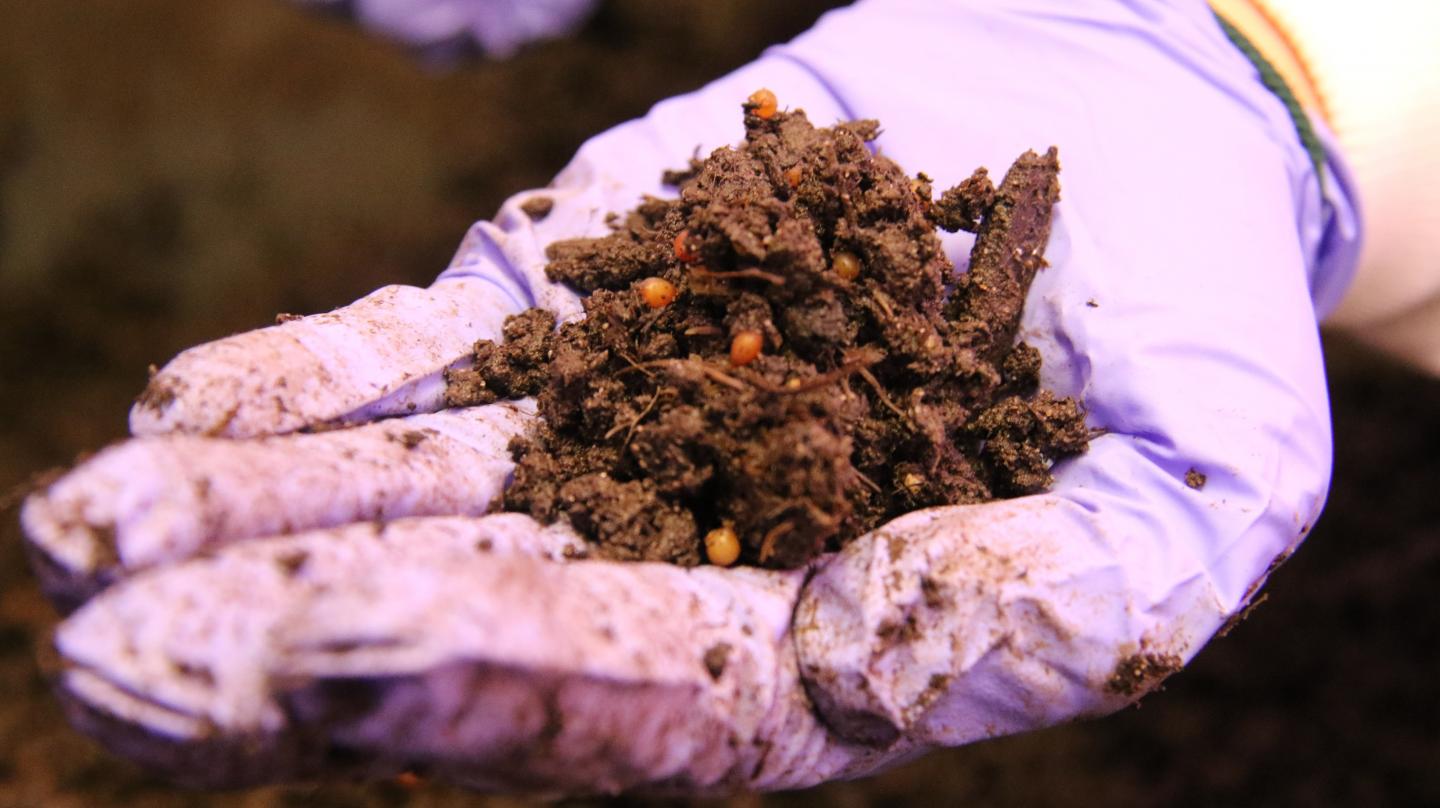 Scientists are to take part in a research project to transform our understanding of the potential of soil carbon storage to mitigate climate change.
The project, entitled "LOCKED UP", is to receive a grant of £1.8 million from the Natural Environment Research Council (NERC) to help scientists understand the processes of soil carbon formation, stabilisation and loss.
Led by Dr Jeanette Whitaker of the Centre for Ecology & Hydrology, and also involving Lancaster University and University of Leeds, the study will help to quantify the amount by which we can increase soil carbon storage to mitigate climate change.
The world's soils hold around twice the amount of carbon that is found in the atmosphere and in vegetation, yet the loss of carbon from this important reservoir is an escalating global threat caused by unsustainable land management practices. If "unlocked", this carbon can enter the atmosphere and contribute to climate change. Soil carbon loss also makes soils less fertile and so impacts global food security.
LOCKED UP represents a new collaboration between researchers with expertise in soil ecology and microbiology, biogeochemistry, mineralogy and environmental modelling. It includes advisory support from Max Planck Institut, Germany, and Institut National de la Recherche Agronomique (INRA), France.
Welcoming the grant, Dr Jeanette Whitaker said: "Maintaining and increasing soil carbon stocks globally is critical to ensuring food security and mitigating climate change. Small increases in soil carbon over very large areas could significantly reduce net carbon dioxide emissions from agriculture.
"This project will help to achieve this by advancing our understanding of what makes carbon stable in soils and developing quantitative methods to assess the mitigation potential and feasibility of increasing soil carbon storage across UK and global soils."
Professor Nick Ostle, of Lancaster University, one of the project's co-investigators, said global ambition to control climate change would need "some radical and innovative solutions", adding: "Human civilisations have always relied on soil for their survival and success. We need healthy soils more than ever."
###
Notes for editors
About soil carbon loss
Soils are crucial to mitigating climate change. Plants circulate carbon dioxide from the air to soils and consume about one-third of the CO2 that humans produce. Of that, about 10-15% ends up in the earth. But, one-third of the world's soils are degraded and through human history 133 Gt of carbon have been lost from soils, adding almost 500 Gt of CO2 to the atmosphere. Reversing these losses could make a significant contribution to climate change mitigation also improving soil health and food security. In 2015 at the Paris climate summit, France launched the '4 per 1000' initiative http://www.4p100.org to promote actions to globally increase soil carbon stocks. To achieve this goal we need research to ensure the long term stability of soil carbon.
About Dr Jeanette Whitaker
Dr Whitaker's research focuses on the impacts of climate change and land-use change on terrestrial ecosystems; specifically carbon and nutrient cycling and soil carbon sequestration. She also conducts applied research focused on the environmental costs and benefits of renewable energy to mitigate climate change.
About the Centre for Ecology & Hydrology
The Centre for Ecology & Hydrology (CEH) is the UK's Centre of Excellence for integrated research into land and freshwater ecosystems and their interaction with the atmosphere. CEH is part of the Natural Environment Research Council (NERC) and employs more than 450 people at four major sites in England, Scotland and Wales. CEH tackles complex environmental challenges to deliver practicable solutions so that future generations can benefit from a rich and healthy environment.
@CEHScienceNews http://www.ceh.ac.uk
About the Natural Environment Research Council (NERC)
NERC is the UK's main agency for funding and managing research, training and knowledge exchange in the environmental sciences. Our work covers the full range of atmospheric, Earth, biological, terrestrial and aquatic science, from the deep oceans to the upper atmosphere and from the poles to the equator. We coordinate some of the world's most exciting research projects, tackling major issues such as climate change, environmental influences on human health, the genetic make-up of life on Earth, and much more. NERC is part of UK Research & Innovation, a non-departmental public body funded by a grant-in-aid from the UK government. Grant number NE/S005137/1
Further information
For interview requests or further information, please contact Simon Williams, Media Relations Officer, Centre for Ecology & Hydrology, via +44 (0)7920 295384 or simwil@ceh.ac.uk
---