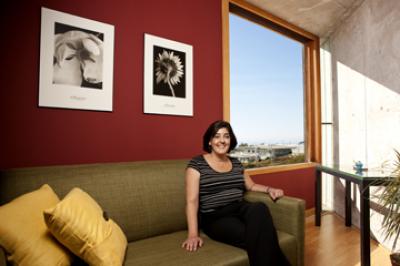 LA JOLLA, CA-The Royal Society announced today that Salk Institute molecular biologist Joanne Chory, Ph.D., an expert on how plants regulate their growth, has been named a foreign member of the Royal Society, the world's oldest scientific academy in continuous existence. She is being recognized as "a beacon of scientific excellence and relentless ambassador for plant research in the international community."
"Joanne is a leader in the field of plant biology and its potential impact on crop yields which could impact tens of millions of families and children," says Salk president William R. Brody. "Nobody is more deserving of this honor than Joanne. For over two decades she has been the driving force in understanding how plants detect and respond to changes in their environment. Her research may eventually enable researchers to develop plants that are particularly well adapted to challenging environments, boosting the yields of agricultural crops, a critical issue considering the millions of people worldwide suffering from hunger and malnutrition."
Joining Dr. Chory is Salk non-resident fellow Carla J. Shatz, Ph.D., a professor of Biology and Neurobiology and Director of BioX at the James Clark Center at Stanford University. Shatz is one of the pioneers who determined some of the basic principles of early brain development. She found that the spontaneous activity of neurons in utero is critical for the formation of precise and orderly neural connections in the central nervous system. Her recent work shows that waves of spontaneous activity in the retina can alter gene expression and the strength of synaptic connections.
Chory, a professor in the Institute's Plant Molecular and Cellular Biology Laboratory and a Howard Hughes Medical Institute investigator, pioneered the analysis of plant responses to their environment using a molecular genetic approach in Arabidopsis thaliana, a small weed that is easy to grow, prolific and has the smallest genome of any flowering plant.
Her laboratory has led the plant field for 20 years, making major discoveries in how plants grow and develop. She elucidated how plants perceive light; identified how chloroplasts signal to the nucleus; and defined a novel pathway for the biosynthesis of the plant hormone auxin. She also discovered a novel steroid hormone in plants, identified the steroid receptor and elegantly dissected the signaling network.
About Joanne Chory
A native of Massachusetts, Chory received an A.B. degree in biology with honors from Oberlin College, OH, and a Ph.D. in microbiology from the University of Illinois at Urbana-Champaign. She conducted postdoctoral research at Harvard Medical School before she joined the faculty of the Salk Institute in 1988.
Chory has been the recipient of numerous honors including the Award for Initiatives in Research from the National Academy of Sciences, the L'Oreal-UNESCO Award for Women in Science and the Kumho Award in Plant Molecular Biology among others. In 2003, Dr. Chory was named Scientific American's Research Leader in Agriculture. She is a member of the U.S. National Academy of Sciences, the German National Academy of Sciences (Leopoldina), the American Academy of Arts and Sciences, and is a fellow of the American Association for the Advancement of Science. Joanne Chory is a foreign associate of the French Academy of Sciences and is an associate member of EMBO.
With the election of Joanne Chory and non-resident fellow Carla Shatz, the Salk Institute's current roster of Royal Society members includes Francis Crick, Renato Dulbecco, Sydney Brenner, Tony Hunter, and non-resident fellows Elizabeth H. Blackburn, Thomas M. Jessell, and David Baltimore.
###
About the Royal Society
The Royal Society is a Fellowship of the world's most eminent scientists and is the oldest scientific academy in continuous existence. The Royal society aims to expand the frontiers of knowledge by championing the development and use of science, mathematics, engineering and medicine for the benefit of humanity and the good of the planet.
The Royal Society's Fellows and Foreign Members, who are elected for life on the basis of scientific excellence, have included Isaac Newton, Charles Darwin, Ernest Rutherford, Albert Einstein, Dorothy Hodgkin, Francis Crick, James Watson and Stephen Hawking. Today there are approximately 1,500 Fellows and Foreign Members, including more than 70 Nobel Laureates.
About the Salk Institute for Biological Studies:
The Salk Institute for Biological Studies is one of the world's preeminent basic research institutions, where internationally renowned faculty probe fundamental life science questions in a unique, collaborative, and creative environment. Focused both on discovery and on mentoring future generations of researchers, Salk scientists make groundbreaking contributions to our understanding of cancer, aging, Alzheimer's, diabetes and infectious diseases by studying neuroscience, genetics, cell and plant biology, and related disciplines.
Faculty achievements have been recognized with numerous honors, including Nobel Prizes and memberships in the National Academy of Sciences. Founded in 1960 by polio vaccine pioneer Jonas Salk, M.D., the Institute is an independent nonprofit organization and architectural landmark.
---