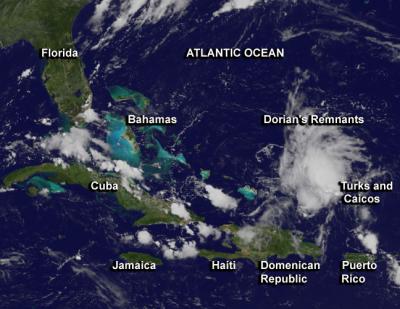 Former Tropical Storm Dorian has been hanging around the Caribbean Sea for a couple of days, and appears stretched out on satellite imagery.
NOAA's GOES-13 satellite has been capturing images of the movement of Dorian since it was born. NASA's GOES Project at the NASA Goddard Space Flight Center in Greenbelt, Md. created an image of the storm using GOES-13 satellite data on July 30 at 1415 UTC/10:15 a.m. EDT. Dorian's remnants appear elongated from north to south on the GOES-13 image. The showers and thunderstorms are disorganized and extend a few hundred miles east and northeast of the Turks and Caicos Islands.
The National Hurricane Center or NHC noted that upper-level winds are not expected to favor re-development over the next couple of days, as Dorian's remnants move west to northwest. The remnant low is moving 10 to 15 mph, and is expected to bring showers and gusty winds across Turks and Caicos as it moves into portions of the Bahamas.
The NHC gave Dorian's remnants a 20 percent chance for regeneration over the next couple of days.
###
---