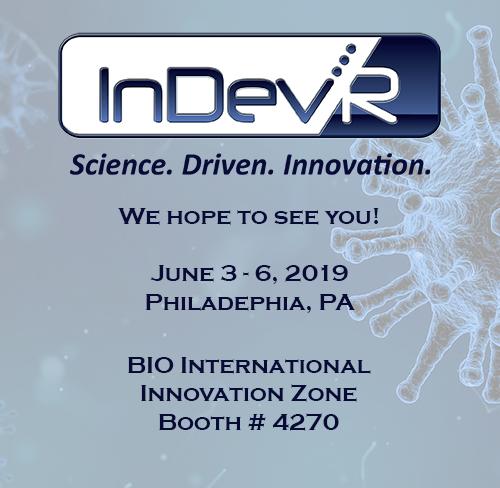 BOULDER COLORADO (4/9/19) -- InDevR announced that it has been selected to exhibit and showcase their VaxArray technology at the upcoming BIO International Convention, to be held June 3-6, 2019 in Philadelphia, PA.
Through the Small Business Innovation Research and Small Business Technology Transfer (SBIR/STTR) program, the National Institutes of Health (NIH) has funded many promising technologies and is committed to assisting its grantees/awardees further on their path to commercialization. This year NIH partnered with BIO to provide select SBIR/STTR awardees with premier visibility at the BIO International Convention, providing each company with access to business development executives from around the globe, as well as investors.
InDevR has an extraordinary track record of success for translating scientific ideas into innovative and impactful products. Since its inception InDevR has received three Phase 2 SBIR awards from NIH and successfully translated all three projects into commercial products. For example, development of InDevR's VaxArray platform, which is now transforming vaccine potency testing, was sponsored through a SBIR grant (R44AI102318) from the National Institute of Allergy and Infectious Diseases, which is part of NIH.
The BIO Convention is the world's largest biotechnology conference and exhibition, attracting over 16,000 biotech leaders from 72 countries. The Convention covers the wide spectrum of life science innovations and application areas including drug discovery, biomanufacturing, genomics, biofuels, nanotechnology, cell therapy, and more. The key elements of the conference are education, networking, the BIO Exhibition featuring over 1,800 companies, and BIO One-on-One Partnering™, which facilitates more than 45,000 strategic partnering meetings during the three-day event.
This year, there will be a high profile, 6,300 square foot area of the Exhibition floor branded as the Innovation Zone, a turn-key exhibit space dedicated to showcasing 80 NIH SBIR/STTR awardees.
InDevR's CEO, Dr. Kathy Rowlen, commented "We are keenly aware that Small Businesses account for the majority of all jobs in the U.S., have significant economic impact, and often lead in innovation. The SBIR/STTR program is critical in supporting those efforts, especially for science-driven companies like ours. We are grateful not only for that important R&D funding but for this unique opportunity to communicate the impact of our products within this premier event."
The content is of this news release is solely the responsibility of InDevR and does not necessarily represent the official views of the NIH.
###
About InDevR
InDevR is a global leader in progressive new analytical technologies that enable accelerated development and manufacturing of vaccines and other biotherapeutics. For more information about the company and products, please visit http://www.indevr.com or call 303-402-9100.
---