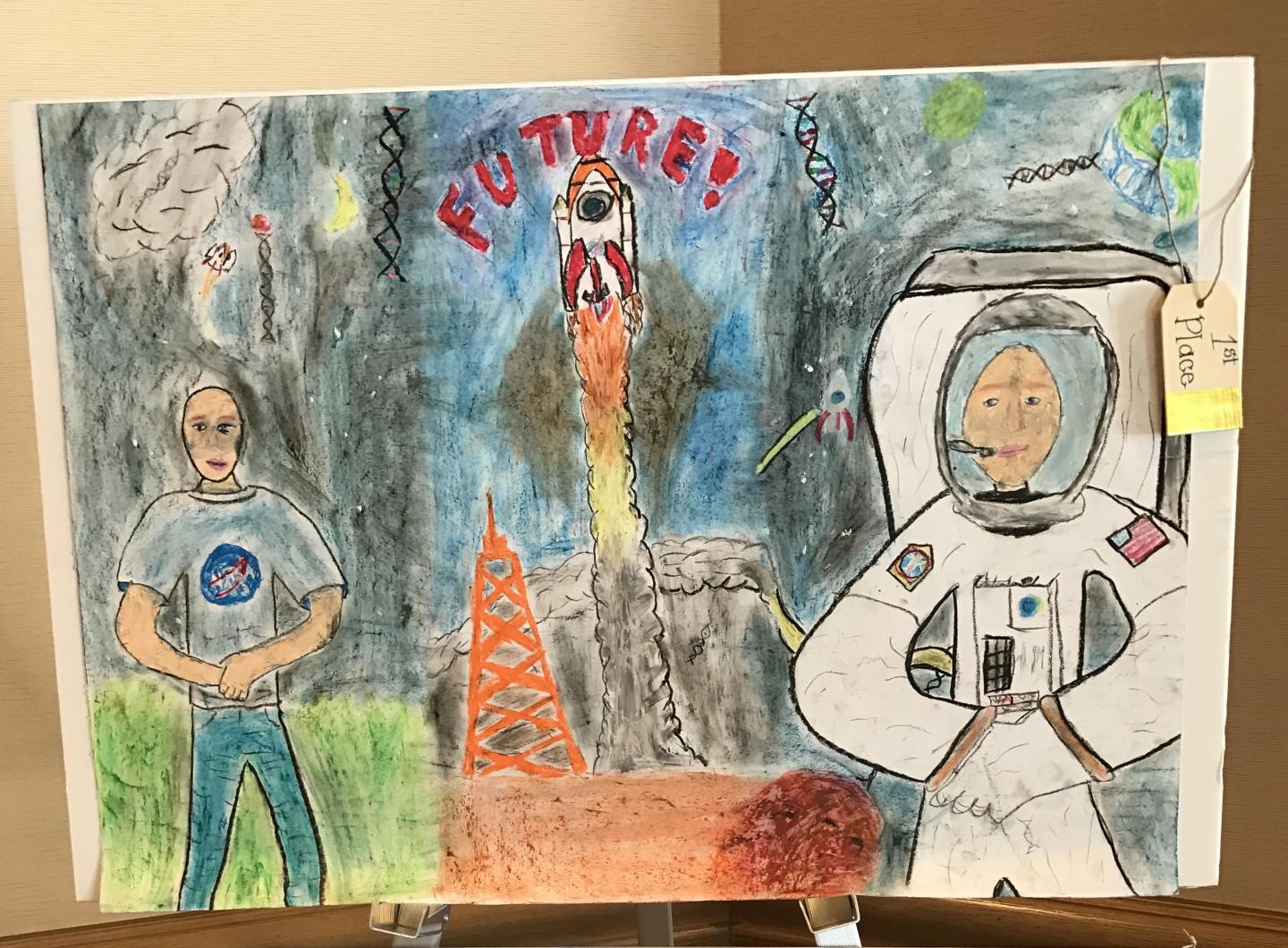 As Houston gears up for the Super Bowl, scientists and students are tackling Omics during the 2017 NASA Human Research Program (HRP) Investigators' Workshop in Galveston, Texas this week. Kicking off the week, astronaut, molecular biologist and Human Health and Performance Deputy Director Kate Rubins, Ph.D., awarded prizes to 10 art students at Mosbacher Odyssey Academy in Galveston on Tuesday for their artistic portrayal of Omics, a challenging topic for any age. Rubins sequenced DNA in space for the first time last year. On Wednesday, The Sports Gene author David Epstein and Twins Study investigator Chris Mason, Ph.D., hosted a session about the "Omics of Sports and Space." Epstein also provided the keynote address during the HRP awards banquet that evening. On Thursday, Twins Study investigators are presenting their preliminary results to attendees.
Omics is a rapidly evolving field of study that integrates multiple biological disciplines and focuses on measurements of a diverse array of biomolecules. It combines genomics (genes), transcriptomics (RNA transcripts), proteomics (proteins), epigenomics (modifications to DNA and its packing), metabolomics (metabolites) and microbiomics (microbial DNA) enabling researchers to observe more molecular activity in the human body than ever before. Long duration spaceflight, including to Mars, will take humans into uncharted territory by traveling approximately three years from Earth's protective magnetic field. NASA will use this research to understand deep space risks to protect future crews. The Twins Study uses Omics as a 21st Century toolset to help achieve that goal.
In the Twins Study, ten principal investigators are evaluating the effects of long-duration spaceflight on two identical twins, Scott and Mark Kelly, because they share almost identical DNA. By examining identical genomes, researchers can focus on the modifications to DNA and other biomolecules resulting from stressors. The analyses were conducted before, during and after Scott's year-long journey aboard the International Space Station. Mark, a retired astronaut, served as the on-ground, non-flying comparison subject. The Twins Study investigations are part of NASA's evaluation of genetic techniques to understand the effects of weightlessness, radiation, and other spaceflight factors on the health and performance of astronauts in deep space.
Though Scott Kelly landed in March 2016, the investigators only recently began analyzing pre-flight, in-flight and post-flight samples, at the same time, in order to minimize variability in sample handling. This approach helps clarify the differences between the two astronauts and increases confidence in the data and findings.
Investigators are integrating the preliminary data and will release an official summary of the Twins Study findings later in 2017. They are continuing their discussions and data-sharing, while adhering to the data confidentiality protocols required for such sensitive topics. They are mapping out integrated analytical approaches to take advantage of each investigator's unique capabilities.
Graham Scott, Ph.D., vice president, chief scientist and associate director of the National Space Biomedical Research Institute, said, "This workshop is a prime opportunity for Twins Study investigators to present their initial findings, confirm or challenge their initial interpretations, and to understand their specific findings in the context of related results. It's also opening doors for other researchers and students to better understand and engage in Omics research."
The Investigators' Workshop continues to grow each year uniting renowned researchers from around the world. The 2017 event highlights the initial results for the One-Year Mission and Twins Study research investigations, and gave local students an opportunity to participate in the Omics art competition. The conference provides a variety of specialty sessions to attendees and spurs future collaborations. Scientists and students are scoring multiple touchdowns in this Super Bowl of Omics.
NASA's Human Research Program enables space exploration by reducing the risks to human health and performance through a focused program of basic, applied, and operational research. This leads to the development and delivery of: human health, performance, and habitability standards; countermeasures and risk mitigation solutions; and advanced habitability and medical support technologies.
###
---