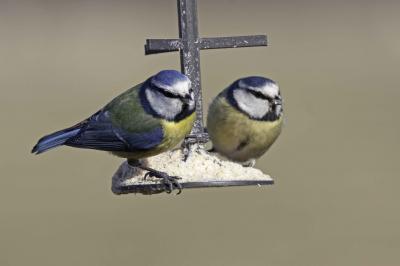 Wild bird populations are generally thought to benefit from being given additional food in winter but our understanding of the effects of such food provision is incomplete. The results of a new study, carried out by researchers at the University of Exeter and the British Trust for Ornithology (BTO), has found that feeding wild blue tits in winter resulted in less successful breeding during the following spring.
The research, just published in Scientific Reports, revealed that woodland blue tits that were provided with fat balls as a supplementary food during the winter months went on to produce chicks that were smaller, of lower body weight and which had lower survival than the chicks of birds that did not receive any additional food.
Dr Jon Blount from the University of Exeter who led the research said: "Our research questions the benefits of feeding wild birds over winter. Although the precise reasons why fed populations subsequently have reduced reproductive success are unclear, it would be valuable to assess whether birds would benefit from being fed all year round rather than only in winter. More research is needed to determine exactly what level of additional food provisioning, and at what times of year, would truly benefit wild bird populations."
Dr Kate Plummer, lead author of the paper, said: "There could be a number of different explanations for our results. One possibility is that winter feeding may help birds in relatively poor condition to survive and breed. Because these individuals are only capable of raising a small number of chicks, they will reduce our estimation of breeding success within the population. But more research is needed to understand whether winter feeding is contributing to an overall change in the size of bird populations."
It is estimated that around half of UK householders feed birds in their gardens. This equates to around 50-60 thousand tonnes of bird food provisioned each year and contributes to a thriving bird food industry.
Jane Lawler, Marketing Director at Gardman, commented: "As the wider scientific evidence shows, feeding wild birds with appropriate foods delivers a range of positive benefits. A number of unanswered questions remain, however, and this is why we have been supporting this and other research, using the information gained to inform our products and the advice that we provide to our customers."
The three year study was conducted across nine woodland sites in Cornwall. During winter, populations of blue tits were left unfed, given plain fat balls or given fat balls enriched with vitamin E – a vitamin commonly present in bird food such as nuts and seeds. Nest boxes and bird feeders were distributed around the woodland study sites and reproductive success was investigated by checking the nest boxes in the spring to determine the number of eggs laid and the growth and survival of chicks.
Studies elsewhere have shown that feeding wild birds in winter can have almost immediate benefits for survival and can enhance future breeding success, so the latest results provide important new information and inform the debate around the role that feeding wild birds may play in their population processes. Whether providing food is detrimental or beneficial to wild bird populations, it is clear that more research is needed to better understand its effects.
###
The study was funded by the Natural Environment Research Council (NERC), the Royal Society, Gardman Ltd and the BTO.
Contacts for images and interviews
Dr Jo Bowler
University of Exeter Press Office
Office: +44 (0)1392 722062
Mobile: +44(0)7827 309 332
Twitter: @UoE_ScienceNews
Email j.bowler@exeter.ac.uk
Paul Stancliffe
BTO Media Manager
Office: 01842 750050
Mobile: 07585 440910
Twitter: @_bto
Email: press@bto.org
Cathy Connan
Gardman Press Consultant
Mobile: 07976 669089
cathy@cathyconnan.com
About the University of Exeter
The Sunday Times University of the Year 2012-13, the University of Exeter is a Russell Group university and in the top one percent of institutions globally. It combines world-class research with very high levels of student satisfaction. Exeter has over 18,000 students and is ranked 7th in The Sunday Times University Guide, 10th in the UK in The Times Good University Guide 2012 and 10th in the Guardian University Guide. In the 2008 Research Assessment Exercise (RAE) 90% of the University's research was rated as being at internationally recognised levels and 16 of its 31 subjects are ranked in the top 10, with 27 subjects ranked in the top 20.
The University has three campuses. The Streatham and St Luke's campuses are in Exeter and the Cornwall Campus (known locally as the Tremough Campus) near Penryn. In an arrangement that is unique in the UK, the Cornwall Campus is owned and jointly managed as the Tremough Campus with Falmouth University. At the campus, University of Exeter students can study programmes in the following areas: Animal Behaviour, Conservation Biology and Ecology, English, Environmental Sciences, Evolutionary Biology, Geography, Geology, History, Mathematics and the Environment, Mining and Minerals Engineering, Politics and International Studies, Renewable Energy and Zoology.
The University has invested strategically to deliver more than £350 million worth of new facilities across its campuses for 2012, including landmark new student services centres - the Forum in Exeter and The Exchange in Cornwall - and world-class new facilities for Biosciences, the Business School and the Environment and Sustainability Institute. http://www.exeter.ac.uk/cornwall
About the BTO
The BTO is the UK's leading bird research charity. A growing membership and up to 60,000 volunteer birdwatchers contribute to the BTO's surveys, collecting information that underpins conservation action in the UK. The BTO maintains a staff of 100 at its offices in Thetford, Stirling, Bangor (Wales) and Bangor (Northern Ireland), who analyse and publicise the results of surveys and projects. The BTO's work is funded by BTO supporters, government, trusts, industry and conservation organisations. http://www.bto.org
Images are available for use alongside this News Release. Please contact images@bto.org quoting reference 2013-20
The BTO has an ISDN for radio interviews. Please contact us to book an interview office: 01842 750050
About NERC
The Natural Environment Research Council (NERC) is the largest funder of environmental science in the UK. We invest £330 million in cutting-edge research, training and knowledge transfer in the environmental sciences. Our scientists study and monitor the whole planet, from pole to pole, and from the deep Earth and oceans to the edge of space. We address and respond to critical issues such as environmental hazards, resource security and environmental change. Through collaboration with other science disciplines, with UK business and with policy-makers, we make sure our knowledge and skills support sustainable economic growth and public wellbeing – reducing risks to health, infrastructure, supply chains and our changing environment. http://www.nerc.ac.uk
---
Journal
Scientific Reports