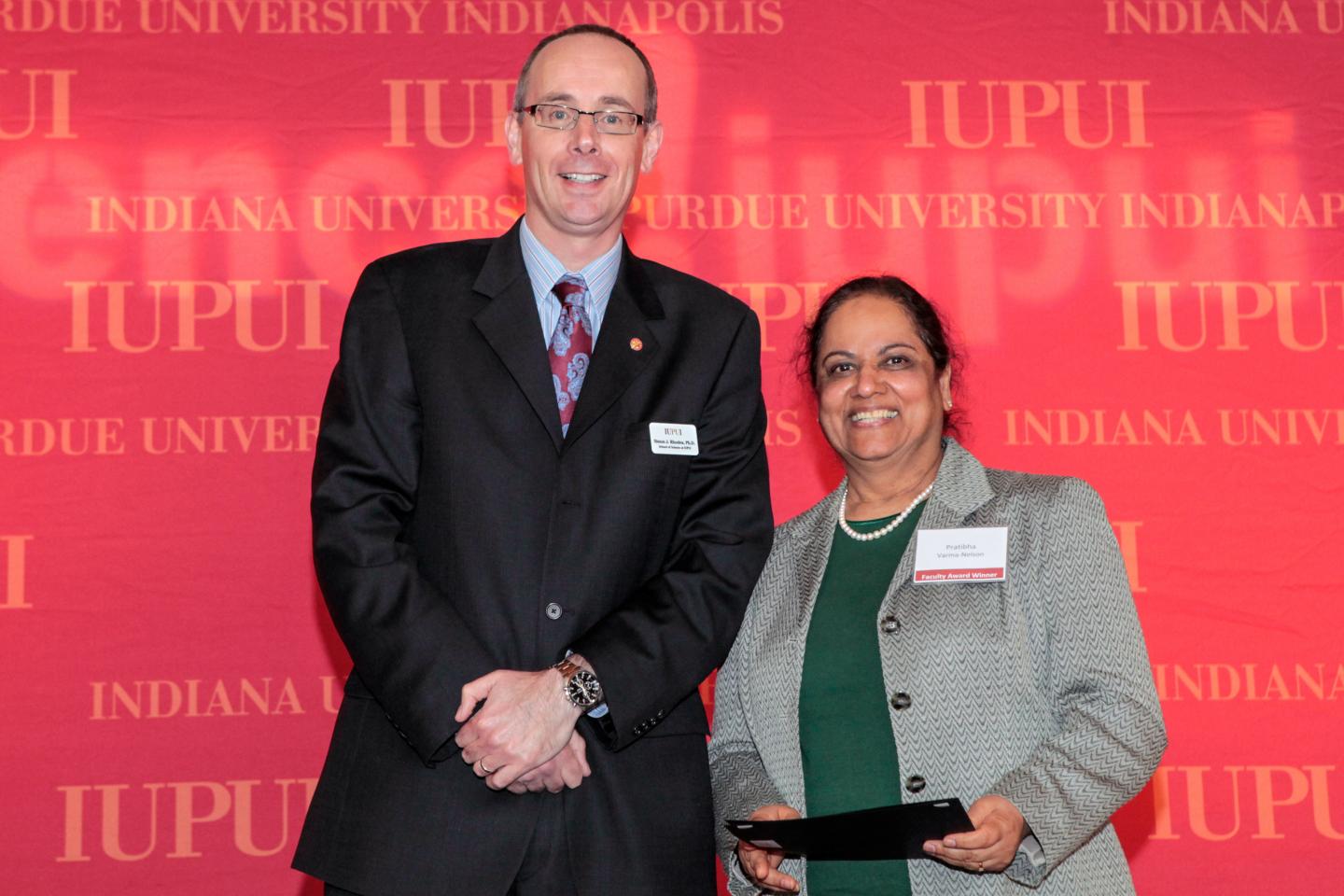 INDIANAPOLIS -- Leading figures in science education are gathering this week for a symposium honoring Pratibha Varma-Nelson of IUPUI, this year's recipient of the American Chemical Society's George Pimentel Award.
The award recognizes Varma-Nelson's prominent role in influencing how chemistry and other STEM disciplines are taught at colleges and universities across the United States and abroad. Representatives of many of these institutions are participating in the Pimentel Award symposium on March 20 during the ACS's annual meeting in New Orleans.
Varma-Nelson is a professor of chemistry and the founding director of the STEM Education Innovation and Research Institute at IUPUI. She is internationally respected for her leadership in promoting active learning of chemistry that engages students in collaborative problem-solving and critical thinking under the guidance of a peer leader. She is a strong advocate for transforming traditional pedagogical methods to peer-led models in both face-to-face and online environments.
"The School of Science is very proud that Dr. Varma-Nelson is receiving this international award. It is a deserving recognition of the impact her leadership has had on student learning," said Dean Simon Rhodes. "Thousands of students in chemistry, computer science, engineering, professional health training, and other disciplines have benefitted from the techniques that she has pioneered. At IUPUI, that translates into a significant positive impact on the economy of our State."
For over two decades, Varma-Nelson has focused on promoting active learning by bringing Peer Led Team Learning, or PLTL, and Cyber Peer Led Team Learning, or cPLTL, to a variety of undergraduate science, technology, engineering and math disciplines. She has also been involved in designing research into the effect of PLTL on both students and peer leaders.
Her latest research into the use of PLTL in cyberspace examines the differences between face-to-face and synchronous online PLTL sessions. Her research has revealed more similarities than differences between the benefits of PLTL in these two environments. She has conducted one of the few published studies to date to compare pedagogies in face-to-face versus online science education.
Her group is now studying the transferable skills that former peer leaders take into the workplace. Peer leaders representing over a decade of PLTL involvement cited leadership, coping with challenges, problem solving and other skills acquired from PLTL as being relevant to their current careers.
Varma-Nelson will receive the Pimentel Award during the ACS awards banquet on March 20.
###
---