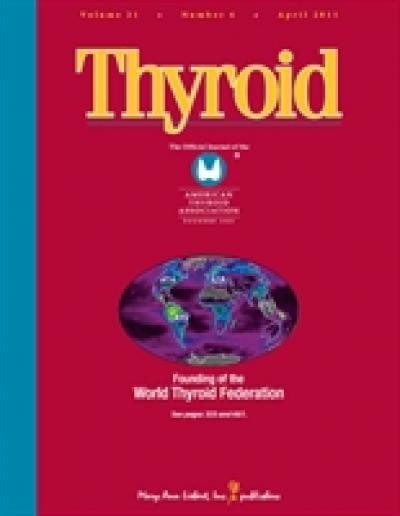 New Rochelle, NY, April 7, 2011—New recommendations from the American Thyroid Association (ATA) on outpatient radioiodine (131I) treatment aim to minimize unintended radiation exposure and maximize the safety of patients, their families, and the public. The new ATA recommendations are presented in the April issue of Thyroid, a peer-reviewed journal published by Mary Ann Liebert, Inc. (www.liebertpub.com). The ATA recommendations are available free online at www.liebertpub.com/thy
The ATA convened a task force to update radiation safety information related to outpatient 131I therapy to treat hyperthyroidism and thyroid cancer. The new ATA practice recommendations cover a broad range of topics including travel; safety precautions at home, work, and school; personal hygiene; and pregnancy and breastfeeding. These recommendations comply with the most up-to-date U.S. Nuclear Regulatory Commission (NRC) regulations, including a recent guidance statement that advises medical professionals administering 131I therapy to ask patients about their intended destination after the treatment and to discourage them from staying at hotels to limit public radiation exposure.
In a Commentary in the February issue of Thyroid, Richard T. Kloos, MD, Professor, The Ohio State University and Secretary/Chief Operating Officer of the ATA, states that the new ATA document "aims to provide simplified, consistent, and safe instructions for care providers and patients."
"The strength of these practice recommendations is that the task force included representatives across the range of disciplines that use radiation to treat thyroid patients. It is essential that our patients receive clear and consistent information from those ordering, administering, and monitoring these treatments," states Gregory A. Brent, MD, Professor of Medicine and Physiology, David Geffen School of Medicine at the University of California Los Angeles and President of the ATA.
###
Thyroid, the Official Journal of the American Thyroid Association (www.thyroid.org) is an authoritative peer-reviewed journal published monthly in print and online. The Journal publishes original articles and timely reviews that reflect the rapidly advancing changes in our understanding of thyroid physiology and pathology, from the molecular biology of the cell to clinical management of thyroid disorders. Complete tables of content and a free sample issue may be viewed online at www.liebertpub.com/thy
The American Thyroid Association (ATA), a non-profit medical society founded in 1923, is the lead organization in promoting thyroid health and understanding thyroid biology. The ATA values scientific inquiry, clinical excellence, public service, education, collaboration and collegiality. ATA fulfills its mission through supporting excellence and innovation in research, clinical care, education and public health. ATA members are physicians and scientists who work to enhance the understanding of thyroid physiology and pathophysiology, improve diagnosis and treatment of thyroid diseases, and promote the education of physicians, patients and the public about thyroid disorders. Thyroid diseases are among the most common disorders of the endocrine system, affecting almost 13 million Americans. The ATA has extensive online information at www.thyroid.org on thyroid disease for patients in both English and Spanish and serves as the clinical resource for patients and the public who look for reliable information on the Internet.
Mary Ann Liebert, Inc., is a privately held, fully integrated media company known for establishing authoritative peer-reviewed journals in many promising areas of science and biomedical research, including Diabetes Technology & Therapeutics, Journal of Women's Health, and Metabolic Syndrome and Related Disorders. Its biotechnology trade magazine, Genetic Engineering & Biotechnology News (GEN), was the first in its field and is today the industry's most widely read publication worldwide. A complete list of the firm's 60 journals, books, and newsmagazines is available at www.liebertpub.com.
Mary Ann Liebert, Inc. 140 Huguenot St., New Rochelle, NY 10801-5215 www.liebertpub.com
Phone: (914) 740-2100 (800) M-LIEBERT Fax: (914) 740-2101
---