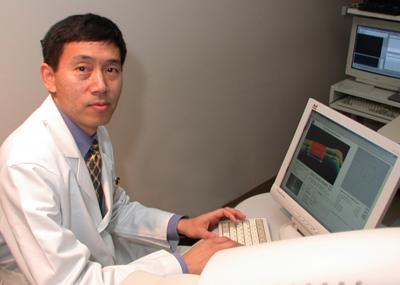 DALLAS – Oct. 24, 2006 -- UT Southwestern Medical Center is participating in a nationwide study investigating whether modified combinations of vitamins, minerals and fish oil products can slow the progression of vision loss from age-related macular degeneration.
"This study will evaluate nutrient-based factors that may influence the development and progression of the two most prevalent age-related eye diseases, age-related macular degeneration and cataracts," said Dr. Yu-Guang He, an ophthalmologist and principal investigator of the study at UT Southwestern.
The Age-Related Eye Disease Study 2, sponsored by the National Institutes of Health, will build upon results from an earlier study that found high-dose antioxidant vitamins and minerals taken orally reduced the risk of AMD progression by 25 percent and the risk of moderate vision loss by 19 percent. That study involved vitamins C and E, beta carotene, zinc and copper.
The new study will examine whether adding lutein and zeaxanthin (derived from plants) and omega-3 fatty acids DHA and EPA (derived from fish oil) decreases progression to advanced AMD, which often leads to vision loss. It will also consider the effect these supplements have on cataract and moderate vision loss.
"Everybody talks about the potential benefit of these supplements, but there's no solid evidence for that, no clinical evidence so far," said Dr. He, associate professor of ophthalmology and director of the Retina Fellowship Program. "This study is going to try to resolve that."
About 4,000 people between the ages of 50 and 85 with AMD in both eyes or advanced AMD in one eye, will be assessed at nearly 100 institutions over the next five years.
Age-related macular degeneration, or AMD, is the leading cause of vision loss in the United States for people over age 60. Nearly 2 million Americans have lost vision due to advanced AMD and another 7 million are at risk for losing vision.
AMD damages the macula, the small area near the center of the retina that blurs central vision. Wet AMD, also known as vascular AMD, is caused by abnormal blood vessel growth under the macula, leading to loss of central vision. Dry AMD, which is the more common and less severe form, occurs when light-sensitive cells in the macula slowly break down.
"Until we get the results from this new study, we encourage people with AMD to visit their ophthalmologist to see if they need to take vitamins and minerals. This alone could save many people from vision loss over the next five years," Dr. He said.
###
People interested in participating in the study can contact 214-648-2185. Additional information about the study is available at www.areds2.org.
About UT Southwestern Medical Center
UT Southwestern Medical Center, one of the premier medical centers in the nation, integrates pioneering biomedical research with exceptional clinical care and education. Its more than 1,400 full-time faculty members – including four active Nobel prize winners, more than any other medical school in the world – are responsible for groundbreaking medical advances and are committed to translating science-driven research quickly to new clinical treatments. UT Southwestern physicians provide medical care in 40 specialties to nearly 89,000 hospitalized patients and oversee 2.1 million outpatient visits a year.
This news release is available on our World Wide Web home page at
http://www.utsouthwestern.edu/home/news/index.html
To automatically receive news releases from UT Southwestern via e-mail,
subscribe at www.utsouthwestern.edu/receivenews
Dr. Yu-Guang He - http://www.utsouthwestern.edu/findfac/professional/0,2356,27714,00.html
---