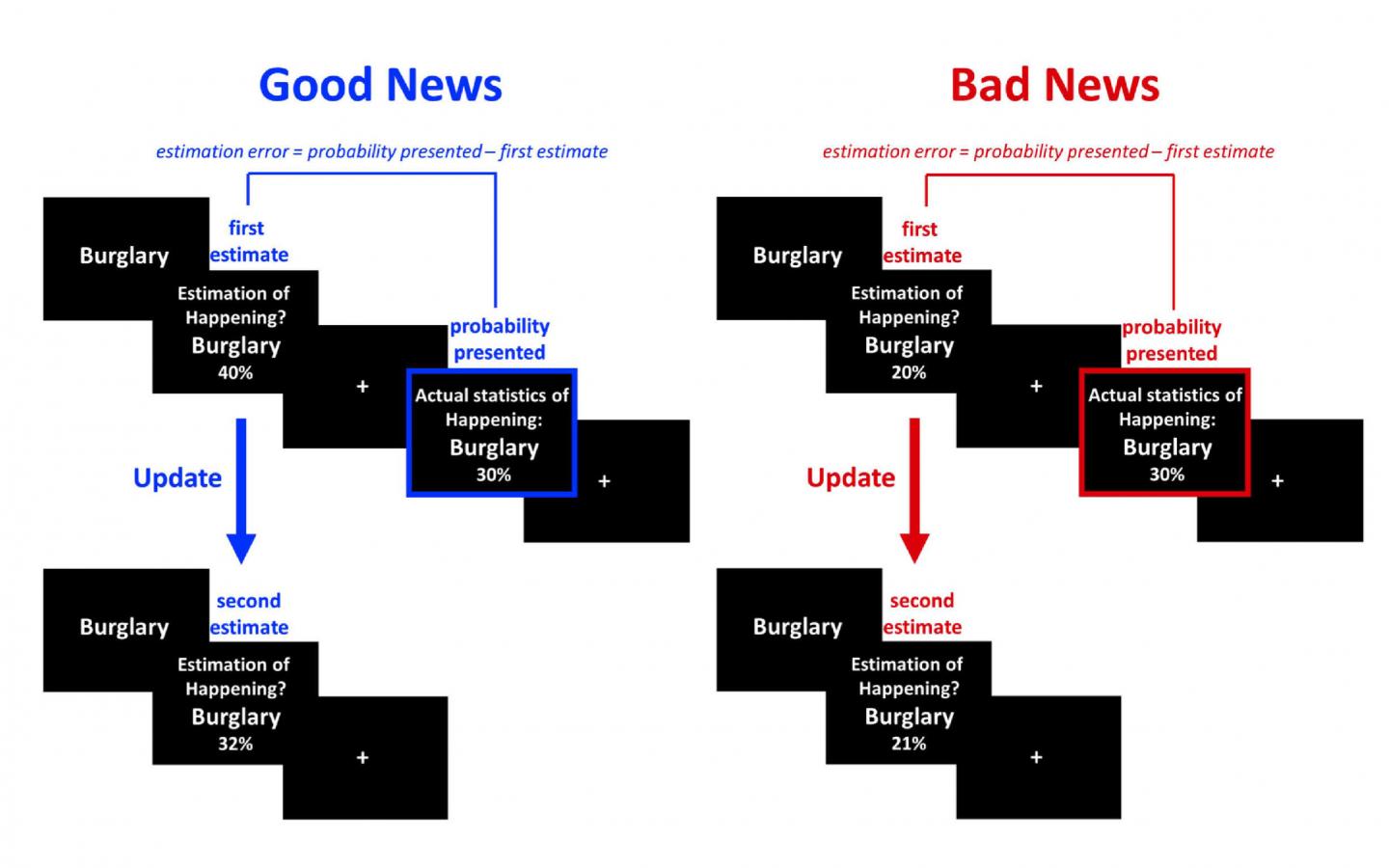 Threat dissolves the human tendency to readily accept good news over bad, according to experiments conducted both in the lab and with on-duty firefighters. The findings, published in JNeurosci, provide a potential mechanism by which levels of optimism are adapted to the relative safety or danger of the environment.
In general people tend to be overly optimistic. The opposite is true in psychiatric conditions such as depression, in which some patients place a premium on negative information. Neil Garrett, Tali Sharot, and colleagues now show that the ability to flexibly shift between these two patterns can be a healthy, adaptive response to changing environmental demands.
The researchers induced stress in a controlled laboratory experiment by telling participants they will need to give a surprise public speech. They then asked participants to estimate their likelihood of experiencing 40 different aversive events in their life, such as being involved in a car accident or becoming a victim of card fraud. Participants were then given either good news (being told that their likelihood of experiencing these events was lower than they had estimated) or bad news (that it was higher). They then asked participants to provide new estimates. The control group showed the well-known optimism bias; a tendency to take more notice of good news compared to bad news. In contrast, the stressed participants showed no such bias and became better at processing bad news. The researchers obtained similar results in a study of Colorado firefighters, who naturally experience fluctuating periods of stress as part of their job.
###
Article: Updating Beliefs Under Perceived Threat
DOI: https://doi.org/10.1523/JNEUROSCI.0716-18.2018
Corresponding authors: Neil Garrett (Princeton University, NJ, USA), ngarrett@princeton.edu and Tali Sharot (University College London, UK), t.sharot@ucl.ac.uk
About JNeurosci
JNeurosci, the Society for Neuroscience's first journal, was launched in 1981 as a means to communicate the findings of the highest quality neuroscience research to the growing field. Today, the journal remains committed to publishing cutting-edge neuroscience that will have an immediate and lasting scientific impact, while responding to authors' changing publishing needs, representing breadth of the field and diversity in authorship.
About The Society for Neuroscience
The Society for Neuroscience is the world's largest organization of scientists and physicians devoted to understanding the brain and nervous system. The nonprofit organization, founded in 1969, now has nearly 37,000 members in more than 90 countries and over 130 chapters worldwide.
---