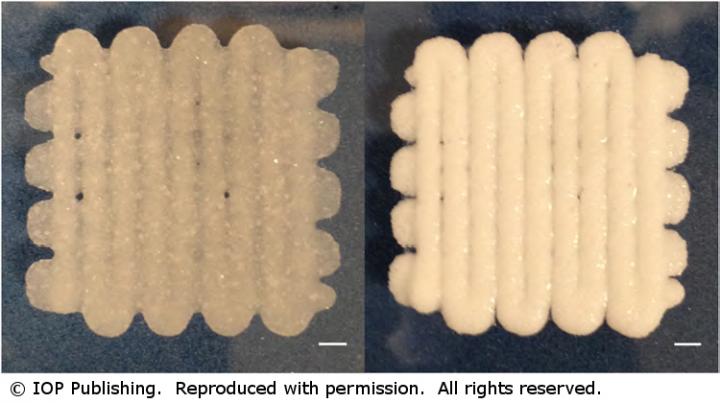 Scientists have developed a new technique allowing the bioprinting at ambient temperatures of a strong paste similar to 'play dough' capable of incorporating protein-releasing microspheres.
The scientists demonstrated that the bioprinted material, in the form of a micro-particle paste capable of being injected via a syringe, could sustain stresses and strains similar to cancellous bone - the 'spongy' bone tissue typically found at the end of long bones.
This work, published today (3 July 2015) in the journal Biofabrication, suggests that bioprinting at ambient temperatures is a viable route to the production of materials for bone repair which would allow the inclusion of cells and proteins capable of accelerating the healing of large fractures.
"Bioprinting is a hot research area in tissue engineering," explains Dr Jing Yang, of the University of Nottingham, a lead author on the paper. "However it usually requires a printing environment that isn't compatible with living cells - and those materials that are compatible with living cells usually don't have sufficient mechanical properties for certain applications."
"Initially we're targeting the clinical application of this material as injectable bone defect filler," continues Dr Yang, "but we've postulated that its properties would make it highly suitable for use as a scaffold to reconstruct larger shapes, which could help with more complicated reconstructions - such as nasal reconstruction."
Typically, bioprinting techniques involve high temperature processes, or the application of ultraviolet light or organic solvents, all of which prevent the incorporation of cells and therapeutic biomolecules during the fabrication process.
This technique involved blending poly(L-lactic-co-glycolic acid) and polyethylene glycol with carrier fluids at room temperature to form a micro-particulate extrudable paste that can be formed to desired shapes. These pastes were incubated at 37 °C to form porous solid constructs. The next steps of the process will be to apply this process in a clinical application.
###
From the 3 July 2015, the article will be available from: 10.1088/1758-5090/7/3/035004
Notes to Editors
Contact
1. For further information, a full draft of the journal paper or contact with one of the researchers, contact IOP Senior PR Officer, Steve Pritchard: Tel: 0117 930 1032 E-mail: steve.pritchard@iop.org. For more information on how to use the embargoed material above, please refer to our embargo policy.
IOP Publishing Journalist Area
2. The IOP Publishing Journalist Area gives journalists access to embargoed press releases, advanced copies of papers, supplementary images and videos. Login details also give free access to IOPscience, IOP Publishing's journal platform. To apply for a free subscription to this service, please email the IOP Publishing Press team at ioppublishing.press@iop.org, with your name, organisation, address and a preferred username.
Cell and protein compatible 3D bioprinting of mechanically strong constructs for bone repair
3. The published version of the paper 'Cell and protein compatible 3D bioprinting of mechanically strong constructs for bone repair (Biofabrication 7 035004)' will be freely available online from 3 July 2015. It will be available at http://iopscience.iop.org/1758-5090/7/3/035004.
Biofabrication
4. Biofrabrication focuses on research using cells, proteins, biomaterials and/or other bioactive elements as building blocks to fabricate advanced biological models, medical therapeutic products and non-medical biological systems.
IOP Publishing
5. IOP Publishing provides publications through which leading-edge scientific research is distributed worldwide.
Beyond our traditional journals programme, we make high-value scientific information easily accessible through an ever-evolving portfolio of books, community websites, magazines, conference proceedings and a multitude of electronic services.
IOP Publishing is central to the Institute of Physics, a not-for-profit society. Any financial surplus earned by IOP Publishing goes to support science through the activities of the Institute.
Go to ioppublishing.org or follow us @IOPPublishing.
Access to Research
6. Access to Research is an initiative through which the UK public can gain free, walk-in access to a wide range of academic articles and research at their local library. This article is freely available through this initiative. For more information, go to http://www.accesstoresearch.org.uk.
The Institute of Physics
7. The Institute of Physics is a leading scientific society. We are a charitable organisation with a worldwide membership of more than 50,000, working together to advance physics education, research and application.
We engage with policymakers and the general public to develop awareness and understanding of the value of physics and, through IOP Publishing, we are world leaders in professional scientific communications.
In September 2013, we launched our first fundraising campaign. Our campaign, Opportunity Physics, offers you the chance to support the work that we do.
Visit us at http://www.iop.org or follow us on Twitter @physicsnews.
---