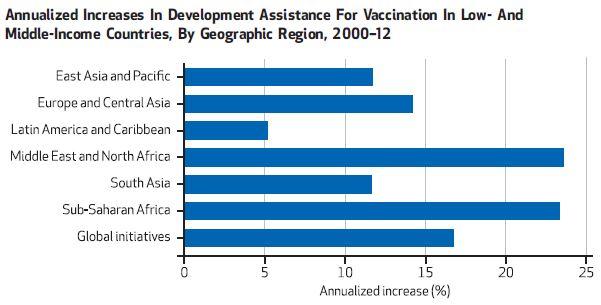 The February issue of Health Affairs explores the current environment in which vaccines are discovered, produced, and delivered. The issue also contains several studies examining the economic benefits and value of sustainably financing vaccinations in the United States and globally.
One of the studies in the February issue of Health Affairs examines the international vaccine funding provided to low- and middle-income countries, noting that aid grew from $822 million in 2000 to $3.6 billion in 2014. Increases in assistance are largely attributed to the creation of the international organization Gavi, the Vaccine Alliance, which saw funding grow 18.8 percent annually since 2001. The United States and the United Kingdom also provided substantial assistance, with contributions increasing each year by 6.7 percent and 13.9 percent, respectively. The study, by Joseph L. Dieleman, assistant professor at the University of Washington; Annie Haakenstad, doctoral student at the Harvard T.H. Chan School of Public Health; and coauthors, used estimates compiled by the Institute for Health Metrics and Evaluation, which looks at development assistance for eight separate health focus areas.
"The continued increases in development assistance for vaccination are encouraging signs that the goals of the Global Vaccine Action Plan could be realized through increased financing," the authors conclude. "Development assistance partners such as Gavi, the Bill & Melinda Gates Foundation, and the UK government are fueling continued growth in financing."
Also of interest in the issue:
"Slow Progress In Finalizing Measles And Rubella Elimination In The European Region," by Robin Biellik and other members of the Regional Verification Commission, and the World Health Organization Secretariat.
"EPIC Studies: Governments Finance, On Average, More Than 50 Percent Of Immunization Expenses, 2010-11," by Logan Brenzel of the Bill & Melinda Gates Foundation and coauthors.
"Current Global Pricing For Human Papillomavirus Vaccines Brings The Greatest Economic Benefits To Rich Countries," by Niamh Herlihy of the Department of Infectious Disease Epidemiology at the London School of Hygiene and Tropical Medicine and coauthors.
"Return On Investment From Childhood Immunization In Low- And Middle-Income Countries, 2011-20," by Sachiko Ozawa of the Johns Hopkins Bloomberg School of Public Health and coauthors.
###
Health Affairs is the leading journal at the intersection of health, health care, and policy. Published by Project HOPE, the peer-reviewed journal appears each month in print, with additional Web First papers and health policy briefs published regularly on its website. You can also find the journal on Facebook and Twitter. Read daily perspectives on Health Affairs Blog. Download monthly Narrative Matters podcasts on iTunes. Tap into Health Affairs content with the iPad app.
---