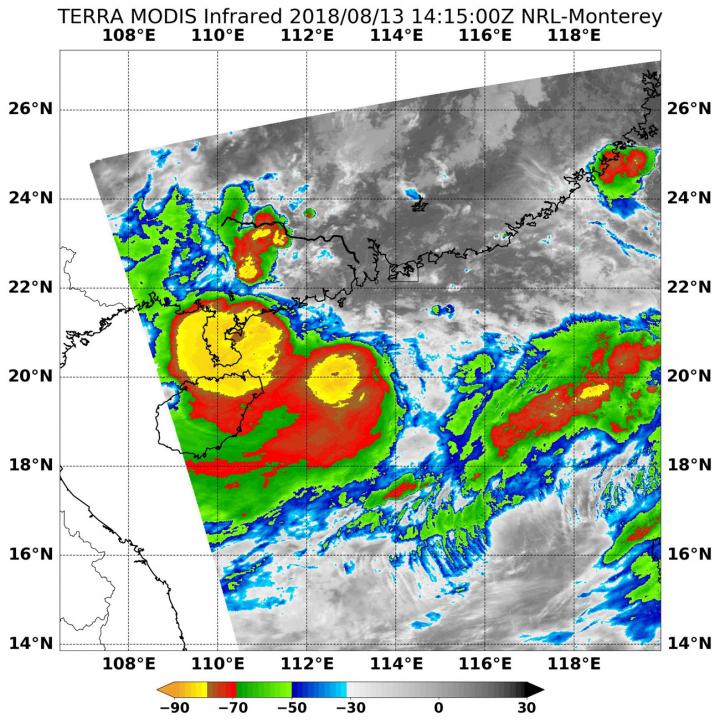 Tropical Storm Bebinca formed quickly in the northern part of the South China Sea. Warnings were in effect as NASA's Aqua satellite analyzed the storm located off the coast of southern China near Hainan Island and found powerful storms capable of dropping heavy rainfall.
On Aug. 13 at 10:15 a.m. EDT (1415 UTC) the Moderate Resolution Imaging Spectroradiometer or MODIS instrument aboard NASA's Aqua satellite analyzed Tropical Storm Bebinca's cloud top temperatures in infrared light. MODIS found cloud top temperatures of strongest thunderstorms were as cold as or colder than minus 80 degrees Fahrenheit (minus 62.2 Celsius) around the center. Cloud top temperatures that cold indicate strong storms that have the capability to create heavy rain.
On Aug. 13, a Tropical Cyclone Warning Bulletin was issued by the Hong Kong Observatory (HKO) and Standby Signal, No. 1 was in force. That means that a tropical cyclone now centered within about 800 kilometers (497 miles) of Hong Kong.
At 11 a.m. EDT on Aug. 13 (11 p.m. local time) Tropical Storm Bebinca was estimated to be about 210 kilometers (130 miles) south-southwest of Hong Kong (near 20.6 degrees north 113.3 degrees east) and is forecast to move slowly, lingering around the seas off the coast of western Guangdong. Maximum sustained winds were near 35 knots (40 mph/62 kph).
The HKO said "In the past few hours, Bebinca has slightly intensified. According to the present forecast track, Bebinca is expected to be slow moving and will still be relatively erratic. The Observatory will take into consideration the variation of local wind strength and Bebinca's movement to consider whether or not to issue the Strong Wind Signal, No. 3 before 6 a.m. on Tuesday morning, Aug. 14."
###
For updated warnings from HKO, visit: https://www.hko.gov.hk/contente.htm
---