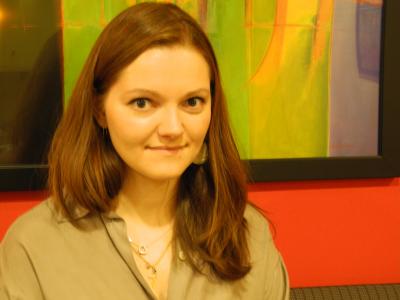 West Orange, NJ. May 23, 2014. Ekaterina Dobryakova, PhD, a postdoctoral fellow in Kessler Foundation Neuropsychology and Neuroscience Research received a competitive research award from the New Jersey Neuropsychological Society to study whether motivation influences cognitive fatigue and the brain regions associated with it in patients with multiple sclerosis (MS).
The research is being conducted under a National Institute on Disability Rehabilitation Research (NIDRR) Fellowship Training Grant, awarded to Nancy Chiaravalloti, PhD, (H133P090009) from the Advanced Rehabilitation Research Training Center on Neurcognitive Rehabilitation. Drs. Glenn Wylie, Helen Genova, and John DeLuca from Kessler Foundation are co-investigators.
Cognitive symptoms, including cognitive fatigue, are a common but under recognized complication of MS. Individuals with MS often report experiencing cognitive fatigue,(fatigue resulting from mental work rather than from physical labor) as one of their most debilitating symptoms.
"It is important to find ways that might alleviate cognitive fatigue so we can develop effective interventions to reduce cognitive fatigue," Dr. Dobryakova said, "Developing an effective treatment method would greatly improve the quality of life of persons with MS. This award will help achieve that. I am honored to be chosen as the recipient."
"This study aims to determine whether motivation results in activation of the network of regions in the brain thought to be impaired in cognitive fatigue," said Dr. Chiaravalloti, director of Neuropsychology & Neuroscience Research. "We are pleased that Dr. Dobryakova has received funding that supports this novel line of research."
Healthy participants, as well as individuals with MS who report cognitive fatigue on a daily basis, will undergo functional MRI of the brain. During the scans, participants will complete a task two ways; one with the motivation of monetary reward, and one without. Participants will also be asked about how fatigued they are while performing each task.
###
Dr. Dobryakova presented her research at the May 15 board meeting for the New Jersey Neuropsychological Society, held at Children's Specialized Hospital in Mountainside, NJ.
Recent publications:
Dobryakova, E., Wylie, G., DeLuca, J., Chiaravalloti, N. (in press). A pilot study examining functional brain activity 6 months after memory retraining in MS: the MEMREHAB Trial. Special Issue: Neuroimaging and Rehabilitation, Brain Imaging and Behavior.
Dobryakova, E., & Tricomi, E. Basal ganglia engagement during feedback processing after a substantial delay. Cognitive, Affective & Behavioral Neuroscience. 2013;13(4), 725.
Dobryakova E, Staffaroni A, DeLuca J, Sumowski JF, Chiaravalloti N, Wylie GR. CapMan: independent investigation of capacity and manipulation with a new working memory paradigm. Brain Imaging & Behavior. Epub 2013 December 28.
Dobryakova E, Deluca J, Genova HM, Wylie GR. Neural correlates of cognitive fatigue: cortico-striatal circuitry and effort-reward imbalance. Int Neuropsychol Soc. 2013 Sep; 19(8):849-53.
About MS Research at Kessler Foundation
Kessler Foundation's cognitive rehabilitation research in MS is funded by grants from the National Institutes of Health, National MS Society, Consortium of MS Centers, the Patterson Trust, Biogen Idec, Hearst Foundation and Kessler Foundation. Under the leadership of John DeLuca, PhD, senior VP for Research & Training, and Nancy Chiaravalloti, PhD, director of Neuropsychology & Neuroscience Research, scientists have made important contributions to the knowledge of cognitive decline in MS. Clinical studies span new learning, memory, executive function, attention and processing speed, emotional processing, employment and cognitive fatigue. Research tools include innovative applications of neuroimaging, iPADs, and virtual reality. Among recent findings are the benefits of cognitive reserve and aerobic exercise; correlation between cognitive performance and outdoor temperatures; efficacy of short-term cognitive rehabilitation using modified story technique; factors related to risk for unemployment, and the correlation between memory improvement and cerebral activation on fMRI. The opening of the Neuroimaging Center at Kessler Foundation in 2013 greatly expanded the Foundation's research capabilities in these areas. Foundation research scientists have faculty appointments at Rutgers-New Jersey Medical School.
About Kessler Foundation
Kessler Foundation, a major nonprofit organization in the field of disability, is a global leader in rehabilitation research that seeks to improve cognition, mobility and long-term outcomes, including employment, for people with neurological disabilities caused by diseases and injuries of the brain and spinal cord. Kessler Foundation leads the nation in funding innovative programs that expand opportunities for employment for people with disabilities.
For more information, visit kesslerfoundation.org, facebook.com/kesslerfoundation or http://twitter.com/KesslerFdn
Carolann Murphy, PA; 973.324.8382; CMurphy@KesslerFoundation.org
Lauren Scrivo, 973.324.8384/973.768.6583 (cell); LScrivo@KesslerFoundation.org
---