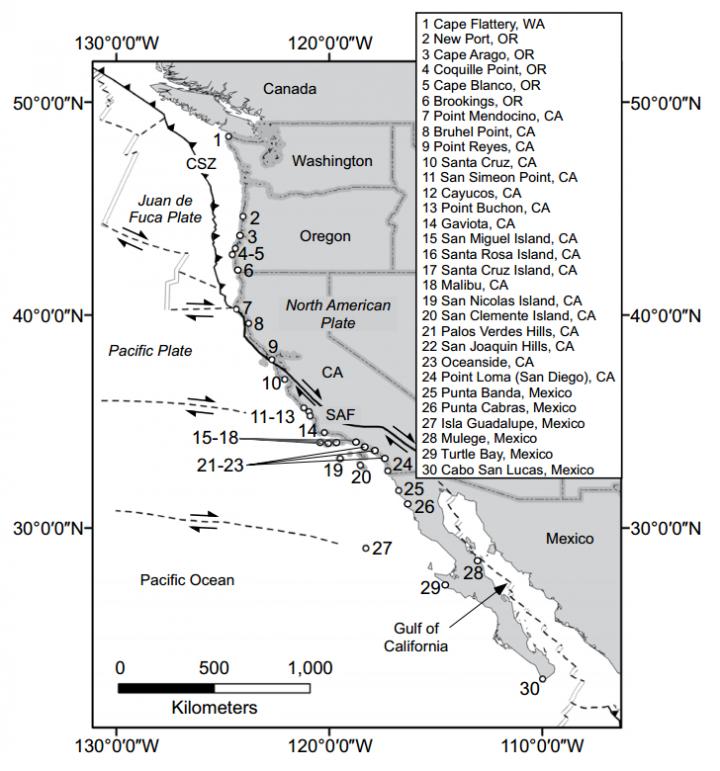 Boulder, Colo., USA - A new GSA Bulletin study shows that uplift rates across the Pacific Coast of the USA and northern Mexico have been overestimated by an average of more than 40%. These lower uplift rates imply that the shorelines of the West Coast are rising at a slower rate than previously thought, and this may have important implications for coastal management, including earthquake hazards and the potential impact of sea-level rise to coastlines across the Pacific Coast.
In their paper for GSA Bulletin, Alexander Simms and colleagues write, "Factors other than tectonics contribute to local sea-level change, and one important, yet often overlooked, contribution is the earth-ocean response to the changing distribution of surface loads of ice and water, often referred to as ... glacial isostatic adjustment. Neglect of this effect, particularly along coastal sections at variable distances from the former ice sheets, such as the eastern Pacific coast from northern Mexico to the U.S.-Canada border, introduces large errors in uplift estimates."
---
FEATURED ARTICLE
Marine terraces and rates of vertical tectonic motion: The importance of glacio-isostastic adjustment along the Pacific Coast of central North America
A.R. Simms et al., University of California, Santa Barbara, California, USA. Published online ahead of print on 29 July 2015;
http://dx.doi.org/10.1130/B31299.1
.
---
Other GSA BULLETIN articles posted online ahead of print are highlighted below:
---
From the source area to the deposit: Collapse, fragmentation, and propagation of the Frank Slide
M. Charrière et al., Water Resources Section, Delft University of Technology, Delft, The Netherlands. Published online ahead of print on 20 Aug. 2015; http://dx.doi.org/10.1130/B31243.1.
The Frank Slide (Alberta, Canada) killed more than 70 persons when it took place in 1903. Its deposit constitutes one of the most impressive remains of rock avalanches in North America. The processes that govern the occurrence of such gigantic landslides are still under discussion among the scientific community. Therefore, additional field evidence is required to get a better understanding of the phenomena controlling the debris propagation, in order to prevent as much as possible the associated damages. This study investigates the deposit from lithological, granulometrical and geomorphological points of views in combination with a block size distribution analysis of the source area before failure in order to deduce the collapse, fragmentation and propagation processes that took place during this event.
---
Early Miocene European loess: A new record of aridity in southern Europe
D. Paveli? et al., University of Zagreb, Faculty of Mining, Geology and Petroleum Engineering, Zagreb, Croatia. Published online ahead of print on 20 Aug. 2015; http://dx.doi.org/10.1130/B31280.1.
Intercalation of silty units and coarse-grained units represented by conglomerates and breccia characterize a Lower Miocene terrestrial sedimentary sequence in the North Croatian Basin, a part of the southwestern Pannonian Basin System. The units are mostly composed of structureless loose silt. They are brownish yellow to yellowish brown in color, and do not contain fossils. Scanning electron microscopy indicated that quartz grains show fracture faces, conchoidal fractures, V-shaped percussion marks, linear steps and conchoidal crushing features. Such microtextures together with the macroscopic characteristics of the silt units indicate that they were deposited by wind. Therefore, this study reports the first occurrence of Miocene loess outside of China. Silt-sized particles were probably produced by salt-weathering processes on salina-type lake flats during long arid periods. Alluvial deposition was controlled by a more humid climate.
---
Paleoseismology of the Mt. Narryer fault zone, Western Australia: A multi-strand intraplate fault system
B.B. Whitney et al., The Centre for Energy Geoscience, The University of Western Australia, Crawley, Perth, Western Australia, Australia. Published online ahead of print on 20 Aug. 2015; http://dx.doi.org/10.1130/B31313.1.
The occurrence of intraplate earthquakes remains largely enigmatic, however Quaternary geology investigations have elucidated a new tectonic model for active faulting in western Australia. Specifically, geomorphological and fault trenching studies have demonstrated repeated large magnitude earthquakes have occurred along the western margin of the Australian continent. New data from this study adds to the limited paleoseismological database of intraplate earthquakes and can be used to refine seismic hazard models. This study highlights Australia's unique geomorphological ability to provide abundant information for earthquake studies on low activity, low slip rate faults. One of the research conclusions that: a portion of the intraplate region of western Australia should no longer be considered a Stable Continental Region, is of interest to earthquake geologists working in intraplate regions elsewhere.
---
Neoarchean and Paleoproterozoic crystalline basement rocks of north-central Idaho: Constraints on the formation of western Laurentia
J.D. Vervoort et al., Earth Sciences, School of the Environment, Washington State University, Pullman, Washington, USA. Published online ahead of print on 20 Aug. 2015; http://dx.doi.org/10.1130/B31150.1.
U-Pb analysis of orthogneiss samples from the Clearwater and Priest River metamorphic complexes in northern Idaho have identified important exposures of Precambrian basement rocks in western Laurentia. All samples have ages that fall into two discrete time periods: in the Neoarchean at 2.66 Ga and the Paleoproterozoic at 1.86 Ga. There is no evidence in the Neoarchean rocks of the interaction with pre-existing Archean crust, based on lack of inheritance in any of the zircons. The Paleoproterozoic orthogneisses have ages that range from 1.88 to 1.84 Ga. Four of these have inherited zircon xenocrysts; the age of these are consistent with late Archean magmatic ages preserved elsewhere in the Clearwater and Priest River complexes. Collectively, these packages of rocks represent the two main periods of crust formation in northwest Laurentia, one wholly juvenile in the Neoarchean and the other a mixture of juvenile Paleoproterozoic and inherited Neoarchean components.
---
Provenance and Paleogeography of the Neruokpuk Formation, northwest Laurentia: An integrated synthesis
L.S. Lane et al., Geological Survey of Canada, Calgary, Alberta, Canada. Published online ahead of print on 29 July 2015; http://dx.doi.org/10.1130/B31234.1.
The Arctic Ocean basin and its margins are inferred to contain substantial mineral and energy resources. An accurate understanding of its evolution is critical to properly evaluating its resource endowment. This major synthesis paper summarizes accumulated scientific conclusions about the geological evolution of northwestern Canada. It documents the geological history of northernmost Yukon and adjacent Arctic Alaska and defines its geographic location during the Paleozoic Era, before the modern Arctic Ocean formed. This knowledge places severe limits on geological models that seek to explain how the Arctic Ocean developed.
---
Spatio-temporal evolution of intraplate strike-slip faulting: the Neogene-Quaternary Kuh-e-Faghan Fault, Central Iran
G. Calzolari et al., Dipartimento di Scienze, Università Roma Tre, Roma, Italy. Published online ahead of print on 20 Aug. 2015; http://dx.doi.org/10.1130/B31266.1.
This paper describes the spatio-temporal propagation history of the Neogene-Quaternary Kuh-e-Faghan Fault in intraplate Central Iran. Results from this study suggest that the intraplate deformation zones are particularly sensitive to major tectonic changes occurring at the plate boundaries (far-field effects), and, as such, they can be regarded as a gauge for plate-tectonics induced state of stress changes at the plate boundaries. The results also suggest that the propagation and evolution of intraplate strike-slip fault systems is accompanied by substantial topographic growth, exhumation erosion and production of syn-tectonic deposits, whose distribution, geometry and facies characteristics are strongly influenced by the spatio-temporal propagation history and structural evolution of the fault system (near field effects).
---
Structure, Geochronology, and Petrogenesis of the Late Triassic Puziba Granitoid Dikes in the Mianlue Suture Zone, Qinling Orogen, China
L.-Q. Yang et al., State Key Laboratory of Geological Processes and Mineral Resources, China University of Geosciences, Beijing 100083, China. Published online ahead of print on 20 Aug. 2015; http://dx.doi.org/10.1130/B31249.1.
We present structural field observations, in-situ zircon U-Pb ages and Hf isotopic compositions, geochemistry, and Sr-Nd isotope data from the Puziba granitoid intrusions in the Qinling Orogenic belt (China). These intrusions occur as ENE-WSW oriented dike swarms in a highly deformed phyllite-matrix mélange along several major fault zones within the Mianlue suture zone. Their magmas were derived from partial melting of garnet-amphibole lower crust that was triggered by slab breakoff-induced asthenospheric upwelling in the aftermath of the oblique collision of the North and South China Blocks during the late Triassic. Emplacement of the ENE-WSW-oriented Puziba dike swarms was associated with a transtensional stress regime along/across the collisional Mianlue suture zone.
---
Source to sink relation between the Eastern Kunlun Range and the Qaidam Basin, northern Tibetan Plateau, during the Cenozoic
F. Cheng et al., Key Laboratory of Orogenic Belts and Crustal Evolution, Ministry of Education, School of Earth and Space Sciences, Peking University, Beijing, 100871, China. Published online ahead of print on 29 July 2015; http://dx.doi.org/10.1130/B31260.1.
The initial topography of the area now represented by the Tibetan plateau, as well as the early stages of development of the present day topography remain highly debated. In order to decipher the Cenozoic source to sink relationship between the Eastern Kunlun Range, one of the major mountain belts in the northern Tibetan plateau, and the actively deforming Qaidam basin (largest basin within the plateau), detrital zircon U-Pb geochronologic analysis was conducted together with sedimentology and petrography studies, as well as interpretation of newly-acquired seismic profiles. Our finding pushes back the onset time of the Eastern Kunlun Range uplift from Eocene/Oligocene to pre-Paleocene. We also conclude that: (1) during the middle Eocene to Oligocene, the Qaidam basin widened towards the south, linking with the Hoh Xil basin; (2) from the Miocene to present, the topography of the Eastern Kunlun and the Altyn Tagh ranges increased, progressively enclosing the Qaidam basin.
---
Late Quaternary slip-rate along the central Bangong-Chaxikang segment of the Karakorum fault, western Tibet
M.-L. Chevalier et al., State Key Laboratory of Continental Tectonics and Dynamics, Institute of Geology, Chinese Academy of Geological Sciences, Beijing, China. Published online ahead of print on 29 July 2015; http://dx.doi.org/10.1130/B31269.1.
Insight on spatial and temporal changes of slip-rate is essential to understand the kinematic role of large strike-slip faults in continental collision zones. We determined that the >1000 km-long active right-slip Karakorum fault (located in western Tibet) is moving at an average rate of >5-11 mm/yr. These results show that the KF is the major fault accommodating dextral strike-slip motion NE of the western Himalayas. It is therefore an important structure which contributes to eastward extrusion of Tibet, following the India-Asia collision.
###
GSA BULLETIN articles published ahead of print are online at http://gsabulletin.gsapubs.org/content/early/recent; abstracts are open-access at http://gsabulletin.gsapubs.org/. Representatives of the media may obtain complimentary copies of articles by contacting Kea Giles.
Sign up for pre-issue publication e-alerts at http://www.gsapubs.org/cgi/alerts for first access to new journal content as it is posted. Subscribe to RSS feeds at http://gsabulletin.gsapubs.org/rss/.
Please discuss articles of interest with the authors before publishing stories on their work, and please make reference to GSA Bulletin in your articles or blog posts. Contact Kea Giles for additional information or assistance.
Non-media requests for articles may be directed to GSA Sales and Service, gsaservice@geosociety.org.
---
Journal
ACM SIGSAM Bulletin