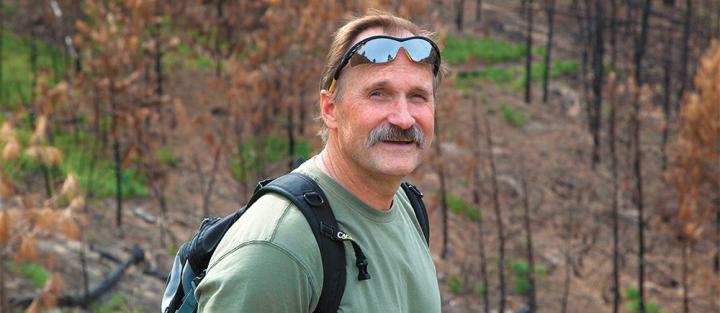 Research landscape ecologist Paul Hessburg today received the Forest Service's 2017 Research & Development Deputy Chief's Distinguished Science Award during a ceremony in Washington, D.C. He was recognized for his groundbreaking contributions to the science of landscape ecology and for his exceptional leadership in providing scientific support to the field of natural resource management in the United States, with global applications.
Hessburg, who is based at the Pacific Northwest Research Station's Forestry Sciences Laboratory in Wenatchee, Washington, studies spatial patterns and processes in landscapes, including those related to human activities and natural disturbances. He began working for the research station in 1985 as a plant pathologist, and holds a Ph.D. in forest pathology from Oregon State University.
Among his accomplishments, Hessburg has played a leading role in two major landscape assessment and science synthesis efforts that are exceptional in their scope and complexity: the Eastside Forest Ecosystem Health Assessment and subsequent Interior Columbia River Basin Assessment. These projects developed new, statistically valid measures of the natural range of variability in forest and rangeland spatial patterns that serve as a basis for detecting change resulting from human settlement and management. The work has helped improve the ways that forests and grasslands are managed in the western United States, in part by shifting thinking beyond the stand level to large landscapes.
Hessburg also has a long record of working with forest managers to address on-the-ground issues. In collaboration with the Okanogan-Wenatchee National Forest, he pioneered a restoration strategy and a suite of landscape evaluation and planning tools that were implemented forest wide in 2012 and are being used today by several other national forests.
Most recently, Hessburg developed a traveling multimedia presentation called "The Era of Megafires" with the Wildfire Project, a non-profit based in Wenatchee, Washington, to help improve public understanding of wildfires from a science ecology perspective. The presentation contains animations and video vignettes, interspersed with short TED-like talks. The tour is traveling by invitation to California, Idaho, Montana, Nevada, Utah, Wyoming, Oregon, and British Columbia, Canada. Since June 2016, the presentation has reached more than 25,000 people in 77 towns and cities. In addition, Hessburg completed a TED Talk that has received over 850,000 views.
###
The Pacific Northwest Research Station--headquartered in Portland, Ore.--generates and communicates scientific knowledge that helps people make informed choices about natural resources and the environment. The station has 11 laboratories and centers located in Alaska, Washington, and Oregon and about 300 employees. Learn more online at http://www.fs.fed.us/pnw.
---