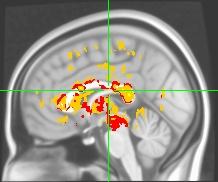 West Orange, NJ. October 20, 2015. Scientists from Kessler Foundation and Rutgers University compared information flow in the brain in individuals with traumatic brain injury and healthy controls, using neuroimaging and a novel working memory task, CapMan, which measures both working memory capacity and the mental manipulation of information in working memory. This is the first such comparative study to show a causal relationship between these tasks of working memory and the fronto-parietal regions. "Investigation of Information Flow During a Novel Working Memory Task in Individuals with Traumatic Brain Injury," (doi:10.1089/brain.2014.0283) was published in Brain Connectivity; authors are Ekaterina Dobryakova, PhD, and Glenn Wylie, DPhil, of Kessler Foundation and Olga Boukrina, PhD, of Rutgers University.
Working memory, which involves a network of fronto-parietal regions, is often impaired by the axonal shearing that characterizes TBI. Few studies have looked at the flow of information in working memory after TBI. In this study, researchers compared 11 people with chronic moderate to severe TBI with 15 healthy controls; all performed CapMan tasks during functional magnetic resonance imaging. On fMRI, the TBI group showed hyperconnectivity between the fronto-parietal regions and less organized flow of information related to working memory.
"The effective connectivity analysis used in this study revealed how the neural mechanisms of working memory differ after brain injury," said Dr. Wylie, associate director of the Rocco Ortenzio Neuroimaging Center at Kessler Foundation. "Knowing the pattern of working memory deficits will help us develop effective interventions for improving rehabilitation for individuals with TBI."
###
Supported by Kessler Foundation and the National Institutes of Health (1R42NS050007-02)
About TBI Research at Kessler Foundation
Nancy Chiaravalloti, PhD, is director of Neuroscience & Traumatic Brain Injury (TBI) Research and project director of the Northern New Jersey TBI System (NNJTBIS), a collaborative effort of Kessler Foundation, Kessler Institute for Rehabilitation and local hospitals. John DeLuca, PhD, is co-project director. NNJTBIS is one of 16 federally funded model systems that form a national comprehensive system of care, research, education and dissemination aimed at improving quality of life for people with TBI. NNJTBIS is supported by grant #H133A120030 from the National Institute Disability, Independent Living & Disability and Rehabilitation Research (NIDILRR). In addition to NIDRR and the Department of Defense, TBI research is funded by the New Jersey Commission on Brain Injury Research, the Department of Veterans Affairs, the Department of Defense and Children's Specialized Hospital. Neuroimaging studies are conducted at the Rocco Ortenzio Neuroimaging Center at Kessler Foundation. Kessler researchers and clinicians have faculty appointments in the department of Physical Medicine and Rehabilitation at Rutgers New Jersey Medical School.
About Kessler Foundation
Kessler Foundation, a major nonprofit organization in the field of disability, is a global leader in rehabilitation research that seeks to improve cognition, mobility and long-term outcomes, including employment, for people with neurological disabilities caused by diseases and injuries of the brain and spinal cord. Kessler Foundation leads the nation in funding innovative programs that expand opportunities for employment for people with disabilities. For more information, visit KesslerFoundation.org.
facebook.com/KesslerFoundation
http://twitter.com/KesslerFdn

Contacts:
Carolann Murphy, PA; 973.324.8382; CMurphy@KesslerFoundation.org
Lauren Scrivo, 973.324.8384/973.768.6583 (cell); LScrivo@KesslerFoundation.org
---
Journal
Brain Connectivity