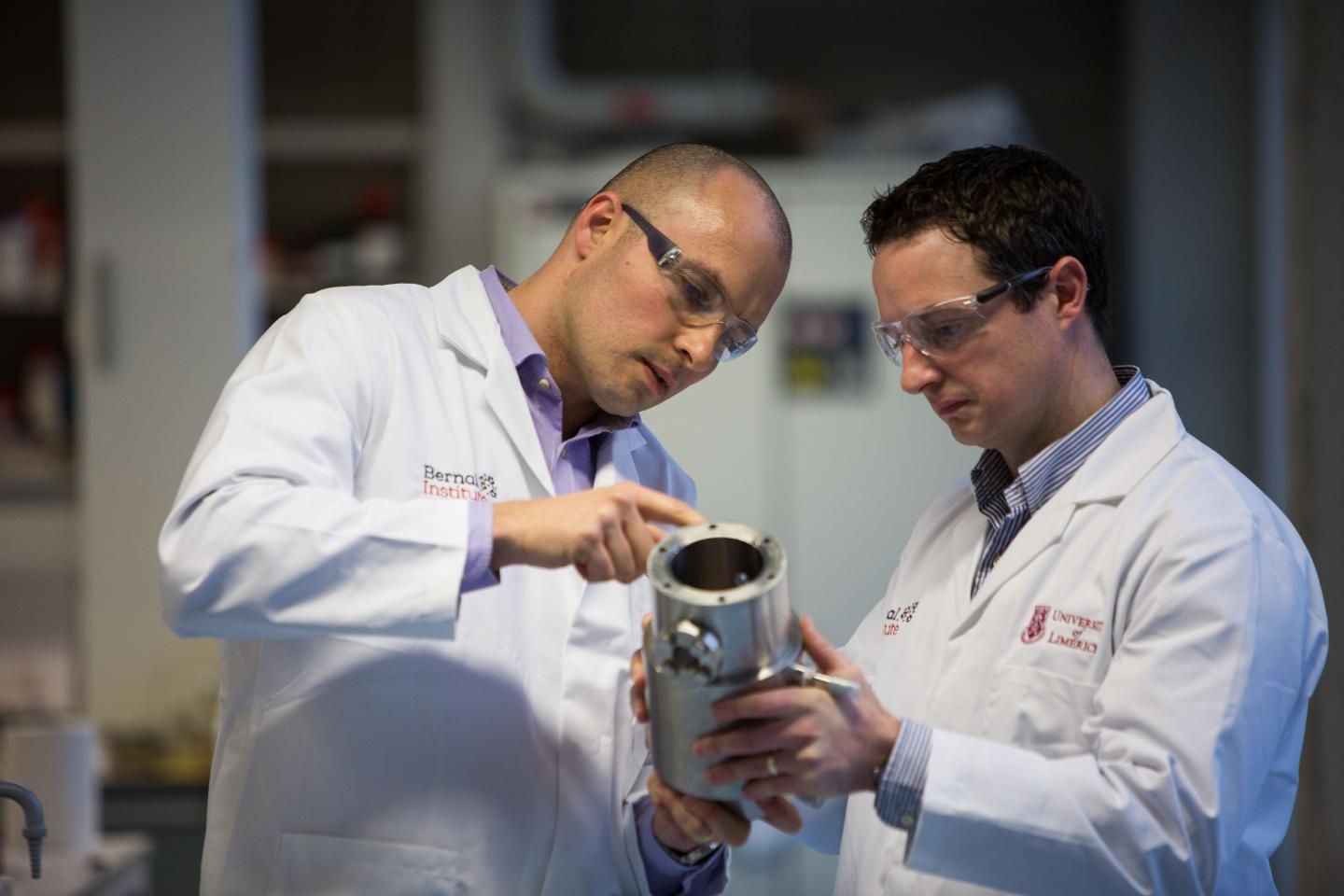 Scientists at University of Limerick (UL) are teaming up with Enterprise Ireland (EI) to commercialise continuous nanomanufacturing technology which promises to transform the pharmaceutical market.
The project, which launches this month, aims to tackle the biggest challenge facing the pharmaceutical industry today. While pharmaceutical companies are continually developing new drugs, seven out of ten of those drugs never reach the patient. This is not because they are ineffective at treating disease but because they are not soluble enough to be absorbed in the body.
Dr Luis Padrela, lecturer in industrial biochemistry in UL's Bernal Institute, aims to change that. The key, according to Dr Padrela, lies in nanotechnology. EI's Commercialisation Fund Programme has invested nearly half a million euro to enable Dr Padrela and his team bring their solutions to market.
Dr Padrela explained, "When poorly soluble drugs are produced at microscopic levels, or nanoparticles, they dissolve much more easily and can be targeted more effectively at disease. However, the manufacture of these nanotech drugs on a commercial scale remains a major challenge. That is the problem that we intend to solve."
Dr Padrela and his UL team are developing continuous scalable methods of drug manufacture at the nano-level. Their research has attracted both national and international attention. Success in this area would mark a significant advance in the treatment and prevention of global ill-health.
The commercialisation project starts this month and will run for two years. The aim will be to establish a technology-based start-up/spin-out close to the end of the project. This new technology will meet the need of the next generation of (nano) medicines by generating faster-working drugs and leading to significant patient benefit.
The global pharmaceutical industry is a $1 trillion sales business with about 35% of sales in US and 15% in Europe, representing more than €30 billion in exports within Ireland. Ireland is one of the leading locations for the pharmaceutical industry in Europe with nine of the top 10 global pharmaceutical companies with operations in Ireland. It will also have significant impact on revenues of pharmaceutical companies based in Ireland, increase Ireland's competitiveness and enhance Ireland's position as a location of choice for manufacturing.
###
For further information, photographs or to arrange an interview with Dr Luis Padrela, please contact:
Nicola Corless
Communications Officer
University of Limerick
Nicola.Corless@UL.ie
353-0-61-234921
Notes for the editor:
Background
The Enterprise Ireland investment comes on foot of entrepreneurship training that Dr Padrela, Professor Kevin Ryan (Chair in Chemical Nanotechnology) and Dr Chris Edlin (former director of Pharmaceutical Manufacturing Technology Centre) received when they were chosen to participate in the first transatlantic collaboration between Science Foundation Ireland (SFI) and the US National Science Foundation (NSF) Innovation Corps (I-Corps™) programme. The I-Corps curriculum prepares scientists and engineers to extend their focus beyond the laboratory and broaden the impact of research projects.
About Dr Luis Padrela:
Dr Luis Padrela is a lecturer in Industrial Biochemistry within the Department of Chemical Sciences and a researcher at the Synthesis and Solid State Pharmaceutical Centre (SSPC) within the Bernal Institute. His interests are primarily focused in the development of particle engineering technologies for small and large molecule active pharmaceutical ingredients, with a particular emphasis in (bio)pharmaceutical nanomanufacturing.
About Professor Kevin Ryan:
Professor Kevin M Ryan is Chair of Chemical Nanotechnology at the Department of Chemical Sciences in the School of Natural Sciences at University of Limerick. He is also a Science Foundation Ireland funded Principal Investigator at the Bernal Institute. He previously held positions at University of California at Berkeley and in industry at Merck Chemicals, Southampton UK. His research interests are in synthesis and application of both hard (metal, semiconductor) and soft (pharmaceutical) nanocrystal materials with emphasis on size, shape and crystal phase control.
About the Bernal Institute:
The Bernal Institute resides in UL's Faculty of Science and Engineering. It focuses its activities on the thematic areas of advanced materials, manufacturing and process engineering, and fluid dynamics, selected to complement UL's strategic priorities. The Institute has already established a significant track record in generating research impact.
About University of Limerick:
University of Limerick is an independent, internationally focused university with more than 14,000 students and 1,400 staff. It is a young, energetic and enterprising university with a proud record of innovation in education and excellence in research and scholarship.
More information is available at http://www.UL.ie.
Tweet @UL.
Facebook.com/universityoflimerick.
LinkedIn University of Limerick.
Snapchat U of Limerick.
---