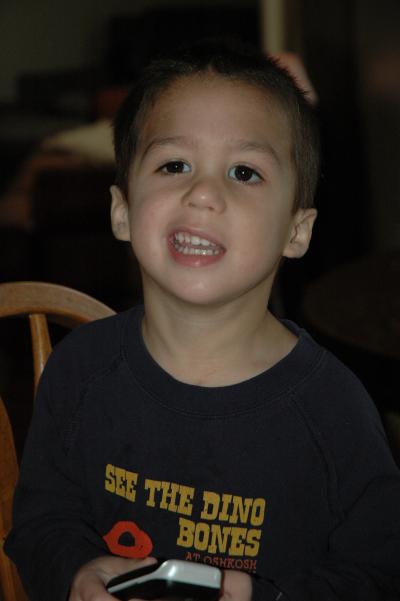 (COLUMBUS, Ohio)- Although most parents do not consider furniture and televisions to be dangerous, children are often injured when these items tip over. A recent study conducted by the Center for Injury Research and Policy of The Research Institute at Nationwide Children's Hospital found that from 1990-2007 an average of nearly 15,000 children younger than 18 years of age visited emergency departments annually for injuries received from furniture tip-overs.
According to the study, published in the online issue of Clinical Pediatrics in May, most furniture tip-over-related injuries occurred among children younger than 7 years of age and resulted from televisions tipping over. More than one quarter of the injuries occurred when children pulled over or climbed on furniture. Children ages 10-17 years were more likely to suffer injuries from desks, cabinets or bookshelves tipping over. Head and neck injuries were most common among younger children, while children older than 9 years were more likely to suffer injuries to the lower body.
Despite warnings from the U.S. Consumer Product Safety Commission, the number of injuries involving televisions and other furniture tipping over onto children has increased in this country since the early 1990s.
"There was a more than 40 percent increase in the number of injuries during the study period, and the injury rate also significantly increased during these years," said study senior author Gary Smith, MD, DrPH, director of the Center for Injury Research and Policy at Nationwide Children's Hospital. "This trend demonstrates the inadequacy of current prevention strategies and underscores the need for increased prevention efforts."
Parents can minimize risks to children by placing televisions low to the ground and near the back of their stands and strapping televisions and furniture to the wall with safety straps or L-brackets. Purchasing furniture with wide legs or with solid bases, installing drawer stops on chests of drawers and placing heavy items close to the floor on shelves will also help prevent tip-overs. Additionally, parents can reduce a child's desire to climb furniture by not placing attractive items, such as toys or the remote control, high on top of furniture or the television.
"Pediatricians and child caregivers should be aware that furniture tip-overs are an important source of childhood injury," said Dr. Smith, also a faculty member of The Ohio State University College of Medicine. "Following a few simple prevention steps will decrease the number of injuries to children associated with furniture tip-overs."
Data for this study were collected from the National Electronic Injury Surveillance System (NEISS), which is operated by the U.S. Consumer Product Safety Commission. The NEISS dataset provides information on consumer product-related and sports and recreation-related injuries treated in hospital emergency departments across the country.
The Center for Injury Research and Policy (CIRP) works globally to reduce injury-related pediatric death and disabilities. With innovative research at its core, CIRP works to continually improve the scientific understanding of the epidemiology, biomechanics, prevention, acute treatment and rehabilitation of injuries. CIRP serves as a pioneer by translating cutting edge injury research into education, advocacy and advances in clinical care. In recognition of CIRP's valuable research, the Centers for Disease Control and Prevention (CDC) recently named the Center for Injury Research and Policy as one of only 13 centers in the United States to be designated as an Injury Control Research Center. Learn more about the Center for Injury Research and Policy at http://www.injurycenter.org.
---
(COLUMBUS, Ohio) - As you sit down to watch TV with your child, you might want to rethink how safe your child is in front of that TV set. A new study says kids being injured by falling furniture - such as TVs, bookcases and dressers - is up significantly.
Sitting down together to watch TV is routine for most families, but for the Stevensons, it's a reminder of a scary situation. Recently Michael and his sister, Julianne were in a bedroom watching TV when they both decided to climb the dresser. In an instant, everything fell and their mother rushed in to find a 40-pound television had crashed onto the head of her 3 year-old son.
"I think the part that scared her the most was blood coming out of one ear, and then, you know - I don't know if I could describe what it's like, but - to see one side of his face not moving," says Shawn Stevenson, Michael's father.
The TV fractured Michael's skull in two places, leaving him temporarily deaf on one side and his face paralyzed on the other. A new study finds injuries like this happen much more often than you might think.
"Each year in this country, almost 15,000 children are treated in hospital emergency departments for injuries related to furniture tip-overs," says Gary Smith, MD of Nationwide Children's Hospital in Columbus, Ohio.
Dr. Smith says, while dressers and book cases are a risk, most of the time it is TVs that fall on kids.* Television sets have gotten much bigger over the years, and many older models are front heavy, which makes them tip much easier. In his study - published online for the Journal of Clinical Pediatrics, Dr. Smith found that between 1990 and 2007, the number of kids injured by furniture tip overs increased by more than 40%.* Smith says securing larger pieces of furniture to the wall with straps or brackets is crucial. There are also other steps parents can take to prevent these injuries.
"Never put attractive items such as a toy or a TV remote control on top of the furniture, on top of the TV. Children often will try to climb up to reach those and that will cause the furniture to topple over onto them," advises Smith.
Most of the kids who are hurt are like Michael Peterson - most are boys, less than seven years old and most suffer blows to the head.* Michael has almost fully recovered and suffered no permanent damage.
In all, this study found that between 1990 and 2007 more than 260,000 kids ended up in the emergency department and more than 300 were killed by falling furniture.*
Experts say flat screen TVs are lighter, but no less dangerous. Many flat screens are still very heavy to young children and have sharp edges that can cut them.
###
References:
*Inuries from Furniture Tip-overs Among Children and Adolescents in the United States, 1990-2007, Clinical Pediatrics, May 2009.
---
Journal
Clinical Pediatrics