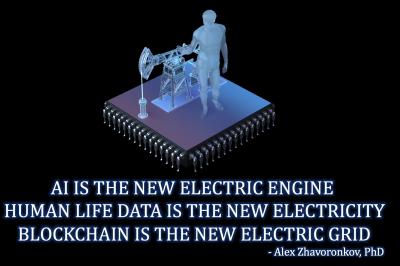 Monday, November 20, 2017, London, UK: Biogerontology Research Foundation Chief Science Officer (CSO) co-authored the landmark paper in the journal Oncotarget on the convergence of blockchain and AI to decentralize and galvanize healthcare and biomedical research. In the paper, Alex Zhavoronkov, PhD, alongside the collaborators from Insilico Medicine and the BitFury Group introduce a blockchain-enabled framework for empowering patients to gain more control over their own clinical data, and to profit from the licensing of their data, putting the power and profits of life science data back into the hands of patients.
"This new paper in Oncotarget does more than advocate for increased patient empowerment and more efficient and decentralized management of patient data. It also puts forward a roadmap toward how decentralized, blockchain-based patient data ecosystem can enable the development of more comprehensive clinical databases, which would serve to galvanize progress in drug discovery, biomarker development, and preventative healthcare. Patients currently have little incentive to contribute to such databases, resulting in a dearth of such databases for use in the life sciences community and industry, in comparison to what might be if patients had more incentive to contribute to such databases. By providing a system to incentivize patients by providing them with tangible compensation for the collection and use of their data, blockchain-based patient data management systems could serve to accelerate progress in biomedicine in general by increasing the quality and comprehensiveness of clinical databases for use by biomedical researchers, institutions and companies alike" said Franco Cortese, Deputy Director of the Biogerontology Research Foundation.
The paper also introduces a roadmap to how blockchain-enabled patient data ecosystems could galvanize progress in the life sciences sector in general. Secure, transparent and decentralized data marketplaces could serve to create a data-driven marketplace rather than a marketplace operating in an environment of comparative data scarcity, while simultaneously alleviating certain challenges faced by regulators and policymakers, including how to ethically use patient data for drug discovery and biomarker development.
"Blockchain technologies are rapidly decentralizing and disrupting more fields and industries with each passing day. The disruptive potential of crypto economy and blockchain technologies has become apparent to many over the past year, and the time for its decentralizing potential to impact the life sciences space is upon us. Since its inception the Biogerontology Research Foundation has strove to stay on the cutting edge of applying highly innovative and disruptive cross-disciplinary approaches to geroscience and aging research, such as through its extensive use of AI and deep learning to the problem of biological aging, and this newest paper marks the beginning of the foundation's efforts to apply blockchain technology to the life sciences arena" said Dmitry Kaminskiy, Managing Trustee of the Biogerontology Research Foundation.
###
Research Paper:
Converging blockchain and next-generation artificial intelligence technologies to decentralize and accelerate biomedical research and healthcare
About the Biogerontology Research Foundation:
The Biogerontology Research Foundation is a UK non-profit research foundation and public policy center seeking to fill a gap within the research community, whereby the current scientific understanding of the ageing process is not yet being sufficiently exploited to produce effective medical interventions. The BGRF funds and conducts research which, building on the body of knowledge about how ageing happens, aims to develop biotechnological interventions to remediate the molecular and cellular deficits which accumulate with age and which underlie the ill-health of old age. Addressing ageing damage at this most fundamental level will provide an important opportunity to produce the effective, lasting treatments for the diseases and disabilities of ageing, required to improve quality of life in the elderly. The BGRF seeks to use the entire scope of modern biotechnology to attack the changes that take place in the course of ageing, and to address not just the symptoms of age-related diseases but also the mechanisms of those diseases.
---
Journal
OncoTargets and Therapy