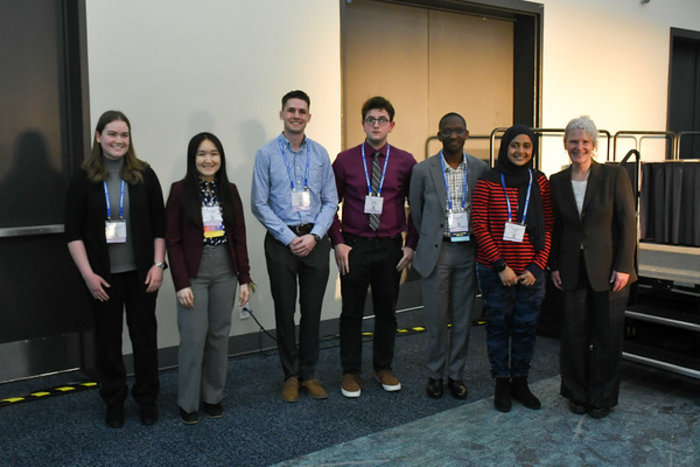 ROCKVILLE, MD – The 6 winners of the annual Undergraduate Poster Award Competition (UPAC) were recognized at the 67th Biophysical Society Annual Meeting Awards Ceremony on February 20, 2023. After two rounds of judging, judges from every career level selected these students for their outstanding presentations during the poster competition. Sixty-two students participated in the competition.
The 2023 UPAC winners are:
Justus Gabriel, The United States Military Academy, USA – "Tuning the Size and Solvent-Exposed Hydrophobicity of a Pore-Forming Peptide Eliminates its Cytotoxicity Using a Natural Product"
Kemal Demirer, University of Michigan, USA – "Investigating the Regulation and Function of Bacterial Quaternary Ammonium Compound Exporters"
Constance Kraay, Harvard University, USA – "Investigating the Mechanism of Suppression of Human γD-Crystallin Aggregation by Myo-Inositol"
Madeeha I. Ali, Stony Brook University, USA – "From Bluf Photoreceptor to Camp: An Insight into Photo-Activated Adenylyl Cyclase from Oscillatoria Acuminata"
Catherine Ji, Massachusetts Institute of Technology, USA – "Measurements and Simulations of Light-Activated Matter"
Thembalami Dube, Swarthmore College, USA – "In Vivo Disruption of Nuclear HSATII RNA Biomolecular Condensates"
###
The Biophysical Society, founded in 1958, is a professional, scientific Society established to lead the development and dissemination of knowledge in biophysics. The Society promotes growth in this expanding field through its annual meeting, publications, and committee and outreach activities. Its 7,500 members are located throughout the United States and the world, where they teach and conduct research in colleges, universities, laboratories, government agencies, and industry.
---