Update: Meeting's Virtual Status
We have made the difficult decision to forego the in-person component of the AAAS Annual Meeting in Philadelphia and convert to an entirely virtual convening. Before the live event on February 17-20, be on the lookout for pre-released Spotlight Videos, highlighting the work of individual panelists.
The 2022 AAAS Annual Meeting will still offer a full slate of breaking news briefings, expert media availabilities, and plenary and topical lectures featuring high-profile speakers.
News Releases
Breaking research news, award announcements, event highlights, and more from the 2022 AAAS Annual Meeting (Feb. 17-20, 2022) will be available here closer to the Meeting.
Journalist-members: Please login for embargoed content.
Not a member yet? Review our eligibility guidelines and apply.
News Releases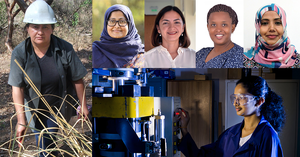 Six talented women climate scientists from developing countries awarded the 2022 OWSD-Elsevier Foundation Award
Grant and Award Announcement
View the Feb.18 AAAS Kavli Science Journalism Awards ceremony
American Association for the Advancement of Science (AAAS)
Meeting Announcement
Join us on Friday, Feb. 18., at 12:00 p.m. U.S. Eastern time for the AAAS Kavli Science Journalism Awards ceremony, to be held in conjunction with the virtual 2022 AAAS Annual Meeting.
Funder

Kavli Foundation

Meeting

2022 AAAS Annual Meeting