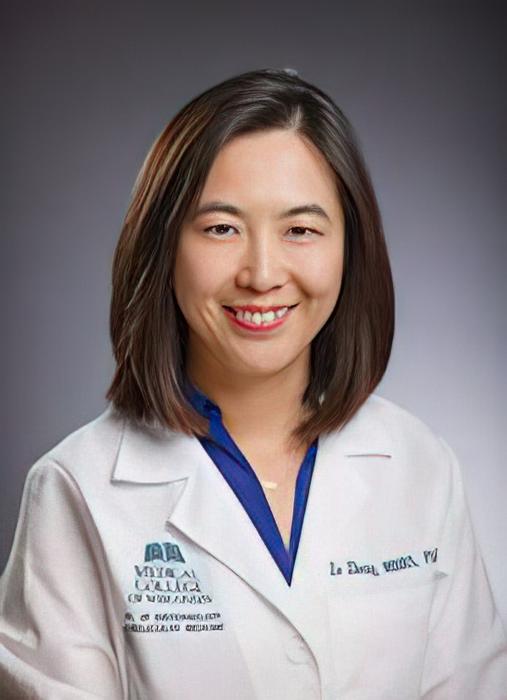 Milwaukee, Wis. – Sept. 1, 2023 – Despite advances in treatment for high cholesterol, heart disease remains the leading cause of death in the U.S. Scientists at the Medical College of Wisconsin (MCW) are investigating the role of a form of cholesterol called very-low-density lipoprotein – and their findings may lead to new treatment options in the future.
The research team is led by Ze Zheng, MBBS, PhD, MCW assistant professor of medicine (endocrinology and molecular medicine); co-leader of the MCW Cardiovascular Center's Atherosclerosis, Thrombosis and Vascular Biology Program; and associate investigator at Versiti Blood Research Institute. The team's findings were recently published in Science, where Dr. Zheng served as the paper's senior author.
François Poulletier de la Salle successfully isolated cholesterol for the first time from a gallstone in 1769 when his peers believed blood contained only a single protein and no fat. Scientists worked busily to define its molecular formula and shape, and better understand its connection to the accumulation of plaque in blood vessels and the development of heart disease. The first statin was approved by the Food and Drug Administration (FDA) in 1987 to treat patients with high cholesterol and reduce their risk of suffering heart attacks and strokes. In 2015, the FDA approved a new type of drug, known as proprotein convertase subtilisin-kexin type 9 inhibitors, to give cardiologists another tool for patients whose cholesterol levels are still too high after treatment with statins alone.
Yet, heart disease is still the leading cause of death in the U.S. according to the Centers for Disease Control and Prevention and stroke continues to be a major issue as the fifth leading cause of death. One clinical trial following patients taking proprotein convertase subtilisin-kexin type 9 inhibitors demonstrated a benefit, while also revealing an opportunity for improvement as the absolute risk reduction was considered modest at 1.5%.
"It is clear that there is more going on than just what statins and these newer inhibitor drugs can control," says Dr. Zheng. "More therapies are needed, and to get them we need to know more about other sources of risk for heart disease, especially heart attacks and strokes."
Several forms of cholesterol circulate in our bloodstream. The type commonly referred to as "bad cholesterol" is carried by a protein called apolipoprotein B (apoB) which forms well-structured particles with lipids and proteins. These particles serve as stable vehicles for transporting lipids such as cholesterol in the bloodstream. These lipid-rich particles mostly include very-low-density lipoprotein (VLDL) and low-density lipoprotein (LDL). The current drugs for lowering cholesterol reduce LDL levels. While substantial evidence shows that LDL is important to control, it is not the only risk factor for heart disease. In fact, the other lipoproteins in the same group as LDL are not reduced by much with available treatments. Dr. Zheng and team are investigating how to reduce levels of other members of this family of lipoproteins, especially VLDL.
"With my background in lipid metabolism, I found myself consistently checking lipid levels even during studies regarding blood clot lysis and how an impairment in the body's ability to remove blood clots affects the risk of blood vessel blockages," Dr. Zheng adds. "I was just naturally curious about it, and I noticed that a protein I was studying may have an effect on the amount of circulating cholesterol."
In prior research, Dr. Zheng has helped define a new cellular source of this protein, tissue-type plasminogen activator (tPA), and its role in breaking down blood clots and preventing blood vessel blockages. To understand its potential influence on cholesterol levels, her team used a gene-editing technique to stop liver cells from producing tPA in mice prone to blood vessel plaque formation. The scientists found that the mice developed increased lipoprotein-cholesterol in this experiment, and then validated the findings in follow-up studies using human liver cells and a type of rat liver cell known to produce VLDL in a way similar to human liver cells. With these and other experimental results published in Science in September 2023, Dr. Zheng and her team have demonstrated a new, important role that liver tPA influences blood cholesterol levels while underscoring a meaningful connection between the liver, heart, and blood vessels.
"After defining this new role for tPA, we turned our attention to the question of how it changes blood cholesterol levels," notes Wen Dai, MD, research scientist at the Versiti Blood Research Institute.
The liver contributes to the majority of the "bad" apoB-lipoproteins by making VLDL. The team focused on whether and how tPA impacts the process of VLDL assembly in the liver. Microsomal triglyceride transfer protein (MTP) is required for the assembly of VLDL due to its role carrying lipids to the apoB. The scientists determined that tPA binds with the apoB protein in the same place as MTP. The more tPA is present, the fewer opportunities MTP has to connect with apoB and catalyze the creation of new VLDL. If MTP is the quarterback trying to pass a cholesterol football to an open apoB receiver, then tPA is the cornerback breaking up the play.
"Based on our prior research, we knew it also was critical to look at tPA's primary inhibitor," Dr. Zheng says.
Plasminogen activator inhibitor-1 (PAI-1) is known to block the activity of tPA. Scientists also have found a correlation between PAI-1 levels in blood and the development of disease due to plaque formation and blockages in blood vessels. The team found that higher levels of PAI-1 reduced the ability of tPA to bind with apoB proteins, rendering tPA less effective at competing with MTP to prevent VLDL production. Returning to the biological gridiron, PAI-1 might be a decoy receiver that distracts tPA until MTP connects with apoB for a big gain. The team studied this interaction in human subjects with a naturally occurring mutation in the gene carrying the code for PAI-1. The researchers found that these individuals, as predicted, had higher tPA levels and lower LDL and VLDL levels than individuals from the same community who did not have the same mutation.
"We are investigating therapeutic strategies based on these findings regarding tPA, MTP and PAI-1," Dr. Zheng notes. "I think we may be able to reduce the residual cardiovascular risk that has persisted even as treatment has advanced."
Reference: Wen Dai, Heng Zhang, Hayley Lund, Ziyu Zhang, Mark Castleberry, Maya Rodriguez, George Kuriakose, Sweta Gupta, Magdalena Lewandowska, Hayley R. Powers, Swati Valmiki, Jieqing Zhu, Amy D. Shapiro, M. Mahmood Hussain, José A. López, Mary G. Sorci-Thomas, Roy L. Silverstein, Henry N. Ginsberg, Daisy Sahoo, Ira Tabas, and Ze Zheng. Intracellular tPA–PAI-1 interaction determines VLDL assembly in hepatocytes. Science, 1 September 2023
Funding: This work was supported by grants from the National Heart, Lung, and Blood Institute, American Heart Association, American Society of Hematology, MCW and Versiti Blood Center of Wisconsin Blood Research Institute.
# # #
About the Medical College of Wisconsin
With a history dating back to 1893, The Medical College of Wisconsin is dedicated to leadership and excellence in education, patient care, research, and community engagement. More than 1,400 students are enrolled in MCW's medical school and graduate school programs in Milwaukee, Green Bay, and Central Wisconsin in. MCW's School of Pharmacy opened in 2017. A major national research center, MCW is the largest research institution in the Milwaukee metro area and second largest in Wisconsin. In the last 10 years, faculty received more than $1.5 billion in external support for research, teaching, training, and related purposes. This total includes highly competitive research and training awards from the National Institutes of Health (NIH). Annually, MCW faculty direct or collaborate on more than 3,100 research studies, including clinical trials. Additionally, more than 1,600 physicians provide care in virtually every specialty of medicine for more than 2.8 million patients annually.
---
Method of Research
Experimental study
Subject of Research
Animals
Article Title
Intracellular tPA-PAI-1 interaction determines VLDL assembly in hepatocytes
Article Publication Date
1-Sep-2023
COI Statement
Z.Zhe., W.D., and H.L. have filed a provisional patent application on recombinant tPA fragments. All other authors declare that they have no competing interests.