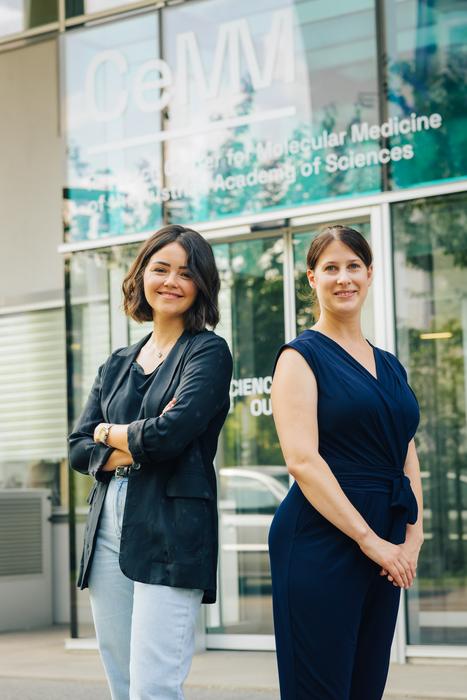 Two scientists at the CeMM Research Center for Molecular Medicine of the Austrian Academy of Sciences have received prestigious ERC Starting Grants from the European Commission: Clarissa Campbell and Barbara Maier. In Clarissa Campbell's laboratory, researchers are working to better understand the interplay between the immune system and metabolism. Barbara Maier and her team are researching the role of lymph nodes in the context of cancer.
(Vienna, 5 September 2023) The ERC grants are among the most prestigious and competitive research grants offered by the European Union. The ERC Starting Grants provide support to outstanding researchers in establishing their scientific careers and forming their own research groups. These grants are endowed with up to 1.5 million euros for a duration of 5 years. Principal Investigators who aim to conduct groundbreaking research in Europe are selected, exemplified by CeMM Principal Investigators Clarissa Campbell and Barbara Maier, both of whom are among the recipients of the ERC Starting Grants of 2023.
Heinz Faßmann, President of the Austrian Academy of Sciences, expressed high praise for both researchers in light of the significant distinction. He states, "I extend my heartfelt congratulations to Clarissa Campbell and Barbara Maier for this momentous achievement. Both researchers will contribute to gaining new insights into cancer research and metabolism studies through their work. They play a crucial role in enhancing and expanding the excellence of the Life Science domain at the Academy of Sciences."
The interplay between diet, gut microbes, and immunity
With funding from the ERC, Clarissa Campbell will continue to advance her research on the interplay between the immune system and metabolism and the role of the microbiome in the gut. The gut is home to trillions of bacteria, some of which are linked to a variety of diseases, including irritable bowel syndrome, affecting around 10–15% of people in industrialized countries. Despite their importance, we still do not fully understand how gut bacteria interact with their host. Research in the Campbell group is addressing this gap by studying immune cells in the gut. In former studies, Campbell found that gut bacteria process dietary fibers and bile acids to produce metabolites that suppress host immune responses to bacterial colonization. Therefore, immunomodulatory metabolites are produced by gut bacteria upon food intake and might signal to the host that they are good bacteria, not to be attacked and destroyed by the immune system. To better understand these interactions, the Campbell group is testing the effects of known microbial metabolites in both cell cultures and gut organoids, as well as they are profiling metabolites after food intake in mice under the ERC project titled "T Cell Feedback."
Understanding the crosstalk between tumors and lymph nodes
Why does our immune system often fail to destroy cancer cells? And why do therapies, that trigger anti-tumor immunity, work for some patients but not others? These are the overarching questions that CeMM Principal Investigator Barbara Maier seeks to answer. The Maier group focuses on lymph nodes, which are immune organs found throughout the body. During the early stages of cancer, tumor antigens – which are molecules recognized by the immune system as "foreign" – can induce an anti-tumoral response in lymph nodes that initially restricts metastasis. However, as the tumor develops, it releases substances, including immunosuppressive factors, that induce the formation of a tumor-friendly environment in the lymph nodes, referred to as the "premetastatic niche." It is these pre-metastatic niches that Barbara Maier will address in her ERC project "REWIRE."
Pioneering Research at CeMM
In 2023, a total of 19 ERC Starting Grants were awarded to researchers in Austria, with 8 of these awards going to groups in the Life Sciences domain. Currently, 11 of the Principal Investigators affiliated with CeMM hold these coveted ERC grants. The research areas at CeMM include cancer, inflammation, the immune system and metabolism. Giulio Superti-Furga, Scientific Director of CeMM, expresses his delight: "Receiving funding from the ERC is a significant honor and recognition for researchers. We are immensely pleased that two more of our exceptional scientists have secured these grants, catalyzing the advancement of their promising work. This will undoubtedly contribute significantly to future health care options and therapies." Notably, CeMM has taken proactive measures to bolster researchers' readiness for ERC grant applications, establishing the Pre-ERC Postdoc Program in 2021 and through its involvement in the ERC Master Class workshop within the EU-LIFE network, of which CeMM is a founding member.
About Clarissa Campbell
Clarissa Campbell has been a principal investigator at CeMM since July 2021. She studied biology with a minor in genetics at the Federal University of Rio de Janeiro (UFRJ) and subsequently earned a master's degree from the Oswaldo Cruz Foundation (FIOCRUZ), investigating how bacterial molecules exert immunomodulatory effects on mammalian cells via nuclear receptors, a topic she would continue to explore throughout her career. She joined the Tri-Institutional Immunology and Microbial Pathogenesis Program at Weill Cornell Medical College in New York as a graduate student where she specialized in mucosal immunology and regulatory T (Treg) cell biology. After obtaining her PhD, Clarissa Campbell remained under the mentorship of Dr. Alexander Rudensky at Memorial Sloan Kettering Cancer Center to continue her work on host-commensal interactions and pursue broader scientific questions bridging the fields of immunology and metabolism.
About Barbara Maier
Barbara Maier joined CeMM as a principal investigator in January 2021. She studied molecular biology at the University of Vienna and obtained her PhD from the Medical University of Vienna, working on deciphering the role of type I interferon in pulmonary inflammation under the mentorship of Professor Sylvia Knapp. She focused on bacterial infections in the lung and peritoneum and the protective or detrimental roles of inflammatory mediators therein. She then continued her training as a postdoctoral fellow in the laboratory of Professor Miriam Merad at the Icahn School of Medicine at Mount Sinai in New York. There, she gained extensive knowledge of human tumor immunology and myeloid components of tumor immune suppression. In her main work, she uncovered a regulatory module expressed in dendritic cells in human non-small-cell lung cancer patients, functionally validated multiple of these regulatory molecules, and showed that modulating the regulatory program in dendritic cells leads to improved tumor control.
---
The CeMM Research Center for Molecular Medicine of the Austrian Academy of Sciences is an international, independent, and interdisciplinary research institution for molecular medicine under the scientific direction of Giulio Superti-Furga. CeMM is oriented toward medical needs and integrates basic research and clinical expertise to develop innovative diagnostic and therapeutic approaches for precision medicine. Research focuses on cancer, inflammation, metabolic and immune disorders, rare diseases, and aging research. The Institute's research building is located on the campus of the Medical University and the Vienna General Hospital. cemm.at
---