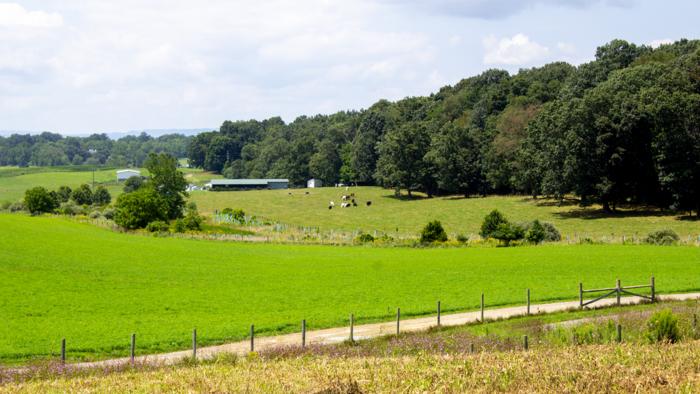 A federal award will help grow more rural-focused environmental health research and graduate training.
The $500,000 institutional research training grant, also known as a T32 grant, from the National Institutes of Health's National Institute of Environmental Health Sciences will support Virginia Tech's Rural Environmental Health Ph.D. Fellowship Program by providing a two-year assistantship for six graduate students during the next five years.
"This training program integrates with the degree-granting programs at Virginia Tech," said Julia Gohlke, associate professor of environmental health in the Department of Population Health Sciences. "It is intended to provide fellows with a strong skill set focused on environmental health fundamentals like epidemiology, toxicology, and exposure science and then supports them in discovering novel applications of those skills in rural areas."
Gohlke spearheaded the process to obtain the grant to help better connect a variety of Virginia Tech programs that focus on components of environmental health in rural communities.
"The T32 mechanism is an acknowledgment by peers around the country that Virginia Tech's interdisciplinary training is outstanding," said Steve Poelzing, professor of biomedical engineering and mechanics and director of Virginia Tech's interdisciplinary Translational Biology, Medicine, and Health Graduate Program. "The award will not only support talented graduate students, but it will also serve as a beacon for the next generation of graduate students who are excited to create change locally and globally by benefiting rural populations that are often overlooked and translating those discoveries to everyone."
Gohlke and Poelzing will serve as co-directors of the program.
"At Virginia Tech, we've got all the expertise that you would have in a traditional department of environmental health sciences with a school of public health, but we don't have it all in one place, and in one Ph.D. program, so the idea is that this will help to strengthen bridges between those programs," Gohlke said.
Students will be selected from the six participating Ph.D. programs, which span six colleges and 12 departments. A total of 26 faculty members associated with those Ph.D. programs will be available to serve as mentors for the students, and the Fralin Life Sciences Institute and the Virginia-Maryland College of Veterinary Medicine will provide additional research support to the student-mentor teams.
Modeled after a short-term pilot program, which was offered by the Global Change Center and funded by the Fralin Life Sciences Institute from 2020-23, the new program curriculum will be grounded in the socio-ecological model, which considers individual-level environmental influences within community and societal environmental influences. It also will demonstrate a convergence of Virginia Tech's strengths in interdisciplinary training in exposure science and community-engaged life science and biomedical research.
Building off the Global Change Center's pilot program, students receiving funding from the training program will be enrolled in the Interfaces of Global Change Interdisciplinary Graduate Education Program.
"The investments made by the Fralin Life Sciences Institute to pilot the program enabled us to demonstrate that Virginia Tech is an ideal location for training the next generation of leaders in rural environmental health," said William Hopkins, director of the program. "We not only have the critical faculty expertise needed to mentor students enrolled in the program, but our location in Appalachia also provides ample opportunities for addressing critical health challenges in nearby communities that often have similarities to those faced by rural communities around the globe."
"This is an exciting time to launch the rural environmental health training program," said Poelzing, "Virginia Tech is investing heavily in interdisciplinary graduate training through one health programs linking public health with veterinary and medical programs, interdisciplinary graduate programs and translational biology, medicine and health."

Participating Ph.D. degree-granting programs are
The faculty steering committee for Rural Environmental Health Ph.D. Fellowship Program includes
Gohlke
Poelzing
Hopkins
Peter Vikesland, Nick Prillaman Professor of Civil and Environmental Engineering and director of the environmental water resources engineering graduate program
---