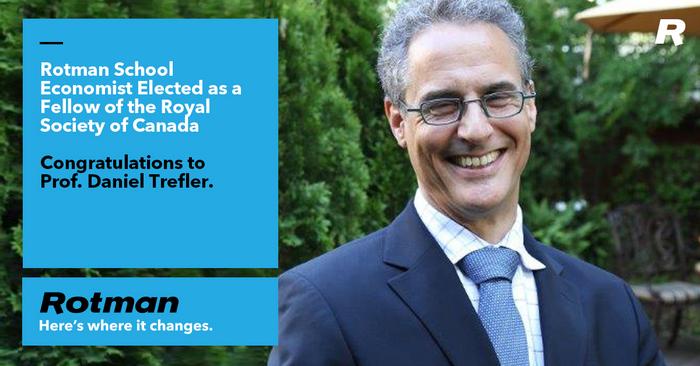 Toronto – A renowned trade economist at the University of Toronto's Rotman School of Management has been elected a fellow of the Royal Society of Canada (RSC) for his research on international trade, innovation, inequality, and artificial intelligence.
Prof. Daniel Trefler is one of the new fellows in the Class of 2023 for the Academies of Arts and Humanities, Social Sciences, and Science who have been elected by their peers for their outstanding scholarly, scientific, or artistic achievement. Recognition by the RSC is the highest honour an individual can achieve in the Arts, Social Sciences and Sciences in Canada. The class will be inducted at a ceremony in November.
"It is delightful to see Professor Trefler's immense contributions to his field receive this highest level of recognition. Dan is not only a remarkable academic but is also a wonderful colleague with numerous contributions to the Rotman School and the entire University including the mentoring of countless PhD students as well as junior faculty," says Dean Susan Christoffersen of the Rotman School, who also holds the William A. Downe BMO Chair in Finance.
Prof. Trefler holds the J. Douglas and Ruth Canada Research Chair in Competitiveness and Prosperity at the Rotman School. His research looks notably at the effects of shifting global value chains, the consequences of China's rise, and the potential impacts of digitalization on trade in financial and other services. His has been instrumental in the design and pursuit of trade agreements that promote productivity, innovation and investment while minimizing the harmful effects on workers and the most disadvantaged. As an advisor to Global Affairs Canada, he helped inform the department's work on the Canada-EU trade agreement and consulted on the NAFTA renegotiations. He previously received the Killam Prize for his exceptional career achievement in the field of social sciences in 2016, his first Bank of Canada Fellowship Award in the same year, which was renewed in 2021, a Canada Research Chair, and all three major awards from the Canadian Economics Association.
Founded in 1882, the Royal Society of Canada (RSC) comprises the Academies of Arts, Humanities and Sciences, and The College of New Scholars, Artists and Scientists. The RSC recognizes excellence, advises the government and the larger society, and promotes a culture of knowledge and innovation in Canada and with other national academies around the world.
The Rotman School of Management is part of the University of Toronto, a global centre of research and teaching excellence at the heart of Canada's commercial capital. Rotman is a catalyst for transformative learning, insights and public engagement, bringing together diverse views and initiatives around a defining purpose: to create value for business and society. For more information, visit www.rotman.utoronto.ca
-30-
For more information:
Ken McGuffin
Manager, Media Relations
Rotman School of Management
University of Toronto
E-mail:mcguffin@rotman.utoronto.ca
---