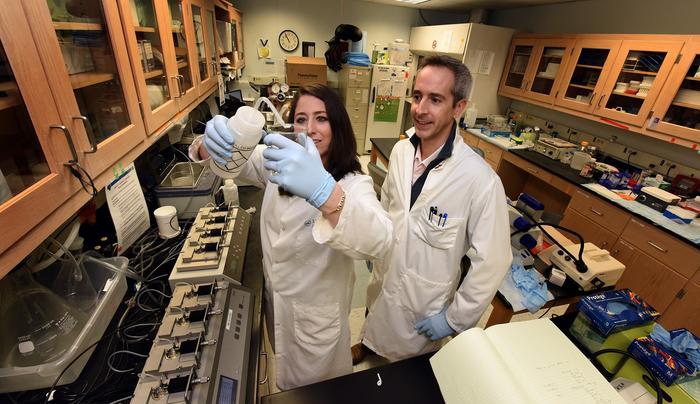 AUGUSTA, Ga. (Sept. 7, 2023) – Jessica Faulkner, PhD, a physiologist whose research is focused on sex differences in cardiovascular disease at the Medical College of Georgia at Augusta University, is the recipient of the Harry Goldblatt Award for New Investigators from the American Heart Association's 2023 Hypertension Council. She will be honored at the Hypertension Scientific Sessions in Boston this week.
This prestigious award is named for the pathologist who established the first animal model of hypertension in 1934 and recognizes an early career independent investigator working in hypertension or cardiovascular research who has significantly contributed to the understanding of the causes of hypertension and related cardiovascular disease.
Faulkner is principal investigator on two grants, totaling over $3 million, from the National Heart Lung and Blood Institute — one exploring the role of the satiety hormone leptin in preeclampsia, and another aimed at better understanding obesity-associated cardiovascular disease in women. She has also authored or co-authored more than 40 peer-reviewed publications, book chapters and editorials.
This is not the first time the AHA has honored her. In 2021, she received the association's Council on Hypertension Scientific Sessions Research Recognition Award, and in 2020, their Top Trainee Advocacy Award. She is also a past recipient of the American Physiological Society and Data Science International's Dean Franklin Young Investigator Award.
Faulkner is a member of the American Physiological Society's Cardiovascular Section Nominations Committee and Cardiovascular Section Transitions Committee. She also serves on the AHA Council on Hypertension Trainee Advocacy Committee.
An Augusta native, she earned her bachelor's degree in biology from AU and here doctoral degree in medical pharmacology at the University of Mississippi. She then came back to MCG and AU for a postdoctoral fellowship in the MCG Vascular Biology Center before she joined the faculty in the Departments of Physiology and Obstetrics and Gynecology in 2021.
---