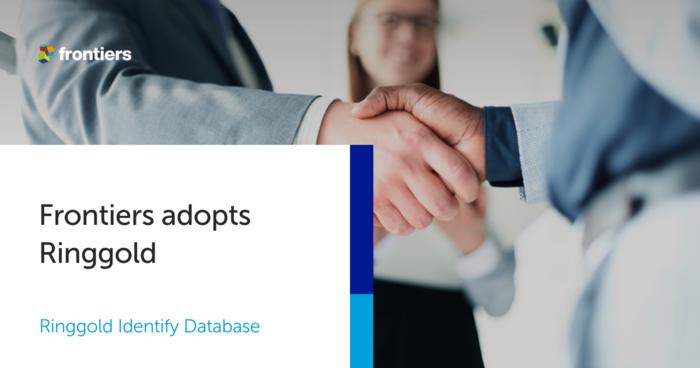 Open access publisher Frontiers has adopted the CCC Ringgold Identify Database as its Persistent Identifier (PID) solution. The unique numerical identifier system applied to organizations in the scholarly communications sector enhances data quality and promotes open access publishing.
With over 600,000 Ringgold PIDs and metadata records, the Ringgold Identify Database provides a detailed view of organizations that span the scholarly ecosystem from funders to publishers, as well as those which license and create scholarly content, such as universities and government entities. The uniqueness of each identifier ensures accuracy in recognizing contributions and creates connections between articles, researchers, institutions, and funders. This supports stakeholders in understanding complex organizational hierarchies and consortia connections and allows for more strategic decision-making.
The highly granular dataset also supports the shift to open access publishing models. Publishers like Frontiers can explore information around funding and discount eligibility under institutional and consortia agreements and assist in compliance with institutional and funder mandates, such as Plan S or OSTP. The Ringgold system lends itself to interoperability as it complements other PIDs in place, including ORCID IDs, DOIs, and ISNI IDs. This makes it possible to join records across internal and external systems for a more comprehensive overview.
Frontiers' chief technology officer Daniel Petrariu said, "Data and data quality are crucial to supporting the scholarly community as it continues to evolve. By integrating the Ringgold Identify Database, we are able to enhance our data capabilities and leverage the information available to best serve our authors and their institutions to make their valuable research openly accessible."
"Data quality is vitally important to innovative publishers like Frontiers," commented Emily Sheahan, vice president & managing director, CCC. "Access to a professionally curated, granular dataset to identify organizational relationships—and therefore accurately identify funding entitlements—is a strategic priority for publishers committed to sustainable, equitable, and transparent OA publishing models."
---