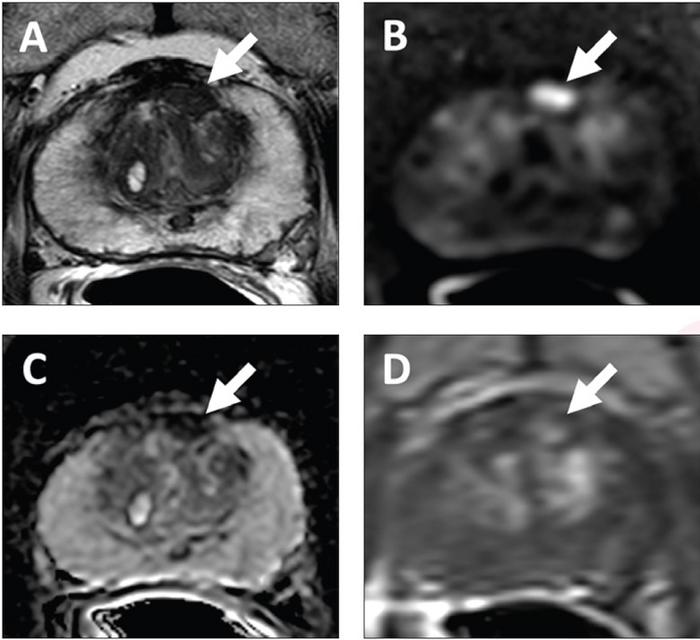 Leesburg, VA, September 20, 2023—According to an accepted manuscript published in the American Journal of Roentgenology (AJR), upgrade and downgrade rates from targeted biopsy to radical prostatectomy were not significantly different between patients whose MRI examinations were clinically interpreted using PI-RADS Version v2.0 or v2.1.
"Implementation of the most recent PI-RADS update did not improve the incongruence in prostate cancer grade assessment between targeted biopsy and surgery," wrote corresponding author Baris Turkbey, MD, from the Molecular Imaging Branch of the National Cancer Institute at National Institutes of Health in Bethesda, MD.
Dr. Turkbey and colleagues' AJR study entailed a retrospective post-hoc analysis of patients who underwent 3-T prostate MRI at a single institution from May 2015 to March 2023 during prospective clinical trials. From trial participants, the authors identified those who underwent MRI followed by MRI/ultrasound-fusion guided targeted biopsy and radical prostatectomy within a 1-year interval. A single genitourinary radiologist performed clinical interpretations of the MRI examinations using PI-RADS v2.0 from May 2015 to March 2019, and using PI-RADS v2.1 from April 2019 to March 2023.
Ultimately, patients who underwent MRI interpreted by PI-RADS v2.0 and PI-RADS v2.1 showed no significant differences in respective rates of upgrade (29% vs. 22%, p = .15), downgrade (19% vs. 21%, p = .76), clinically significant upgrade (14% vs. 10%, p = .27), or clinically significant downgrade (1% vs. 1%, p>.99) from targeted biopsy to radical prostatectomy grade group.
An electronic supplement to this AJR manuscript is available here.
---
North America's first radiological society, the American Roentgen Ray Society (ARRS) remains dedicated to the advancement of medicine through the profession of medical imaging and its allied sciences. An international forum for progress in radiology since the discovery of the x-ray, ARRS maintains its mission of improving health through a community committed to advancing knowledge and skills with the world's longest continuously published radiology journal—American Journal of Roentgenology—the ARRS Annual Meeting, InPractice magazine, topical symposia, myriad multimedia educational materials, as well as awarding scholarships via The Roentgen Fund®.
MEDIA CONTACT:
Logan K. Young, PIO
44211 Slatestone Court
Leesburg, VA 20176
---
Journal
American Journal of Roentgenology
Method of Research
Imaging analysis
Subject of Research
People
Article Title
PI-RADS Version 2.0 Versus Version 2.1: Comparison of Prostate Cancer Gleason Grade Upgrade and Downgrade Rates From MRI-Targeted Biopsy to Radical Prostatectomy
Article Publication Date
20-Sep-2023