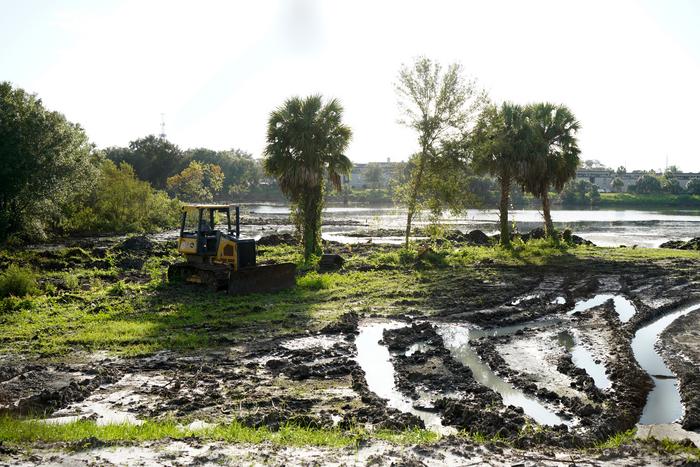 Media Contact:
John Dudley
(814) 490-3290 (cell)
jjdudley@usf.edu
TAMPA, Fla. (Sept. 21, 2023) - An interdisciplinary team of researchers from the University of South Florida is working to protect the environment by preventing pollution from seeping into a local stormwater pond that flows into Tampa Bay and the Gulf of Mexico.
Through a three-year, $1.5 million grant from the U.S. Environmental Protection Agency, the team is installing a bio-infiltration system at Aaran's Pond in Tampa's University Area Community, where more than one in three residents live below the federal poverty level.
According to principal investigator Professor Sarina Ergas in the USF Department of Civil and Environmental Engineering, when it rains, the water washes pollutants, such as fertilizer, oil, animal waste and rotting vegetation into gutters, which then feed into an existing stormwater pond. For that reason, urban runoff is a challenging problem to address in underserved communities, especially as stormwater ponds are often full of trash and difficult to clean due to restrictive fencing and steep slopes.
"We're calling them inert zombies due to their lack of life," Ergas said. "If you look at the difference between a stormwater pond in a wealthy neighborhood and one in a low-income neighborhood – it's day and night in terms of how they benefit the community."
If those pollutants are not removed from the ponds, they eventually cascade into the Hillsborough River and Tampa Bay, which feeds into the Gulf of Mexico. Nutrients, such as nitrogen, create harmful algal blooms, kill sea grass and reduce oxygen in the water.
The team is partnering with Oldcastle Infrastructure to install four new bio-infiltration systems around the pond to improve the nutrient removal. The systems will retain and treat the runoff water with biochar, a charcoal-like material that will help reduce the nutrient pollution and increase microbial activity and plant growth.
Previous studies with biochar have taken place in the lab, making this the first time it's used in a pond to improve water quality.
The USF team is collaborating with Mary Lusk, a University of Florida expert in stormwater ponds and their functions, to redesign the pond with the Hillsborough County Engineering and Operations Department. The plan is to plant bio-infiltration systems with shrubs and bushes along the steep slopes to provide additional filtration and make the pond more visually appealing.
"We strongly believe the efforts undertaken by this project, along with our collaboration in its implementation, will result in positive, long-term benefits for our community," said Sarah Combs, chief executive officer of the University Area Community Development Corp., which focuses on the redevelopment and sustainability of at-risk areas surrounding the USF Tampa campus. "As partners, we share in the goal of leveraging resources to improve human and environmental health and the social well-being of residents who live in the community."
Christian Wells, professor in the Department of Anthropology, described the project as "an opportunity to reimagine what stormwater ponds can do for communities."
With help from graduate students, Wells will survey nearby residents to develop strategies that respond to the needs of the community. The information will be used to enhance recreational opportunities and improve the residents' access to green space with new features, such as picnic tables, walking trails and a park.
To view this story on the USF Newsroom website, click here.
###
About the University of South Florida
The University of South Florida, a high-impact research university dedicated to student success and committed to community engagement, generates an annual economic impact of more than $6 billion. With campuses in Tampa, St. Petersburg and Sarasota-Manatee, USF serves approximately 50,000 students who represent nearly 150 different countries. U.S. News & World Report has ranked USF as one of the nation's top 50 public universities for five consecutive years, and this year USF earned its highest ranking ever among all universities public or private. In 2023, USF became the first public university in Florida in nearly 40 years to be invited to join the Association of American Universities, a prestigious group of the leading universities in the United States and Canada. Through hundreds of millions of dollars in research activity each year and as one of the top universities in the world for securing new patents, USF is a leader in solving global problems and improving lives. USF is a member of the American Athletic Conference. Learn more at www.usf.edu.
---