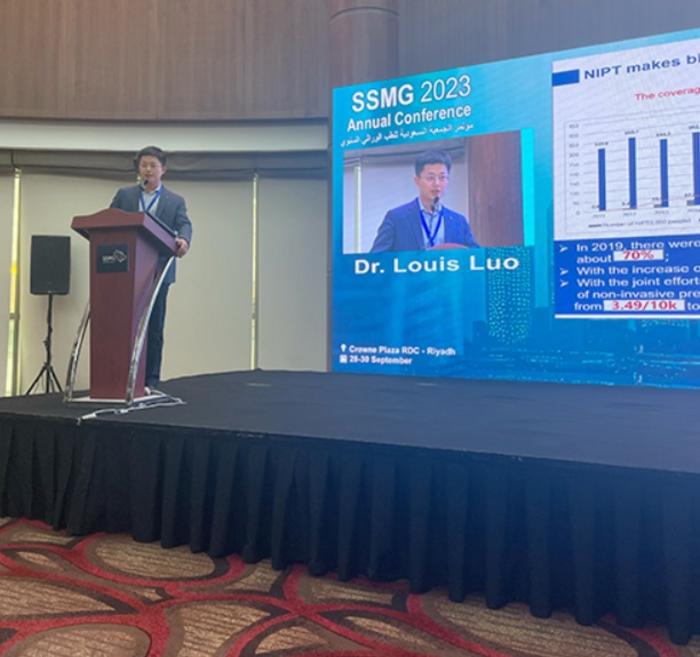 The Saudi Society of Medical Genetics Annual Conference 2023 was held in Riyadh, Saudi Arabia, on September 29-30, 2023. As the most authoritative academic conference on precision medicine in the Kingdom, this conference attracted global experts worldwide.
One of the highlights of the conference was the presentation entitled "Spatial-temporal sequencing and some large-scale application of precision medicine technologies," delivered by Dr. Louis (Renyuan) Luo, VP of BGI Genomics West Asia, at the invitation of the Saudi Society of Medical Genetics.
Dr. Luo's presentation discussed the importance of spatiotemporal sequencing technology in the field of precision medicine and its potential large-scale applications, introduced the company's case studies, such as the world's first multi-center project of newborn genetic screening, large-scale regional noninvasive prenatal testing (NIPT) coverage and extensive early screening project of colorectal cancer at Wuhan, Hubei province, China.
Besides sharing BGI Genomics research achievements and innovative applications in enhancing medical outcomes, Dr. Luo highlighted Genalive, BGI Genomics joint venture laboratory in the Kingdom of Saudi Arabia. This is the result of a localized strategic partnership aiming to provide cutting-edge precision medicine services, promote development and contribute to improving the country's healthcare system.
The success of Dr. Luo's presentation paves the way for deepening future localized collaboration and innovation in Saudi Arabia. BGI Genomics will continue to support the realization of Saudi Vision 2030 through active participation in global cooperation and exchanges in the field of precision medicine to enhance patients' health outcomes.
About BGI Genomics:
BGI Genomics, headquartered in Shenzhen, China, is the world's leading integrated solutions provider of precision medicine. Our services cover more than 100 countries and regions, involving more than 2,300 medical institutions. In July 2017, as a subsidiary of BGI Group, BGI Genomics (300676.SZ) was officially listed on the Shenzhen Stock Exchange.
---