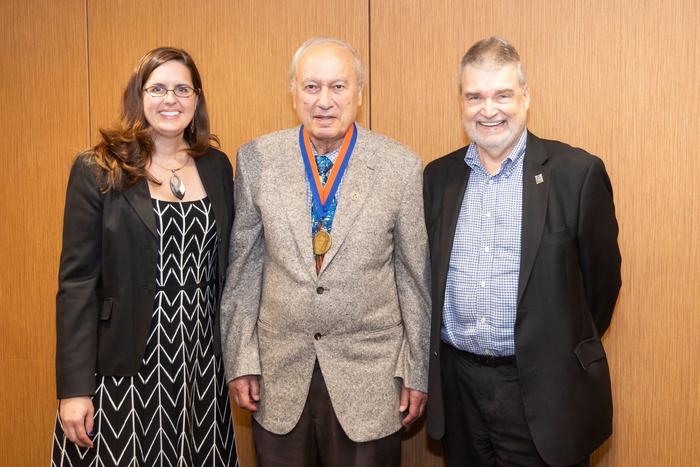 Abdolhossein Haji-Sheikh, a retired professor in the Mechanical and Aerospace Engineering Department at The University of Texas at Arlington, has made a $500,000 gift to support his former department.
The gift creates an endowed professorship in heat transfer, one of Haji-Sheikh's areas of expertise during his decades of teaching at UTA. The professorship will be awarded in 2026.
Haji-Sheikh began his career at what was then Arlington State College in 1966. He said he wants to give back to the University that gave him so much in his more than 50 years of teaching.
"What I am giving is far less than what I have received from UTA," Haji-Sheikh said. "My wife and I raised our family here in Arlington, and this community is special to me. My wife and son both graduated from UTA. In fact, my son, Michael, obtained his Ph.D. from the Electrical Engineering Department."
UT Arlington President Jennifer Cowley said the University is grateful for Haji-Sheikh's generous donation and his many years of service.
"Dr. Haji-Sheikh was treasured by so many students in the decades he taught here at UT Arlington," Cowley said. "He has made valuable contributions to the University and the College of Engineering. This endowment will help bring top-quality faculty to mentor Maverick engineering students for years to come."
Engineering Dean Peter Crouch said Haji-Sheikh's support is vital to the College of Engineering's overall goals.
"Heat transfer is such a fundamental principle in an overall engineering education," Crouch said. "Dr. Haji-Sheikh's legacy will be key to our future research and education paths."
In his initial years at UTA, Haji-Sheikh helped the University achieve full accreditation in engineering. He said he considers that among his greatest contributions to engineering education.
"It was not about the number of publications, writing books or getting research funds," Haji-Sheikh said. "It was how our faculty worked as a team, unselfishly, to elevate the program from an unaccredited undergraduate college to a Ph.D.-granting university."
He said one of his most important accomplishments came about due to his association with the American Society of Mechanical Engineers (ASME).
"With the collaboration of a colleague, we started an ASME student chapter, which continues to be very active on campus," Haji-Sheikh said.
In addition to his accreditation and teaching accolades, he was the ASME 75th Anniversary Medal Recipient and earned the 1993 ASME Journal of Heat Transfer Exemplary Service Award, the 1996 UTA Distinguished Record of Research Award and the 2005 and 2006 UTA Research Excellence Awards.
---