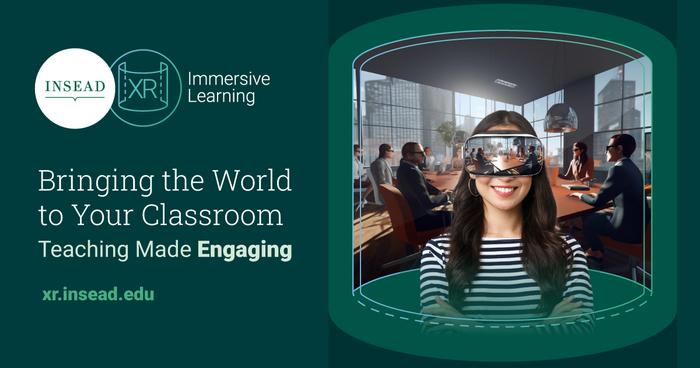 First business school to launch comprehensive library of VR Learning Experiences to make management education more impactful and to advance management research
VR Learning Experiences already used by 40+ professors and 13K+ learners at INSEAD and now available globally via the INSEAD XR Portal
Professor Ithai Stern, Academic Director of the INSEAD Immersive Learning Initiative, wins 2023 Strategic Management Society Educational Impact Award for his contribution to quality and innovation of strategic management teaching

Fontainebleau (France), Singapore, Abu Dhabi, San Francisco, 4 October 2023 – INSEAD, The Business School for the World, today announced the launch of the INSEAD XR Portal. The innovative platform hosts the world's most extensive collection of learning experiences using virtual reality (VR) technology, coupled with a comprehensive solution to bring these immersive learning experiences to classrooms worldwide.
INSEAD XR marks a significant leap forward in educational technology. It offers a scalable, cost-effective, and user-friendly XR-based solution that elevates the impact of learning by making it more engaging and memorable. The portal offers access to 20 VR experiences covering a wide range of management topics.
More than 40 faculty members at INSEAD have begun using INSEAD XR in their teaching or research; or are actively involved in the development of VR experiences. INSEAD XR has onboarded three academic institutions to start using VR experiences in their teaching, with ongoing plans for additional institutions to join.
Professor Francisco Veloso, Dean of INSEAD, said, "INSEAD has always been at the forefront of innovation in management education. The INSEAD XR once again pioneers a new path to innovation and growth. As The Business School for the World, we are proud to see that INSEAD XR is leading the field of learning and research, making management education more impactful – not only at INSEAD but also around the world."
INSEAD XR was developed for academic or corporate partners, spearheaded by Ithai Stern, Professor of Strategy at INSEAD and Academic Director of the VR Immersive Learning Initiative. Stern's pioneering contributions to teaching innovation have earned him the 2023 Strategic Management Society (SMS) Educational Impact Award, presented during the recent SMS Annual Conference in Toronto.
The prestigious award acknowledges individuals who have made outstanding contributions to the quality and innovation of strategic management teaching. Stern was recognised as a "champion for VR immersive learning" due to his efforts in assembling a global consortium of business school professors dedicated to creating and integrating VR content into management education.
Stern said: "Our XR library goes beyond showcasing digital cases. It is a turnkey solution for academic and corporate partners, offering them ready, easy-to-implement suite of immersive learning tools or customised solutions to achieve the desired learning objectives."
Thanks to the support of the Abu Dhabi Department of Education and Knowledge (ADEK) and a strategic partnership with AVRIS, INSEAD XR is being used for management education and experimental academic research.
In June this year, the INSEAD Immersive Learning Initiative hosted the 1st Annual Meeting of the Global XR Community at the INSEAD Middle East Campus in Abu Dhabi, bringing together global scholars using and developing VR for teaching and research. The second edition is scheduled for April 2024 at the INSEAD San Francisco Hub for Business Innovation.
For more information on the INSEAD XR, visit https://xr.insead.edu.
View the INSEAD Immersive Learning Initiative video here.
###
About INSEAD, The Business School for the World
As one of the world's leading and largest graduate business schools, INSEAD brings together people, cultures and ideas to develop responsible leaders who transform business and society. Our research, teaching and partnerships reflect this global perspective and cultural diversity.
With locations in Europe (France), Asia (Singapore), the Middle East (Abu Dhabi), and now North America (San Francisco), INSEAD's business education and research spans four regions. Our 166 renowned Faculty members from 41 countries inspire more than 1,500 degree participants annually in our Master in Management, MBA, Global Executive MBA, Specialised Master's degrees (Executive Master in Finance and Executive Master in Change) and PhD programmes. In addition, more than 11,000 executives participate in INSEAD Executive Education programmes each year.
INSEAD continues to conduct cutting-edge research and innovate across all our programmes. We provide business leaders with the knowledge and awareness to operate anywhere. Our core values drive academic excellence and serve the global community as The Business School for the World. More information about INSEAD can be found at www.insead.edu.
About INSEAD Immersive learning
The INSEAD Immersive Learning Initiative is a global center of excellence at the INSEAD Middle East Campus in Abu Dhabi. It has developed INSEAD XR, a comprehensive, scalable, cost-effective, and easy-to-use XR-based solution.
INSEAD XR elevates the impact of learning by making it more immersive and engaging. It also advances academic research by pioneering new approaches to tackle current and emerging management challenges in business.
Visit https://xr.insead.edu for more information.
---