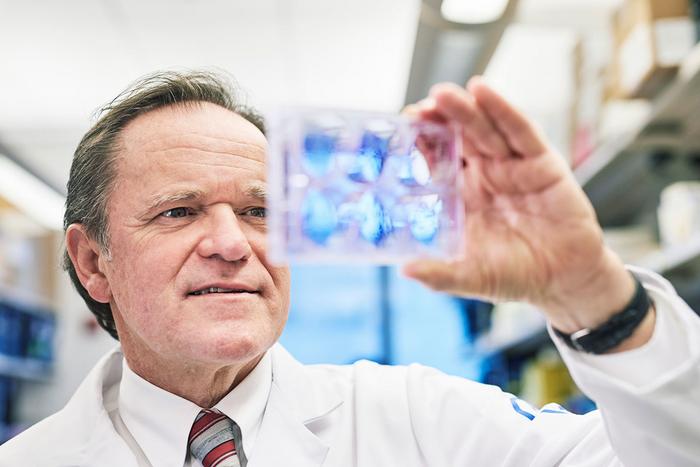 Researchers from Memorial Sloan Kettering Cancer Center (MSK) were recognized for their achievements at the 2023 meeting of ASTRO, the American Society for Therapeutic Radiology and Oncology. Teams reported new findings about radiation-induced secondary cancers, a new guidance system for radiation therapy, and the consequences of insurance denials, among other topics.
At the meeting, held from October 1 to October 4, 2023, in San Diego, Simon Powell, MD, PhD, FRCP, Chair of MSK's Department of Radiation Oncology and Enid A. Haupt Chair in Radiation Oncology, was honored with ASTRO's Gold Medal Award. This award is ASTRO's highest honor, bestowed upon esteemed members who have made exceptional contributions to radiation oncology, including research, clinical care, teaching, and service.
In addition, MSK experts shared their work in more than 40 presentations and poster sessions. These are some of the highlights.
Risk of Radiation-Induced Secondary Cancers in Patients With Li-Fraumeni Syndrome
Li-Fraumeni syndrome is a rare hereditary condition that leads to an increased likelihood of developing multiple types of cancer, including breast cancer and soft tissue sarcoma. It is caused by an inherited mutation in the gene TP53.
Research led by radiation oncology resident Gustav Cederquist, MD, PhD, used records from several hospitals to study the risk of secondary cancers in people with Li-Fraumeni syndrome who received radiotherapy as part of their treatment for breast cancer. The analysis included medical records from 91 patients, 40 of whom received radiotherapy. The investigators found that after 15 years, the risk of developing a sarcoma within the area where radiotherapy was delivered was 12%, compared with a 0.3% among a matched control group that was representative of the general breast cancer population receiving radiotherapy. They also found that for people with Li-Fraumeni syndrome, the overall risk of developing any secondary cancer within that 15-year time frame was approximately 50%, regardless of whether they received radiotherapy or not.
The researchers wondered why some breast cancer patients with Li-Fraumeni syndrome received radiotherapy and others did not. They found that those who received radiotherapy were more likely to have aggressive breast cancer characterized by larger tumors and lymph node metastases. Interestingly, the patients who received radiotherapy did not have decreased overall survival despite more aggressive breast cancer and an increased risk of secondary sarcoma. The authors therefore conclude that the added risk of the radiation treatment should be weighed against its benefits for controlling the original breast cancer, especially in patients with more advanced disease. The risk estimates from this study should help clinicians formulate personalized treatment decisions for patients with this rare cancer syndrome.
A New Guidance System for Radiation Therapy in Prostate Cancer
Investigators at MSK are always looking for ways to improve radiation therapy for treating prostate cancer and make it more precise. That is because when this treatment spreads to areas beyond the tumor, it can lead to problems like having to urinate more frequently.
A study led by former MSK radiation oncologist Michael Zelefsky, MD, and medical physicist Pengpeng Zhang, PhD, looked at whether a new guidance system developed at MSK was able to reduce these side effects by delivering the radiation more precisely. It focused specifically on a type of radiation called stereotactic body radiotherapy (SBRT). SBRT uses fiducial markers, metal objects about the size of a grain of rice, to help line up the beams of radiation.
The technique uses a new system called MKIG (for MV and kV imaging guidance), which was developed to track the location of fiducial markers and better correct for patients' natural body movements during treatment. An analysis of 271 patients with cancer that had not spread beyond the prostate found that the MKIG system was practical for clinical use and reduced the number of urinary side effects. The researchers plan to continue studying the technique, including in other cancers where SBRT is used.
Consequences of Initial Insurance Denials for Radiation Therapy
Health insurance companies sometimes decline to authorize coverage for cancer treatments recommended by doctors, including radiation therapy. A study led by radiation oncologist Jacob Shin, MD, looked at data from more than 200 MSK patients who were denied coverage in 2022 to determine how those denials affected patients. The study also reported how many of those initial denials were ultimately overturned and what additional measures were needed to obtain treatment authorization.
The researchers found that of 206 cases:
127 patients were successful in eventually obtaining insurance authorization without having to make any changes to the treatment.
56 patients had their treatment authorized after their doctors agreed to modifications requested by the insurance company — lowering the dose of treatment or providing a different type of radiation.
23 patients did one of the following: proceeded with treatment via departmental administrative clearance (meaning MSK covered patients who couldn't get coverage or the patient's insurer eventually authorized treatment after the patient started radiation treatment), did not receive radiation treatment, or sought care at another institution.
Overall, a significant proportion of insurance denials led to delays in treatment, changes to the treatments that patients ultimately were able to receive, or both. The researchers say that there is a clear need for further investigation into the time and financial burdens caused by the increasing use of prior authorization by national insurers as well as the clinical impact of insurance denials on patient treatment and outcome. They want to establish more optimal ways to authorize and deliver radiation oncology care in a timely and cost-efficient manner.
---