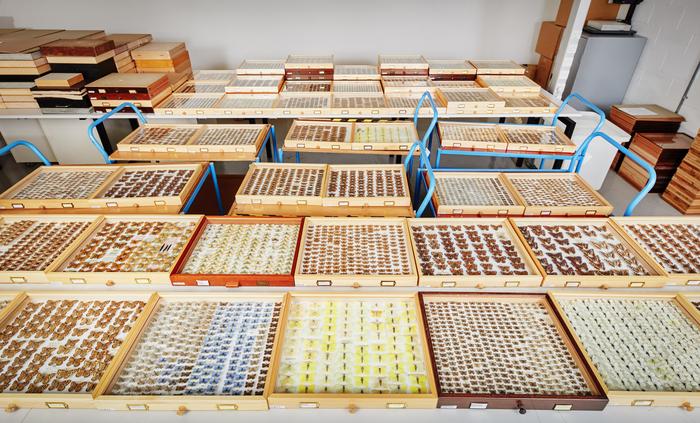 Scientists from the Natural History Museum (NHM) deep dive into the uses and users of natural history collections held in the UK

Today, software can complete in a week what it would take a human two years to achieve

Call for investment to secure the UK's stance as a world superpower in science and tech, and for a future in which both people and planet thrive
A new report has evaluated the use and impact of digitised natural science collections held in the UK and how they contribute to scientific, commercial and societal benefits.
UK natural science collections hold more than 137 million items spanning an incredible 4.56-billion-year history of life on Earth. These collections have emerged as a pivotal data resource to understanding the Earth in its past and current state - and will continue to inform the investors and policy-makers of the future.
UK natural science data in demand
GBIF—the Global Biodiversity Information Facility—is an international database providing open access data on all types of life on Earth. In this paper led by the NHM, scientists report that there are 7.6 million specimens, less than 6% of total UK natural science collections sampled, freely accessible on GBIF.
They found that 12% of the total peer-reviewed journal articles citing GBIF data specifically cite UK natural science collections. These data currently make up just 0.3% of total occurrences on GBIF, meaning they punch an incredible 40 times above their weight.
When asked previously, over 90% of GBIF users linked their use of these data to advancing the UN Sustainable Development Goals which look to reduce hunger, poverty and inequality, and spur economic growth while tackling climate change and protecting the oceans and forests.
The case for digitising UK natural science collections
The introduction of these collections onto a digital platform has revolutionised scientific research. In this paper published in the journal Research Ideas and Outcomes, the authors estimate £18 million has been saved in efficiencies by researchers accessing digital specimens rather than physical collections, assuming a minimal single physical visit replaced per citation. Of this, £1.4 million has been attributed to UK researchers, money which can be reinvested back into UK science institutions – those at the forefront of finding solutions to real world problems.
Lead author and Deputy Head of Digital, Data and Informatics, Helen Hardy says, 'The advancement of digitisation has been truly transformational to the scientific community. Today it's possible to use software that takes a week to achieve the type of information gathering it would take a human over 3,000 hours, or two years, to complete - individuals realising an entire life's work in just a few months! Anticipation is high for further innovations such as the further integration of artificial intelligence into taxonomic work.'
UK government want the UK to be a science and technology superpower, and natural science collections provide a unique opportunity to achieve this. To unlock the true potential of collections data, UK Natural Science collections are joining forces through the Distributed System of Scientific Collections UK (DiSSCo) to make the case for investment of £155 million in a research infrastructure which is expected to unlock at least a seven- to ten- fold economic return on investment.
Working alongside the Arts & Humanities Research Council (AHRC) and UK Research and Innovation (UKRI) to digitise the critical mass of collections, the data will be available through a robust technological infrastructure and continually developed in line with recent innovations.
Ken Norris, Deputy Director of Science at the NHM says, 'In the midst of a planetary emergency, and what some experts believe to be the Earth's sixth mass extinction event, estimates say that over 50% of the world's GDP, which equates to approx. 44 trillion dollars, is dependent on the natural world. By understanding what is in collections now, both on a national and international scale, we can identify trends, actions and what we need to collect to underpin policy and investment decisions for a future where people and planet thrive.'
ENDS
Natural History Media contact: Tel: +44 (0)20 7942 5654 / 07799690151
Email: press@nhm.ac.uk
Images available here.
Hardy H, Livermore L, Kersey P, Norris K, Smith V, Pullar J (2023) Users and uses of UK Natural History Collections – a Summary, https://doi.org/10.5281/zenodo.8369299
A longer paper on this study including further detail on the methodology and findings is also available:
Hardy H, Livermore L, Kersey P, Norris K, Smith V (2023) Understanding the users and uses of UK Natural History Collections. Research Ideas and Outcomes 8: e113378 https://doi.org/10.3897/rio.9.e113378
About the Natural History Museum:
The Natural History Museum is a world-leading science centre and one of the most visited attractions in the UK. A global source of curiosity, inspiration and joy.
Our vision is to build a future in which both people and the planet thrive.
We aim to be a catalyst for change, engaging advocates for the planet in everything that we do. Our 350 scientists are finding solutions to the planetary emergency in all aspects of life.
Visit, join and support the Natural History Museum today. Protecting the planet. It's in our nature.
---
Journal
Research Ideas and Outcomes
Article Title
Understanding the users and uses of UK Natural History Collections
Article Publication Date
2-Oct-2023