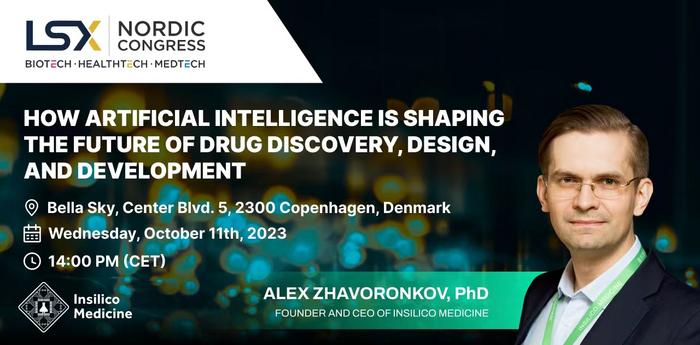 Alex Zhavoronkov, Ph.D., founder and CEO of Insilico Medicine ("Insilico") will present at the 6th LSX Nordic Conference happening in Copenhagen Oct. 10-11. Zhavoronkov, a leader in generative artificial intelligence (AI) technologies for drug discovery and biomarker development, will present on Oct. 11, 2pm CET on "'How Artificial Intelligence is Shaping the Future of Drug Discovery, Design, and Development."
The LSX Nordic Congress is a leading strategy, investment and partnering conference for the Nordic region connecting life science and healthcare industry leaders with international investment and strategic partners. The mission is to facilitate ever greater international investment into the region, as well as foster strategic partnerships and collaboration with key international healthcare stakeholders.
Insilico is a leading innovator in advancing new therapeutics using generative AI and reinforcement learning and has developed an end-to-end Pharma.AI platform for identifying novel targets (PandaOmics), designing new drugs (Chemistry42), and predicting the outcomes of Phase II to Phase III clinical trial transitions (inClinico). Using this platform, Insilico has produced four clinical-stage drugs including a lead drug for the devastating chronic lung disease idiopathic pulmonary fibrosis (IPF), the first AI-discovered and AI-designed drug to advance to Phase II trials. The Company also recently entered into an $80m upfront strategic licensing agreement with Exelixis for a synthetic lethality USP1 inhibitor for BRCA-mutant tumors that is in Phase I trials and has a small molecule inhibitor of QPCTL that was co-developed with Fosun Pharma currently in Phase I clinical trials.
In all, the Company has 31 AI-designed drugs in its pipeline, many of which are available for partnering and licensing, for indications including cancer, fibrosis and immunology.
About Insilico Medicine
Insilico Medicine, a clinical-stage end-to-end artificial intelligence (AI)-driven drug discovery company, connects biology, chemistry, and clinical trials analysis using next-generation AI systems. The company has developed AI platforms that utilize deep generative models, reinforcement learning, transformers, and other modern machine learning techniques to discover novel targets and design novel molecular structures with desired properties. Insilico Medicine is delivering breakthrough solutions to discover and develop innovative drugs for cancer, fibrosis, immunity, central nervous system (CNS) diseases, and aging-related diseases.
For more information, visit www.insilico.com
---