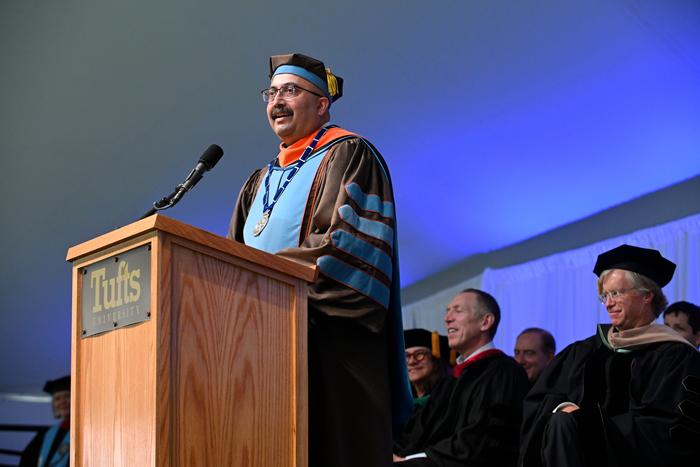 Under overcast skies that stood no chance of clouding the celebratory tone of the day, hundreds of faculty, staff, students, alumni, neighbors, and academic leaders gathered today on the Medford/Somerville campus to witness the inauguration of Sunil Kumar as the 14th president of Tufts University. He succeeds Anthony P. Monaco, who served as president for 12 years.
Delegates from more than 85 academic institutions and learned societies around the world attended Kumar's inauguration ceremony on the residential quad. The ceremony was the culmination of a week's worth of activities, including an academic symposium on One Health and a Community Day for friends and neighbors.
"Having never been inaugurated before, I didn't know what to expect. Now I know—it is like being the groom in a traditional Indian wedding. You are important, but most of it isn't about you at all," Kumar, who is the first person of color to lead Tufts, told the crowd. "It's about everybody else at the wedding."
That demonstration of humility was just one way Kumar shifted the spotlight from himself to the broader Tufts community throughout Inauguration Week.
He spoke about the many people he has met over the past few months on the Medford/Somerville campus, the Boston health sciences campus, and the Grafton campus of Cummings School of Veterinary Medicine. He asked them, "What makes Tufts tick?" The common sentiment was that Tufts is a truly special place. He hypothesized that was because Tufts is a unique mix, offering a tight-knit, student-centered, liberal arts experience while carrying out world-class research.
The theme for the Inauguration was "lighting the way," and Kumar spoke about a bright future for Tufts and its 12,650 students, gesturing to the need for the light on the hill to extend its reach—and impact—as far beyond the university's campuses as possible. He shared five broad themes that are of particular importance for the path forward: educating responsible leaders for tomorrow, providing transformative experiences, expanding our research footprint, broadening our definition of what it means to be a student, and giving back to the community and society.
"Today, it is more important than ever to ensure that all students—from all backgrounds—can afford a Tufts education, and that we provide them with pathways towards social mobility and future success long after graduation," he said.
During the ceremony, Kumar was presented with three symbolic items: the university's charter, the keys to Ballou Hall, and the presidential medallion. Along with the academic mace and the president's regalia, which bears the school's brown and blue colors, these items make up the Objects of Office. They are reminders not only of Tufts' history of educating students for nearly 170 years, but of the important role that each new president plays in guiding the institution forward.
To that end, Kumar said he is strongly committed to furthering the university's mission of being a student-centered research university that is dedicated to the creation and application of knowledge, and to providing transformative experiences for students and faculty in an inclusive and collaborative environment. Kumar, who is also a professor in the Department of Electrical and Computer Engineering at the School of Engineering, said he envisions Tufts as a place where creative scholars generate bold ideas, innovate in the face of complex challenges, and distinguish themselves as active citizens of the world.
The procession included members of the Board of Trustees, delegates from other institutes of higher learning, and Tufts faculty members, including Bree Aldridge, professor of molecular biology and microbiology at the School of Medicine, who served as presenter for the ceremony and was a member of the search committee to select President Kumar.
Distinguished speakers from Kumar's previous appointments addressed the crowd at the inauguration. Ronald J. Daniels, president of Johns Hopkins University, represented the institution at which Kumar served as provost and senior vice president for academic affairs prior to coming to Tufts. Daniels compared Kumar's "noble attributes" to those of Tufts' beloved elephant mascot, Jumbo.
"You have a capacity to conjure literary, historical, and philosophical references. You have an ability to speak powerfully to your intelligence and memory, a proclivity for collaboration and cooperation, and a seemingly endless score of patience and optimism. All classic characteristics of elephants," he said.
J. Michael Harrison, professor of management emeritus at Stanford University, where Kumar spent 12 years as a professor at Stanford Graduate School of Business, shared an anecdote about one of the first classes Kumar taught there. He recalled that, as Kumar entered the auditorium armed with a PowerPoint to show the class, the power promptly went out and did not come back on for the duration of the class. He had to give his presentation in the dark, yet successfully filled the allotted time. Harrison joked that it was a valuable experience for his future as an academic leader.
As part of the ceremony, greetings from constituent groups were offered by Jette Steen Knudsen, president of the University Faculty Senate and a professor of policy and international business at the Fletcher School; Arielle Galinsky, A24, on behalf of the undergraduate students; Zana Hunt, D24, on behalf of the graduate and professional students; and Vikki Garth, president of the Tufts University Alumni Association.
Born and raised in India, Kumar earned a bachelor's degree in engineering from Mangalore University in 1990, a master's degree in computer science and automation from the Indian Institute of Science in Bangalore in 1992, and a Ph.D. from the University of Illinois in 1996.
---
Method of Research
News article