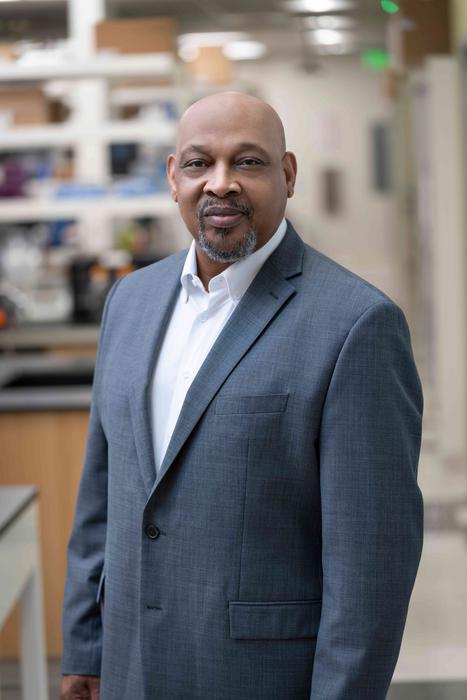 LOS ANGELES — John D. Carpten, Ph.D., chief scientific officer at City of Hope, one of the largest cancer research and treatment organizations in the United States and a leading research center for diabetes and other life-threatening illnesses, was presented with one of the highest honors in health and medicine today when he was elected to the National Academy of Medicine (NAM).
NAM recognized Carpten "for leading the genomics field in understanding how racial and ethnic backgrounds affect cancer predisposition," sharing that he is internationally recognized for research in functional genomics, health disparities and precision medicine. Carpten has numerous national leadership roles and is the first African American to chair the National Cancer Institute's National Cancer Advisory Committee.
"Dr. John Carpten's leadership, his basic and translational science research, and his strategic vision are key to City of Hope's efforts to close the gap between the innovation taking place at academic cancer centers and the people who can actually access these breakthroughs," said Michael Caligiuri, M.D., president of City of Hope National Medical Center and the Deana and Steve Campbell Physician-in-Chief Distinguished Chair. "John has been a leading national voice and expert in ending disparities in cancer outcomes and care and has advocated for building a more diverse workforce in cancer research."
NAM was established in 1970 and addresses critical issues in health, science, medicine and related policy. It inspires positive actions across sectors. The academy elected 90 regular members and 10 international members at its annual meeting today.
"It is my honor to welcome this truly exceptional class of new members," said NAM President Victor J. Dzau. "Their contributions to health and medicine are unparalleled, and their leadership and expertise will be essential to helping the National Academy of Medicine tackle today's urgent health challenges, inform the future of health care and ensure health equity for the benefit of all around the globe."
Carpten has played a significant role in the national cancer research agenda and has won numerous awards and recognitions, including in 2022 when President Joe Biden appointed Carpten to the National Cancer Advisory Board, a distinguished post that helps set the national cancer research policy agenda.
Carpten is an internationally recognized expert in genome science, with training in multiple disciplines, including germline genetics for disease risk and predisposition, somatic cancer genomics, health disparities research, cell biology, functional genomics and precision medicine. His translational research has unveiled the role biology plays in inequitable cancer incidence and mortality rates experienced by underrepresented populations. His work has impacted the public's understanding of cancer, particularly those that disproportionately affect underrepresented minorities, such as prostate cancer, breast cancer, colorectal cancer, multiple myeloma and pediatric cancers.
Carpten is director of the National Cancer Institute-designated City of Hope comprehensive cancer center and director of Beckman Research Institute of City of Hope. He is also the Irell & Manella Cancer Center Director's Distinguished Chair and the Morgan & Helen Chu Director's Chair of the Beckman Research Institute. He provides overall executive leadership and strategic direction for research at City of Hope.
"I am deeply humbled to be elected a member of the National Academy of Medicine. It is a true honor to be recognized among such a distinguished group of scientists," Carpten said. "I hope to continue to push the boundaries of research to make discoveries that will transform the practice of medicine to improve the outcomes of our patients. I hope to also continue to advocate for diversity, train the next generation of scientists and work with teams across disciplines to push for the inclusion of diverse populations in translational research and clinical trials so that health care innovations are available to everyone."
The newly elected members bring NAM's total membership to more than 2,400. "For those at the top of their field, NAM membership reflects the height of professional achievement and commitment to service," states its website.
# # #
About City of Hope
City of Hope's mission is to deliver the cures of tomorrow to the people who need them today. Founded in 1913, City of Hope has grown into one of the largest cancer research and treatment organizations in the U.S. and one of the leading research centers for diabetes and other life-threatening illnesses. City of Hope research has been the basis for numerous breakthrough cancer medicines, as well as human synthetic insulin and monoclonal antibodies. With an independent, National Cancer Institute-designated comprehensive cancer center at its core, City of Hope brings a uniquely integrated model to patients spanning cancer care, research and development, academics and training, and innovation initiatives. City of Hope's growing national system includes its Los Angeles campus, a network of clinical care locations across Southern California, a new cancer center in Orange County, California, and treatment facilities in Atlanta, Chicago and Phoenix. City of Hope's affiliated group of organizations includes Translational Genomics Research Institute and AccessHopeTM. For more information about City of Hope, follow us on Facebook, Twitter, YouTube, Instagram and LinkedIn.
---